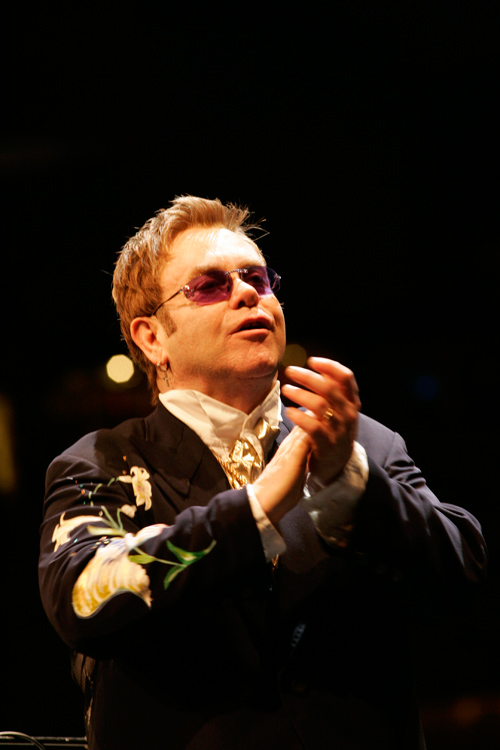 As the Rock and Roll Hall of Fame continues to play catch up by selecting artists that flourished in the '60s, '70s and '80s (see the 2023 class of nominees here), it makes one wonder who they might nominate two decades from now, when contemporary artists become eligible. At least one musician who got his start in an earlier era isn't impressed with what he's heard in recent years: Elton John.
In the U.K.'s Radio Times in 2010, Sir Elton took aim at current pop music, which he finds "boring."
"Songwriters today are pretty awful, which is why everything sounds the same. Contemporary pop isn't very inspiring," said John. Five years later, The Atlantic magazine identified why they sound the same in an article in its October 2015 issue that notes how "a handful of people, a crazily high percentage of them middle-aged Scandinavian men, write most of America's pop hits. It is an open yet closely guarded secret, protected jealously by the labels and the performers themselves, whose identities are as carefully constructed as their songs and dances." They go by such handles as Max Martin, Stargate, Dr. Luke and Ester Dean.
Similarly, John decried how contemporary pop acts don't write their own material, stressing that it's "important they write their own songs, so they're not at the mercy of anyone." Similarly, The Atlantic notes, "The illusion of creative control is maintained by the fig leaf of a songwriting credit. The performer's name will often appear in the list of songwriters, even if his or her contribution is negligible. (There's a saying for this in the music industry: 'Change a word, get a third.') But almost no pop celebrities write their own hits."
It seems like Elton was on to something. As The Atlantic article also observed, "The same would have been true at any time in the past decade."
John also took aim at singing competition shows like American Idol and The Voice. "I'm not a fan of talent shows. I probably wouldn't have lasted if I'd gone on one. I was asked to judge American Idol. I couldn't do it because I won't slag anyone off.
"Also I don't want to be on television. It's become boring, arse-paralyzingly brain crippling."
He believes true talent emerges the good old-fashioned way: "I was in a band at 17, became a songwriter with Bernie Taupin and wasn't successful until we'd had six years of hard graft and disappointment, as well as great times.
"TV vaults you to superstardom and then you have to back it up, which is hard." John does believe one big TV show winner has the goods. "Susan Boyle was an endearing phenomenon, but I fear she might not understand the rigors of show business."
The "hard graft" and those rigors, however, do help acts attain the skills for longevity. "The only way to sustain a career is to pay your dues in small… clubs," John contended.
He did have good words for a few modern artists: Lily Allen, the late Amy Winehouse and Lady Gaga. And even if John's griping may seem a bit like the old guy yelling at kids to get off his lawn, his career – some 300 million records sold, seven consecutive #1 U.S. albums, 58 Billboard Top 40 singles, 27 Top 10 songs, four #2 hits and nine #1 chart-toppers – suggests he spoke from a place of knowledge.
In 2021, however, John embraced a younger generation of pop stars, recording an album, The Lockdown Sessions, with such big names as Dua Lipa, Charlie Puth, and Nicki Minaj, as well as fellow older legends as Stevie Wonder, Eddie Vedder, and Stevie Nicks.
This Elton John song was a U.S. hit twice: #2 in 1974 and #1 in 1991 as a duet with George Michael.

Latest posts by Best Classic Bands Staff
(see all)