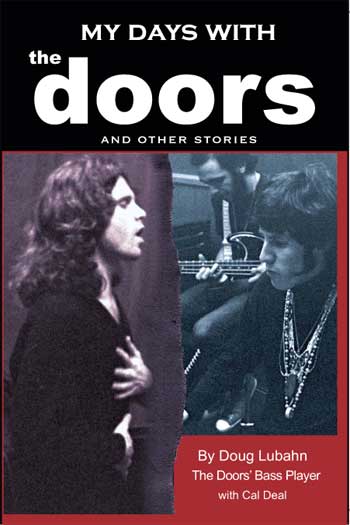 Doug Lubahn, a bass guitarist who performed on many of The Doors' recordings, has died at 71. The Doors announced the musician and songwriter's death on their various social media platforms on Nov. 24, 2019, though he died on Nov. 20.
Lubahn, often credited as Douglass Lubahn, performed on many of the songs on the Doors' Strange Days, Waiting For the Sun and The Soft Parade albums, including such classic rock favorites as "People Are Strange," "Love Me Two Times" "Hello, I Love You."
It was a chance meeting, several years earlier, that led to his prominent recording career. In 1965, while working as a ski instructor in Aspen, Colo., Lubahn met Cass Elliot in her pre-Mamas and the Papas days. She persuaded the fledgling musician, still in his late teens, to move to Los Angeles if he was truly interested in pursuing a career.
Lubahn made the move and by 1967, producer Paul Rothchild, whom he had worked with on a band project, Clear Light, recommended him to The Doors when they were preparing to enter the recording studio to record their second album, Strange Days. Lubahn subsequently performed on seven of the album's 10 tracks alongside the band's Jim Morrison, Ray Manzarek, Robbie Krieger, and John Densmore, including the hit singles "People Are Strange" and "Love Me Two Times."
Listen to "Love Me Two Times" with your eyes closed and pay attention to Lubahn's bass guitar
For 1968's Waiting For the Sun, with Rothchild again producing, Lubahn performed on all but one of the album's 11 tracks, including the #1 single, "Hello, I Love You."
A year later, with Rothchild still producing, Lubahn played on three of the songs for The Soft Parade.
Related: A 50th anniversary edition of The Soft Parade was released in 2019
In subsequent years, Lubahn was a member of several bands including Pierce Arrow and Riff Raff. He also co-founded the influential jazz-rock band Dreams. In the '80s, he performed on albums by Billy Squier and Ted Nugent.
Lubahn's biggest credit as a songwriter is "Treat Me Right," a hit by Pat Benatar on her 1980 smash album, Crimes of Passion. His song, "Talk to Me," was included on the 1984 album, Warrior, by Scandal featuring Patty Smyth.
Lubahn was born on December 20, 1947. In 2007, he authored a book, My Days With The Doors and Other Stories.

Latest posts by Best Classic Bands Staff
(see all)