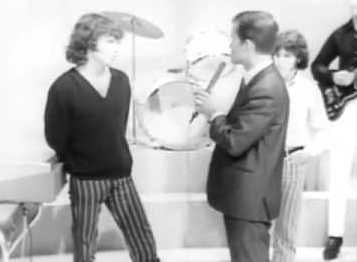 Dick Clark sure knew how to get his audience to dress up. This clip from American Bandstand's heyday shows America's oldest teenager sitting among the polite crowd, in their party dresses and jackets and ties, before introducing The Doors.
In this black-and-white Classic Video originally broadcast on July 22, 1967, The Doors kick things off with "The Crystal Ship." Clark then interviews the various band members.
Clark: "Ray (Manzarek), let me start with you. How do you characterize your music? Does it have a name?" Manzarek: "Well it's impossible, really, to put a label on it because of where we are in the music, being on the inside. You're only of the music and all categories have to come from the outside. So someone else is going to have to say what our music is rather than us because we are our music."
Clark to Jim Morrison: "Why is so much happening in San Francisco? You figured it out yet?" Lizard king: "Uh, the West is the best." Clark's reaction is priceless.
"We'll do the thing that's set the whole music business on fire. Ladies and gentlemen… again, the Doors!"
They finish up with "Light My Fire" which was the #1 single in the U.S. that week. Though both songs are performed to track, Morrison, Manzarek, Robbie Krieger and John Densmore are pretty convincing.
Says Clark: "That has got to be the biggest, most fantastically successful group of the coming year." Clark was born on November 30, 1929. He died on April 18, 2012, at 82.
Related: 1967 – The year in rock

Latest posts by Best Classic Bands Staff
(see all)