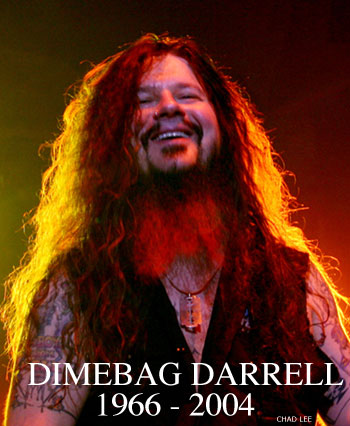 The killing of Dimebag Darrell of Pantera and Damageplan feels like such a senseless loss.
Guitarist Darrell Lance Abbott and older brother/drummer Vincent Paul Abbott started the band Pantera in Arlington, TX in 1981. The group broke through following their recruitment of singer Phil Anselmo in 1986 and creating a distinctive "groove metal" sound on their fifth album, 1990's Cowboys from Hell. Genuine talent, many years of hard work alongside dedication and determination made Pantera one of the most popular and influential hard rock/metal bands of the 1980s, selling some 25 million albums worldwide.
Dimebag was respected as one of rock's great emerging guitar talents. Tensions between the Abbott brothers and Anselmo in the late-1990s, exacerbated by Anselmo's hard drug use, prompted Dimebag and Vinnie Paul to disband Pantera in 2003 and form Damageplan.
By the time Damageplan pulled into Columbus, OH nightclub the Alrosa Villa on this day, the group had been touring for the better part of the year on their first album, New Found Power, released in February. They were unafraid to go back to the grassroots work that helped raise Pantera to superstardom.
Just a few minutes into the group's set, ex-Marine Nathan Gale climbed onto the stage and shot Abbott a number of times in the head. (The band had an altercation with Gale at an earlier gig in the year). As Gale continued to fire, Damageplan head of security Jeff "Mayhem" Thompson engaged in hand-to-hand combat with Gale, which enabled the rest of the band to escape before Gale shot him. A fan attempted to give CPR to Thompson and Darrell, but was shot and killed by the gunman. A roadie was killed when he charged at Gale while the shooter was reloading. Police eventually arrived and officer James Niggemeyer was able to kill Gale without endangering the hostage the shooter held. It was all a show of great bravery; four people died and seven were injured.
In 2021, the venue was demolished to make way for an affordable housing unit.
Related: Darrell's brother and bandmate, Vinnie Paul, died in 2018

Latest posts by Best Classic Bands Staff
(see all)