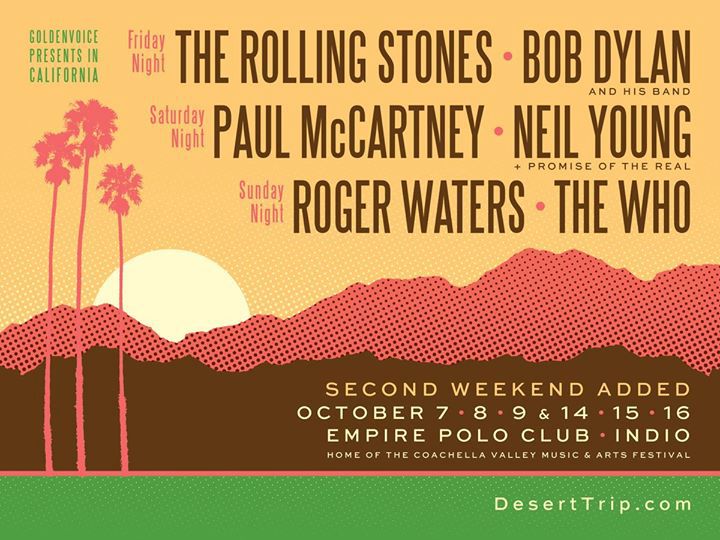 It seems that the excitement over October's now-two weekend Desert Trip classic rock fest hit a muddy patch yesterday after tickets went on sale. A scan of social media posts found a lot of unhappy campers who waited many hours in the digital line on the event's website only to come up empty-handed. And unhappy. And feeling like tickets ended up going directly to resellers.
Yes, it's an unscientific survey. But there's certainly enough kvetching to indicate that event promoters Goldenvoice might have handled ticket sales a bit differently.
Here's what one disgruntled fan who even took out a Facebook ad to express his ire had to say.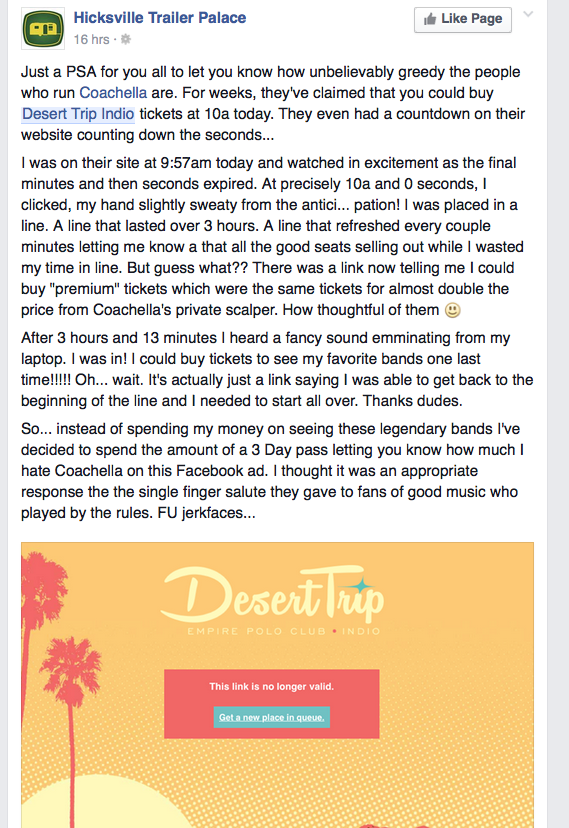 Yet his post elicited a different story: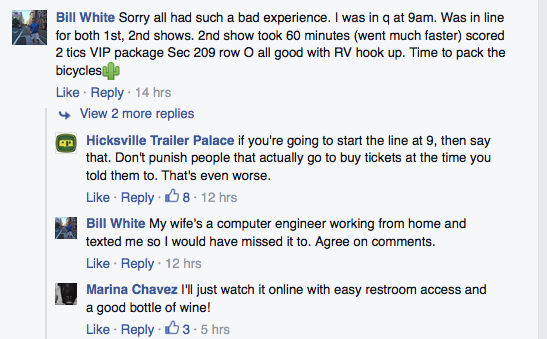 Don't miss a post! Sign up for Best Classic Bands' Newsletter; form is on every page.
Those who succeeded were psyched:
Got my #deserttrip tickets!!
Hell yeah!

— Rory Underhill (@tisafinebarn) May 9, 2016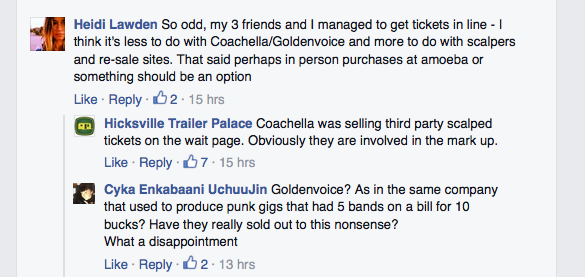 It was another matter for those that didn't:
Five hours deep I learn passes are sold out. Why does he continue to mock me with his pompous strut? #DesertTrip pic.twitter.com/E7zRB0s2cp

— Chiara Bajardi (@artybajardi) May 9, 2016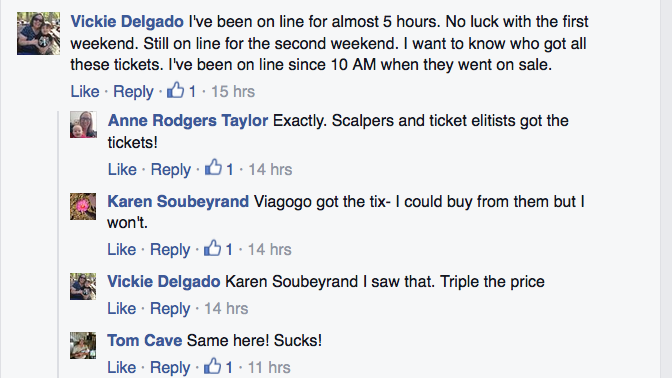 Some had fun with the long wait:
Trying to get #tickets for the #DesertTrip be like. pic.twitter.com/uT4TacusvG

— giovannnna (@giiork) May 9, 2016
Based on this virtual line to purchase tickets I'm already worried about the actual line to use the bathroom at #DesertTrip #Oldchella

— Vin Ciniello (@VinCiniello) May 9, 2016
Others had theories about why they couldn't get passes:

Allowing 8 tickets per order lets scalpers ruin an event. Total waste of time getting in line for hours #fail #DesertTrip

— RL (@ryebreadiest) May 9, 2016
Some took their anger to their heroes, like this post on Mick Jagger's Facebook page: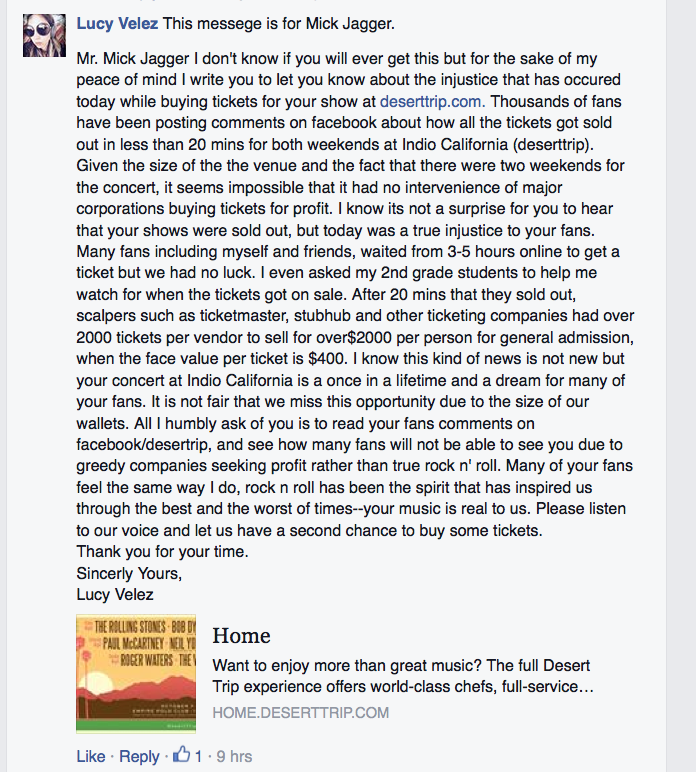 Or made pleas to their icons:
Theories cropped up about how to still get passes: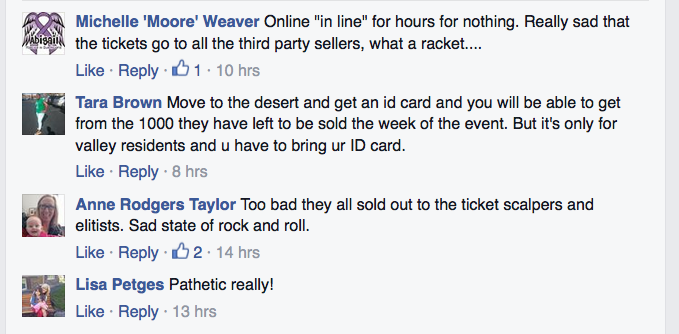 One music business friend of ours posted on Facebook about how she and the usually "connected" industry types were having a hard time getting passes through their usual channels. But there is an upside to not getting tickets.
Thank you #DesertTrip for saving me a fortune by preventing me from getting tickets.

— Simon Quinn (@simonquinn) May 9, 2016
Ultimately, we appreciate the philosophical perspective of a friend of ours, a longtime music fan and Los Angeles resident.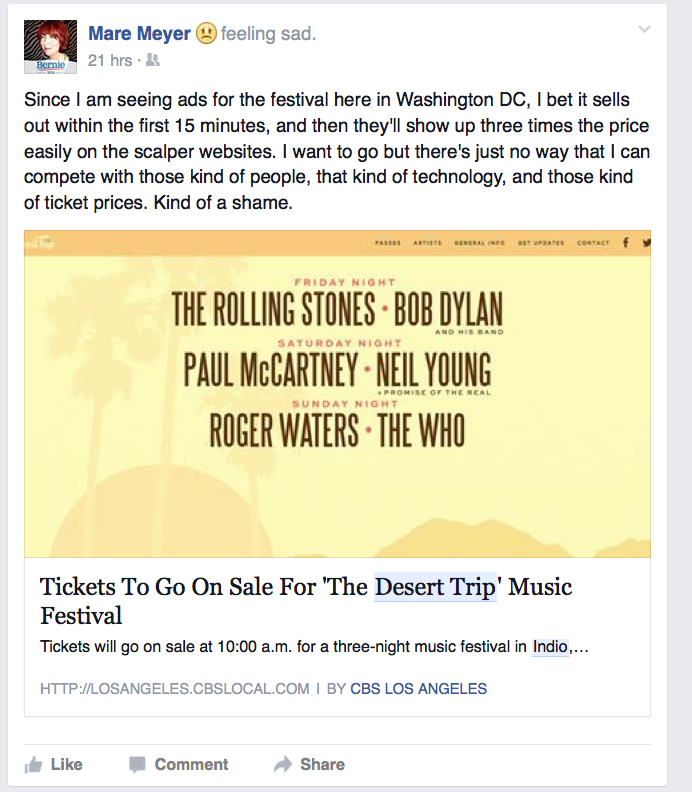 Latest posts by Best Classic Bands Staff
(see all)