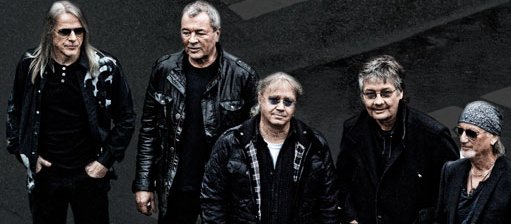 Rock and Roll Hall of Fame Class of 2016 inductees are hard at work on recording their first new studio album in three years. Deep Purple bassist Roger Glover shared an update today on the classic rock band's Facebook page, indicating that significant progress has been made. "We started the next album in Nashville on the 28th January. Thirteen days of pre-production and thirteen days recording in the studio. Lucky thirteen because we have thirteen tracks, all but finished except for vocals."
The still untitled album will be the group's first since 2013's Now What?! and is again being produced by Bob Ezrin. Adds Glover: "Bob Ezrin and the team did their usual superb job. The next stage will be IG [vocalist Ian Gillan]and I spending a week together, honing up on the lyrics before recording vocals in Toronto in April."
Members of the band will be at Brooklyn's Barclays Center for the Rock Hall's April 8 induction ceremony. The Hall decides on which band members are being inducted. In Deep Purple's case, it's Ritchie Blackmore, David Coverdale, Rod Evans, Gillan, Glover, Glenn Hughes, Jon Lord, Ian Paice. But as Best Classic Bands reported last month, a rift between former member Blackmore and the band and its management has resulted in Blackmore not taking part.
On the topic of the new album, referring to the number 13, Glover writes: "Coincidence or what? How many will end up on he album is hard to tell yet… maybe all of them, maybe not. I won't even begin to describe the music––an impossible job in any case. Suffice to say I've been listening to the rough mixes and there's a smile on my face."
Glover adds: "It was a real pleasure to meet up and jam with our Nashville friends. It's a great city to be in, all kinds of nightlife, live music everywhere. It almost feels like being back in the 60s. Don [Airey] and I went to see Diana Ross with the Nashville Philharmonic one night, the place was jumping, great band, she was exactly what is expected, voice, teeth and costume changes, etc. Jay and Dave of Rival Sons came to visit us in the studio when their tour hit town. We saw them do a fantastic gig that night, what a great band."
Deep Purple begins an overseas tour on May 9. The current itinerary lists seven Japan dates, as well as Israel, Russia and numerous European countries through July 31.
(If you're a new Best Classic Bands reader, we'd be grateful if you would Like our Facebook page and/or bookmark our Home page.)

Latest posts by Best Classic Bands Staff
(see all)