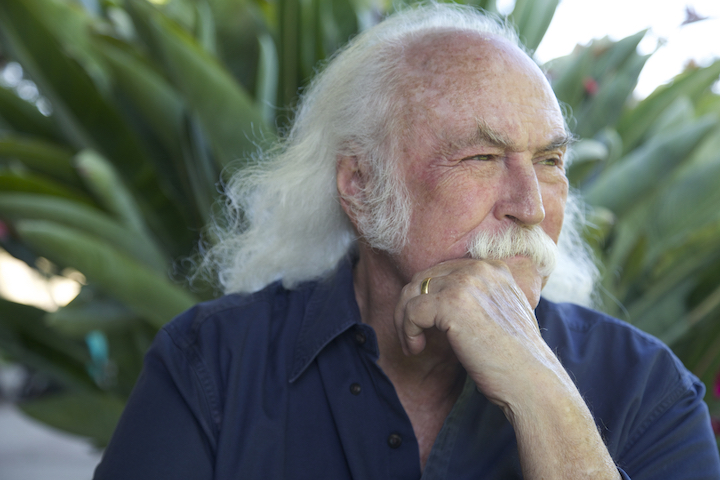 Update (August 26): Crosby has added a whole new batch of tour dates to his already-in-progress Lighthouse tour. Scroll down to see if your hometown is on the list.
Last February, David Crosby teased news about a new studio album – "First of two solo records is done…second starts tomorrow." The first of those new records, Lighthouse, is coming October 21 on GroundUP Music/Verve Label Group. (Hear the lead cut below.)
The announcement describes the album as "an intimate, stripped-down set that highlights [his] instantly recognizable voice, incisive songwriting, and incomparable guitar work. "To create brand new music that I'm excited about is a pearl beyond price," says the two-time Rock and Roll Hall of Fame inductee.
It's another welcome burst of artistic output from the now 75-year-old. 2014's Croz ended a gap of 20 years in between solo albums for the classic rock legend. Lighthouse is filled primarily by Crosby's voice and guitars, with production by Michael League of Snarky Puppy.
Album opener, "Things We Do For Love," was written for Crosby's wife, Jan. "Paint You A Picture," a tale of romantic regret, was co-written with singer-songwriter Marc Cohn. Crosby, a social activist, condemns politicians who send other people's children to war on "Somebody Other Than You."
"Among folk rock songwriters, David is a real outlier," League says. "He brought an element of color and exploration and risk to the writing process in his lyrics, in the guitar parts, in the vocal harmonies. He isn't afraid to put notes in the chords you normally wouldn't hear."
Related: Watch CSN&Y perform Crosby's song "Long Time Gone" with… Tom Jones!
Lighthouse was recorded at the Santa Monica, CA studio owned by Crosby's longtime pal Jackson Browne. League co-wrote half the songs with Crosby. Crosby asked League to put aside a month for recording, though League insisted they only needed two weeks. "I said, I've never done a record in two weeks, I'm an old guy and you're a young fireball. You have to slow down a little bit and give me a whole month," Crosby recalls. "We recorded the record in 12 days," he laughs.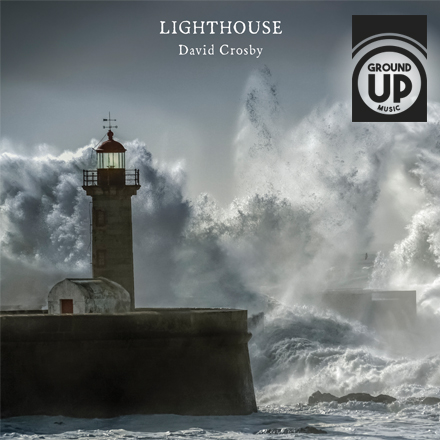 Lighthouse Track Listing:
1. "Things We Do For Love"
2. "The Us Below"
3. "Drive Out to the Desert"
4. "Look in Their Eyes"
5. "Somebody Other Than You"
6. "The City"
7. "Paint You a Picture"
8. "What Makes it So"
9. "By the Light of Common Day"
Crosby has been a member of two of the greatest rock bands in history – the Byrds and Crosby, Stills & Nash (and CSNY). He is also the author of three books including Stand and Be Counted which underscores his commitment to social activism. Crosby's two autobiographical titles are Long Time Gone and Since Then: How I Survived Everything And Lived To Tell About It. The folk rock pioneer was inducted into the Songwriters Hall of Fame in 2009.
Crosby begins a summer North American tour next month, accompanied by his son James Raymond on piano. A fall tour is planned.
An Evening with David Crosby Tour Dates (Tickets here):
Aug 26 – Greensburg, PA – Palace Theatre
Aug 28 – Evansville, IN – Victory Theatre
Aug 29 – Kansas City, MO – Uptown Theater
Aug 31 – Chicago, IL – Thalia Hall
Sept 2 – Kitchener, ON – Centre In the Square, Main Hall
Sept 4 – Toronto, ON – Danforth Music Hall
Sept 6 – Thunder Bay, ON – Community Auditorium
Sept 8 – Winnipeg, MB – Burton Cumming Theatre
Sept 9 – Regina, SK – Casino Regina Show Lounge
Sept 11 – Calgary, AB – Jack Singer Concert Hall
Sept 12 – Edmonton, AB – Winspear Centre For Music
Sept 14 – Kelowna, BC – KelownaTheatre
Sept 15 – Vancouver, BC – Vogue Theatre
These new dates have now been added to the tour…
Nov 18 – Atlanta, GA – Atlanta Symphony Hall
Nov 19 – Danville, KY – Centre College – Norton Center for the Arts
Nov 21 – Ponte Vedra Beach, FL – Ponte Vedra Concert Hall
Nov 22 – Stuart, FL – Lyric Theatre
Nov 26 – Melbourne, FL – King Center for the Performing Arts
Nov 27 – Clearwater, FL – Capitol Theater
Nov 29 – Charlotte, NC – McGlohan Theatre at Spirit Square
Dec 1 – Morgantown, WV – West Virginia University
Dec 2 – Greensboro, NC – Carolina Theatre
Dec 4 – Roanoke, VA – Jefferson Center
Dec 5 – Nashville, TN – Schermerhorn Symphony Center
Dec 7 – Wilmington, NC – Cape Fear Community College (Outdoor)
Dec 9 – Glenside, PA – Keswick Theatre
Dec 10 – Ridgefield, CT – Ridgefield Playhouse
Dec 12 – Boston, MA – Wilbur Theatre
Dec 13 – Tarrytown, NY – Music Hall Theatre
Dec 15 – New York, NY – The Town Hall
Dec 16 – Ithaca, NY – State Theatre

Latest posts by Best Classic Bands Staff
(see all)