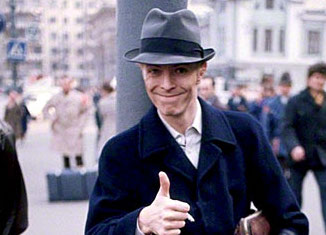 David Bowie Legacy, a new multi-format retrospective, will be released November 11 as a single-disc or two-CD set and, January 17, as a two-LP package. All three versions gather together Bowie singles, from his first hit, 1969's "Space Oddity," through to the final singles 'Lazarus' and 'I Can't Give Everything Away' from earlier this year. All formats feature a previously unreleased version of the classic 1971 single "Life On Mars?" mixed by its original producer, Ken Scott.
David Bowie Legacy is being touted by Columbia Legacy, the label releasing the sets, as "an introduction to a whole world of music that is just waiting to be rediscovered by a whole new generation."
Order the two-CD set here and the single-disc set here.
1-CD Track Listing
Let's Dance (single version) (4.08)
Ashes To Ashes (single version) (3.35)
Under Pressure – Queen & David Bowie (4.04)
Life On Mars? (2016 mix) (3.50)
Changes (3.35)
The Man Who Sold The World (3.58)
Space Oddity (5.21)
Starman (original single mix) (4.12)
Ziggy Stardust (3.12)
The Jean Genie (original single mix) (4.05)
Rebel Rebel (4.30)
Young Americans (original single edit) (3.14)
Golden Years (single version) (3.27)
Modern Love (single version) (3.56)
China Girl (single version) (4.15)
Fame (4.16)
Sound And Vision (3.03)
Heroes (single version) (3.33)
Where Are We Now? (4.09)
Lazarus (radio edit) (4.05)
Related: Bowie's final recordings to be released
2-CD Track Listing
CD 1:
Space Oddity (5.12)
The Man Who Sold The World (3.58)
Changes (3.35)
Oh! You Pretty Things (3.11)
Life On Mars? (2016 mix) (3.50)
Starman (original single mix) (4.12)
Ziggy Stardust (3.12)
Moonage Daydream (4.40)
The Jean Genie (original single mix) (4.05)
All The Young Dudes (3.09)
Drive-In Saturday (4.29)
Sorrow (2.53)
Rebel Rebel (4.30)
Young Americans (original single edit) (3.14)
Fame (4.16)
Golden Years (single version) (3.27)
Sound And Vision (3.03)
Heroes (single version) (3.33)
Boys Keep Swinging (3.17)
Fashion (single version) (3.25)
Ashes To Ashes (single version) (3.35)
CD 2:
Under Pressure – Queen & David Bowie (4.04)
Let's Dance (single version) (4.08)|
China Girl (single version) (4.15)
Modern Love (single version) (3.56)
Blue Jean (3.11)
This Is Not America – with The Pat Metheny Group (3.51)
Dancing In The Street – David Bowie & Mick Jagger (3.11)
Absolute Beginners (edit) (4.46)
Jump They Say (radio edit) (3.53)
Hallo Spaceboy (PSB Remix) – with The Pet Shop Boys (4.23)
Little Wonder (edit) (3.40)
I'm Afraid Of Americans (V1) (clean edit) (4.30)
Thursday's Child (radio edit) (4.25)
Slow Burn (radio edit) (3.57)
Everyone Says 'Hi' (edit) (3.29)
New Killer Star (radio edit) (3.42)
Where Are We Now? (4.09)
Lazarus (radio edit) (4.05)
I Can't Give Everything Away (radio edit) (4.25)
Watch the 2016 mix of Bowie singing "Life on Mars?"
2-LP Track Listing

Side 1:
Let's Dance (single version) (4.08)
Ashes To Ashes (single version) (3.35)
Under Pressure – Queen & David Bowie (4.04)
Life On Mars? (2016 mix) (3.37)
Changes (3.35)
Side 2:
Oh! You Pretty Things (3.11)
Space Oddity (5.21)
Starman (original single mix) (4.12)
Ziggy Stardust (3.12)
The Jean Genie (original single mix) (4.05)
Side 3:
Rebel Rebel (4.30)
Young Americans (Original Single Edit) (3.13)
Golden Years (single version) (3.27)
Modern Love (single version) (3.56)
China Girl (single version) (4.15)
Side 4:
Fame (4.16)
Sound And Vision (3.03)
Heroes (single version) (3.33)
Where Are We Now? (4.09)
Lazarus (radio edit) (4.05)

Latest posts by Best Classic Bands Staff
(see all)