Dan Fogelberg: The Making of the Tribute Album
by Mark Brown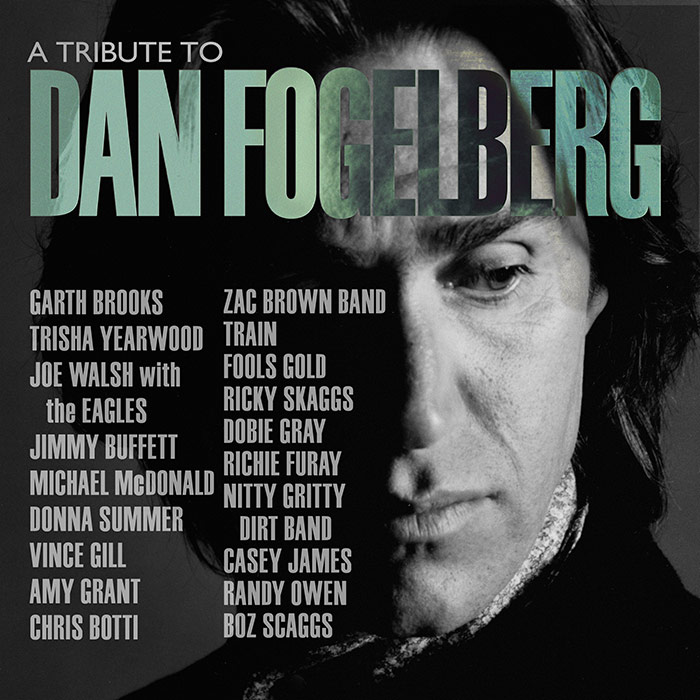 The concept of a tribute album to the late Dan Fogelberg was, in a strange way, conceived by Fogelberg himself.
"Dan loved Concert for George," his wife Jean Fogelberg told Best Classic Bands, referencing the 2003 release of the tribute concert/DVD/CD for the late George Harrison. "I watched him watching it and I knew that he wondered if someone was going to do that for him after he died."
So when Fogelberg died of prostate cancer on December 16, 2007—much too young at 56 in 2007—"I tried for about a year to get a concert together," Jean said. It didn't happen.
So instead she went for a tribute album, a tried-and-true but hit-or-miss path that often saw great music or mediocre results.
Fogelberg fans hit the jackpot, with the release of a classic solo acoustic Fogelberg show; a tribute concert in Denver in August 2017 starring Garth Brooks, Vince Gill, Amy Grant and Joe Walsh's Barnstorm; and finally, the release of A Tribute to Dan Fogelberg.
When Jean approached Dan's longtime producer Norbert Putnam to get the tribute album done, he warned her it wouldn't be easy. "It could take a year and a half," he told her.
That was more than optimistic.
"When it comes out, it will be after seven years and seven months," Jean Fogelberg said.
Listen to Boz Scaggs sing "Hard to Say" from the tribute album
The roster was worth the wait. Eagles, Garth Brooks, Train, Zac Brown, Ricky Skaggs, Donna Summer, Boz Scaggs, Amy Grant, Vince Gill and more showed up. The artists all worked for free, with all proceeds going to prostate cancer research.
"I thought it would be pretty easy to get a lot of Dan's contemporaries to do a Dan Fogelberg song," Putnam said. It turns out the fans were often younger. Putnam was at a concert with Brooks in Nashville, "and he said how meaningful Dan's music was to him college. He had a poster on the wall of one of our records… so I knew we could get Garth."
"Joe Walsh went in almost right away and did 'Part of the Plan,'" Fogelberg said. (Walsh produced Souvenirs, the album that contained that hit single.) Eagles über-manager Irving Azoff, who got his start in the music industry managing Dan, immediately took up the cause.
Related: Our behind-the-scenes look at Walsh's But Seriously Folks
"There are only two people who matter here: Jean, and I know Dan would have been proud of this and would have wanted it to happen," Azoff said.
"There's always a chance that everything you do in the music business is never going to see the light of day," Putnam said, but failure on this project simply wasn't an option.
"The idea was all Jean's," Azoff said. "She worked tirelessly. She got Norbert, then she got me and Chuck [Morris, a concert executive and early Fogelberg fan]. She and Chuck just really carried the water. They weren't going to take no for an answer."
Originally the members of the Eagles were each going to contribute a track, but eventually vocals were overdubbed on the Walsh track, making it an official Eagles song.
Listen to Eagles' recording of "Part of the Plan"
Two artists didn't live to see their contributions released: Dobie Gray and Donna Summer both contributed, but both died of cancer. With the newly re-formed Eagles, could this be the last release from that band as well?
"Gosh, what's your definition of the Eagles?" Azoff said. "Glenn's gone."
The artists on the record "are more than fans," Azoff said. "I remember the first conversation I had with Garth Brooks about it. He said, 'You have no idea how much Dan Fogelberg influenced me.' Pretty fucking cool."
"He knew it was getting worse quickly," Azoff said of his last meeting with his friend. "He didn't have a lot of regrets. He was so happy with Jean up in his house in Maine. He was sailing. He was an incredible artist. He wrote, he sang, he arranged, he could play every instrument and was an incredible graphic artist as well."
Listen to the Nitty Gritty Dirt Band and Richie Furay sing Fogelberg's "Run For the Roses"
Azoff had a personal stake, as Fogelberg was his best friend and first client. Azoff would still have been Azoff, but if not for he and Dan becoming friends in Champaign, Ill., the path would have been different.
"It was kind of a scary time for both of us," he said, when the duo headed to Los Angeles to take a shot at success.
"I flew, and he insisted on driving. He thought it would be a great adventure. He almost got rained off of the top of a mountain in Colorado, trashed his car, all this stuff…" Azoff said.
The induction ceremony was in Denver on August 13, 2017, Dan's birthday, a day Jean Fogelberg picked purposely. "Joe said he could do it," and Brooks signed on as well.
"Donna's recording was from [Fogelberg's 1977 album] Nether Lands. At the time Nether Lands came out she had a personal problem in her life to resolve," Putnam said. "She used to play that song every morning. She did a spectacular job."
"With the concert we'd waited so long that you tend to get a little bit numb to it," Jean Fogelberg said. "The night of the concert when Garth went onstage and started playing it was suddenly real. There was this great sense of release that it was actually happening…it really felt like old-home week. All these musicians, clapping backs, hugging, the best feeling of family coming together for Dan."
With the release of the solo acoustic Live at Carnegie Hall concert in 2017 it was a banner era for Dan fans, and it's just the start.
"I have a list of projects; it's just a coincidence that Carnegie Hall and the tribute came out at the same time," Fogelberg said. Fans know Dan Fogelberg was a talented visual artist, so next up is a book of his paintings and drawings.
"It feels like it's the right time to come out now," Azoff said. "It just feels right to me."
A Tribute to Dan Fogelberg Track List
"Phoenix" – Garth Brooks
"Nether Lands" – Donna Summer
"Better Change" – Michael McDonald
"Longer" – Amy Grant/Vince Gill
"Same Old Lang Syne" – Train
"Don't Lose Heart" – Dobie Gray
"Old Tennessee" – Fool's Gold/Denny Henson and Tom Kelly
"As the Raven Flies" – Casey James
"Sutters Mill" – Randy Owens
"Run for the Roses" – The Nitty Gritty Dirt Band with Richie Furay
"Hard to Say" – Boz Scaggs
"Part of the Plan" – Eagles
"There's a Place in the World for a Gambler" – Jimmy Buffett
"Leader of the Band" – Zac Brown
"We are blessed and grateful to Jean for her steadfast and devotional support of the Prostate Cancer Foundation and our work to defeat this cancer that continues to take the life of a man every 20 minutes," said Jonathan Simons, MD, president and chief executive officer, PCF. "With her help and the support of all of Dan's fans who purchase this beautiful tribute album, research gets that much closer to the day when loved ones are no longer lost to prostate cancer."
Bonus Video: Watch Dan Fogelberg sing "To the Morning" live in 1976

Latest posts by Mark Brown
(see all)