Dan Fogelberg's 'Souvenirs' — A Keepsake That Was Part of the Plan
by Lee Zimmerman
Even at the outset, Dan Fogelberg seemed to have everything going for him: tremendous talent, an exceptional stockpile of songs, an unassuming approach and a host of famous friends on whom he could readily rely. That was borne out by the fact that with only his second album, Souvenirs, he was able to establish himself quickly as a singer/songwriter possessing both promise and proficiency. His music was appealing on several levels, given that it shared a sound that positioned him within the Southern California musical mainstream and a place of prominence that he enjoyed alongside the Eagles, America, Jackson Browne, Poco, the Flying Burrito Brothers and other outfits that shared a similar sensibility. In that regard, he also appealed to the masses, with songs that were suggestive yet spare, intimate and yet accessible, all at the same time.
While his debut Home Free, released two years earlier, leaned on a more countrified approach and gained only limited notice as a result, Souvenirs, released in November 1974, eschewed any specific melodic constraints, courtesy of a set of songs that put the emphasis on compelling choruses that easily made an immediate impact. The tack paid off, landing the album within the top 20 and culminating in sales that equated to double platinum status. It didn't hurt that he had a star-studded cast of musicians that shared space with him on the marquee, chief among them Joe Walsh, who not only oversaw the album's production, but also played guitar on 10 of the album's 11 tracks. He wasn't alone; other members of Fogelberg's ensemble included Eagles Glenn Frey and Don Henley, Graham Nash, Gerry Beckley of America, percussionist Joe Lala, veteran session drummer Russ Kunkel, pedal steel player Al Perkins, and a pair of exceptional string arrangers, Paul Harris and Jimmie Haskell.
It's also fair to say that Fogelberg's association with his high-profile manager and promoter Irving Azoff helped his standing as well. He was only the second artist signed to Azoff's growing list of star clientele, which initially included REO Speedwagon but would eventually grow to encompass the Eagles, Journey, Lindsey Buckingham, Steely Dan, Van Halen, Harry Styles and Bon Jovi. Azoff also acquired Walsh for his roster, which likely helped encourage Walsh's willingness to sit behind the boards, one of only a very few times in his career that he agreed to tackle the production duties for another artist.
That said, given Walsh's reputation as a decidedly relentless rocker, both on his own and with his seminal band the James Gang, one could easily be forgiven for thinking the Fogelberg/Walsh relationship might have evolved into a musical mismatch. Even the Eagles had concerns about Walsh join joining their ranks early on, thinking he was too wild and reckless to find a fit within their seamless style.
Fortunately then, it turned out there was no reason to worry.  Souvenirs would produce several of the most indelible songs found in Fogelberg's exceptional catalog. The opening surge of "Part of the Plan" sets the tone, an anthemic intro that conveys its sentiments through a decidedly determined delivery. The plan in question, Fogelberg's musical mantra, was perfectly aligned, even at the outset.
The song that follows, "Illinois," recalls the homespun happenstance so prevalent earlier on in Home Free, but it's left to the sobering narrative shared in "Song from Half Mountain" and the telling requiem that concludes the album, "There's a Place in the World for a Gambler," to evoke the emotions so central to Fogelberg's seemingly prescient perspective:
"There's a light in the depths
Of your darkness
There's a calm at the eye
Of every storm.
There's a light in the depths
Of your darkness.
Let it shine"
Sadly, the song would eventually foretell the fate that would befall Fogelberg himself at an all too early age. In May 2004 he was diagnosed with prostate cancer, and although it went into partial remission, it would return a short time later and eventually claim his life. At the time, he was 56 years old.
Listen to "As the Raven Flies"
Related: Radio great Dennis Elsas' interview with Dan Fogelberg
Ultimately then, it's the song "Morning Sky" that seems to best sum up his early promise and the lingering legacy he left behind:
"OOO, and it makes me stop and
Wonder why
People give their hearts and turn
Around and say goodbye
If there's something on your mind
You better say it while there's time
'Cause I'm leavin' when I see that
Morning sky"
The lyric foretells the fact that while there would be other classic songs spawned from his musical arsenal in the years to come—"Leader of the Band," "Same Old Lang Syne," "Part of the Plan" and "The Language of Love" among them—Fogelberg left the world far too soon. He was a tender-hearted troubadour who wore his emotions on his proverbial sleeve and happily shared them with legions of listeners, who saw him as the epitome of both an infinitely expressive artist, but also one who was able to bring others into his orbit through both tenderness and tenacity.
In that regard, Souvenirs remains an essential keepsake, and if it's not Fogelberg's best album—although many rightfully insist that it is—it's the one work that still sums him up succinctly.
Listen to Dan Fogelberg sing the title track from Souvenirs live at Carnegie Hall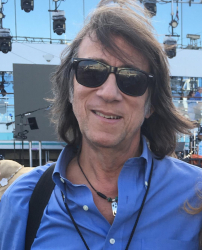 Latest posts by Lee Zimmerman
(see all)