Two-time Rock and Roll Hall of Fame inductee Curtis Mayfield, one of the most revered soul singers of all-time, recorded a string of hits with the Impressions before leaving the influential soul-gospel group to embark upon a solo career that began 50 years ago.
Mayfield, born June 3, 1942, was only 14 years old when he joined the Impressions in 1956. He spent the next 14 years with the group, writing many of their hits, including "Gypsy Woman," "It's All Right" and "People Get Ready," a classic that's earned a number of prestigious accolades, including induction into the Grammy Hall of Fame in 1998.
Mayfield left the group in 1970 and launched his solo career with his debut album, Curtis. The album reached the Billboard Pop Albums chart Top 20 and was certified gold. It features "(Don't Worry) If There's A Hell Below, We're All Going To Go," a hit in the U.S., and "Move On Up," which charted in the U.K. In terms of cultural significance, the album's potent combination of socially conscious lyrics and soul/funk music helped blaze a trail for later albums like Marvin Gaye's What's Going On and Stevie Wonder's Innervisions.
Listen to the incredible "Move On Up," which somehow failed to chart
Mayfield returned in 1971 with Roots. His second solo album peaked at #6 on the R&B Albums chart thanks to tracks like "Get Down," "Beautiful Brother of Mine" and "We Got To Have Peace." He achieved enormous success with his Super Fly soundtrack, which reached #1 on October 21, 1972, thanks to the two Top 10 singles ("Superfly" and "Freddie's Dead").
Watch Mayfield perform "Super Fly"
Related: 1972's #1 albums – Each has a story
Mayfield released his third solo record, Back to the World, in 1973. It topped the R&B Albums chart and introduced fans to great tracks like "Future Shock," "Can't Say Nothin'" and "If I Were Only A Child Again." In 1974 he released Sweet Exorcist, which reached #2 on the Top R&B Albums chart. It produced two singles, the title track and "Kung Fu."
Rhino Records spotlighted Mayfield's early solo career in a 2019 collection that includes newly remastered versions of the above-noted first four studio albums: Curtis (1970), Roots (1971), Back to the World (1973) and Sweet Exorcist (1974). Titled Keep On Keeping On: Curtis Mayfield Studio Albums 1970-1974 after a song on the Roots album.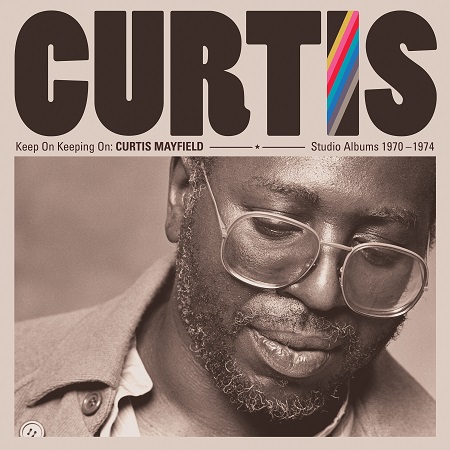 Related: 10 classic rock/soul songs
Marking the anniversary of Mayfield's advent as a solo artist, Altheida Mayfield, the singer's widow, said, "Curtis Mayfield was my husband and we were a team, so it's an especially happy occasion to see these songs featured in a new boxed set on what would be Curtis' 50th anniversary as a solo artist. The family has and continues to lovingly support and share his musical legacy with the world."
Mayfield has been inducted twice into the Rock Hall, first with the Impressions in 1991 and then again as a solo artist in 1999.
Mayfield was paralyzed from the neck down in 1990 after being hit by a failing lighting fixture. Although he was unable to play instruments after the accident, Curtis continued to sing, compose music and record. He died Dec. 26, 1999, at age 57, as the result of complications of diabetes.
In 2017, Lionel Richie announced that he had acquired the rights to make a Mayfield biopic. "It's an honor for me to bring the life of one of my idols and friend to the screen," the former Commordores frontman said in a press release. "I'm so grateful to be working closely with Altheida Mayfield, Cheaa Mayfield and the Curtis Mayfield Estate and couldn't be happier to be moving forward on this amazing project about a one-of-a-kind music genius."

Latest posts by Best Classic Bands Staff
(see all)