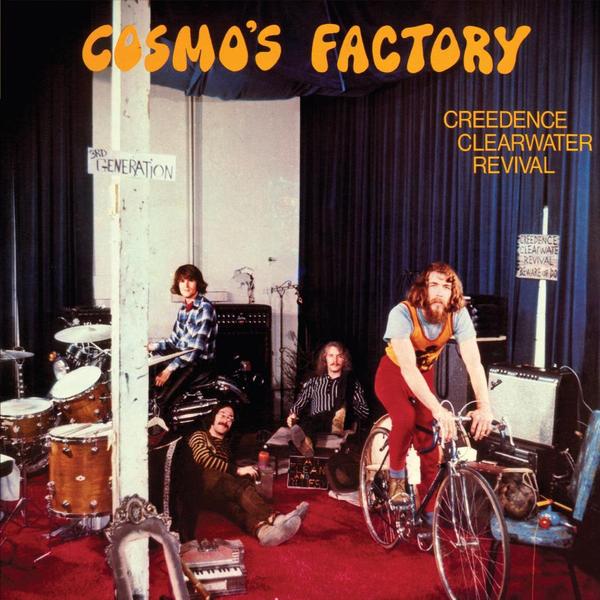 Cosmo's Factory, the fifth album—in two years—by classic rock legends Creedence Clearwater Revival began an impressive nine-week run atop the Billboard Top 200 on this day. It's the group's second LP, following 1969's Green River, to top the album chart. Interestingly, for a group known at least as much as a singles act as an album band, CCR never had a #1 single; in fact, they hold the record for having the most #2 singles without ever reaching the top slot.
The album's title comes from a group in-joke about the foursome's rehearsal space in a Berkeley, Calif. warehouse. Because bandleader John Fogerty insisted the foursome rehearse there daily when not in the studio or on the road, drummer Doug "Cosmo" Clifford called it "the factory."
The LP's release was preceded by two double A-sided singles: "Travelin' Band"/"Who'll Stop the Rain" in January, which reached #2, and in April "Run Through the Jungle" (a #4 hit)/"Up Around the Bend: #2. Another two-fer 45, "Lookin' Out My Back Door"/"Long As I Can See the Light" – both #2 hits – was released concurrently with the album in July.
Related: The #1 albums of 1970
By December Cosmo's Factory was certified gold, and over time sold more than four million copies. It also reached #11 on the R&B charts, and one of its key tracks was an 11-minute take on the Marvin Gaye hit "I Heard It Through the Grapevine."
Watch a great live (and shorter) version
Cosmo's Factory also includes such great recordings as "Before You Accuse Me" and "My Baby Left Me."
Review: Review of CCR's 1969 archive box set
Before they became one of the biggest bands in the world, CCR were known as the Golliwogs, where they honed their skills on the road and in the studio. Their early records were released in 2017.
When John Fogerty tours, tickets are available here.

Latest posts by Best Classic Bands Staff
(see all)