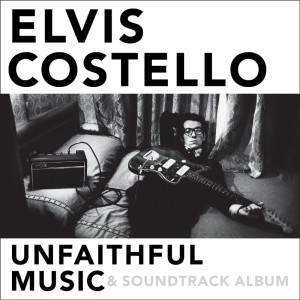 Fans of the second and very-much-alive Elvis can listen along as they read his book Unfaithful Music & Disappearing Ink, published by Blue Rider Press/Penguin Random House on October 13th. A two-disc, 36-track set, Unfaithful Music & Soundtrack Album (to be released by UMe on October 9th) is rich with fan favorites, rarities and as-yet-unheard goodies and was designed to serve as a companion to Costello's memoir; he chose songs that offer the deepest emotional connection to the themes and stories in the book.
The set includes two previously unreleased titles: "April 5th," written and recorded with Rosanne Cash, Kris Kristofferson and John Leventhal, and one of Costello's earliest solo recordings, "I Can't Turn It Off," from his pre-EC days as D.P. Costello on the London pub-rock scene in 1975. It also features three exclusive "audio book sketches" not in the published memoir and a 28-page booklet with many unseen photographs, several of them from the MacManus family album.
Fans can pre-order the album & book on Amazon below. Dates for a book tour are here.
DISC 1
Accidents Will Happen (Live) – Elvis Costello And Steve Nieve
Poison Moon – 

Elvis Costello

Watching The Detectives – 

Elvis Costello

Oliver's Army – Elvis Costello And The Attractions
Riot Act – Elvis Costello And The Attractions
New Lace Sleeves – Elvis Costello And The Attractions
Man Out Of Time – Elvis Costello And The Attractions
I Want You – Elvis Costello And The Attractions
When I Was Cruel No.2 – 

Elvis Costello

Stranger In The House – George Jones With Elvis Costello
Beyond Belief – Elvis Costello And The Attractions
Home Truth – Elvis Costello And The Attractions
Indoor Fireworks – The Costello Show Featuring His Confederates
Shipbuilding – Elvis Costello And The Attractions
Cinco Minutos Con Vos – Elvis Costello And The Roots
Bedlam – Elvis Costello And The Imposters
Deep Dark Truthful Mirror – 

Elvis Costello

Ascension Day

 – 

Elvis Costello

 & 

Allen Toussaint

Red Cotton

 – Elvis Costello And The Sugarcanes
DISC 2
Veronica [Demo]

 – 

Elvis Costello

In The Darkest Place – Elvis Costello With Burt Bacharach
I Want To Vanish – Elvis Costello And The Attractions

My Dark Life

 – Elvis Costello With Brian Eno
The Other Side Of Summer – 

Elvis Costello

London's

 Brilliant Parade – 

Elvis Costello

Ghost Train – 

Elvis Costello

Suit Of Lights – The Costello Show Featuring His Confederates

Jimmie Standing

 In The Rain – Elvis Costello And The Sugarcanes
The Birds Will Still Be Singing – Elvis Costello And The Brodsky Quartet
Wise Up Ghost – Elvis Costello And The Roots
Almost Blue – Elvis Costello And The Attractions
All The Rage – 

Elvis Costello

Couldn't Call It Unexpected No. 4 – 

Elvis Costello

Alison – 

Elvis Costello

My Three Sons – Elvis Costello And The Imposters
I'm In The Mood Again – 

Elvis Costello

April 5th

 – 

Rosanne Cash

, Elvis Costello And Kris Kristofferson (Previously Unreleased)
I Can't Turn It Off – 

D.P. Costello

 (Previously Unreleased)
Sketches From Unfaithful Music & Disappearing Ink – 

Elvis Costello

Latest posts by Best Classic Bands Staff
(see all)