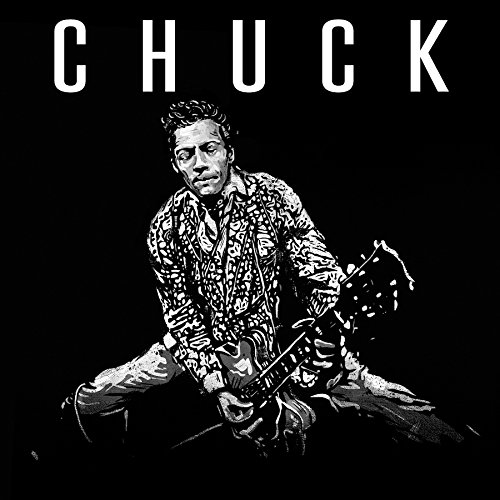 Chuck Berry was 90 when he died on March 18, 2017, but he wasn't quite ready to hang up his rock and roll shoes. In an unexpected announcement on his last birthday (October 18), Berry revealed that he would release his first new album in 38 years in 2017. And sure enough, Chuck, which arrives on June 9, will consist of all new material written by the man who gave rock music so many of its most beloved classics.
A single, "Wonderful Woman," debuted in late April. We should all sound so good at any age, let alone 90. (Listen to it below.) On May 17, a video–billed as Berry's first official music video ever–was released for a song that was originally released in March, "Big Boys." (Watch the clip below.)
And on May 24, "Lady B. Goode," described as a female counterpart to his legendary "Johnny B. Goode," was released.
The album, coming on the Dualtone label, was also produced by Berry. His accompanists include two of his children– guitarist Charles Berry Jr. and harmonica player Ingrid Berry. Other players include guitarist Gary Clark, Jr., bassist Jimmy Marsala, pianist Robert Lohr and drummer Keith Robinson. Pre-order is available here.
In a statement (on what would prove to be his final birthday), Berry said, "This record is dedicated to my beloved Toddy," the nickname for his wife of 68 years, Themetta Berry.  "My darlin', I'm growing old! I've worked on this record for a long time. Now I can hang up my shoes!"
Listen to "Wonderful Woman"…
Berry's last album, in 1979, was called Rock It. He has said that he was working on the new album ever since.
Chuck Track Listing
1. Wonderful Woman
2. Big Boys
3. You Got To My Head
4. 3/4 Time (Enchiladas)
5. Darlin'
6. Lady B. Goode
7. She Still Loves You
8. Jamaica Moon
9. Dutchman
10. Eyes of Man
Here's "Big Boys," which was released in March…
Here is our 90th birthday tribute from last October to the man who was there from the start…
He is one of the architects of rock 'n' roll, born Charles Edward Anderson Berry on this day in St. Louis, Missouri. A guitarist from his teens, Chuck Berry learned a wide swath of styles sitting in with groups around St. Louis before he joined the Sir John Trio led by pianist Johnnie Johnson (whose style and, some say, melodies became part of Berry's music). He drew attention in the combo due to his animated performing style and the seeming anomaly of singing white hillbilly music with the jazz/R&B group, which upped its popularity and drew white fans to their gigs.
In May 1955 Berry visited Chicago, and after seeing a show by Muddy Waters asked the bluesman how he could start making records. Waters referred Berry to Leonard Chess of Chess Records. On May 21, Berry recorded his adaptation of the Western swing song "Ida Red' as "Maybellene" at Chess Studios. It became a Top 5 pop single, went #1 R&B and sold a million copies. From 1956-60 he recorded a number of chart singles that codified a substantial part of the rock 'n' roll style and ethos, marked by rollicking rhythms, clever wordplay and his snappy guitar lines that celebrated rock music ("Roll Over Beethoven," "Rock 'n' Roll Music," "Let It Rock"), teenage life ("School Day," "Sweet Little Sixteen") and prosperous 1950s America ("Back In The U.S.A.") as well as, in a way, his own growing mythology ("Johnny B. Goode," "You Can't Catch Me").
Berry was among the first 10 artists inducted into the Rock and Roll Hall of Fame in 1986 and his songs have been recorded by countless artists. Hear some of the best in our story 17 Classic Chuck Berry Covers.

Latest posts by Best Classic Bands Staff
(see all)