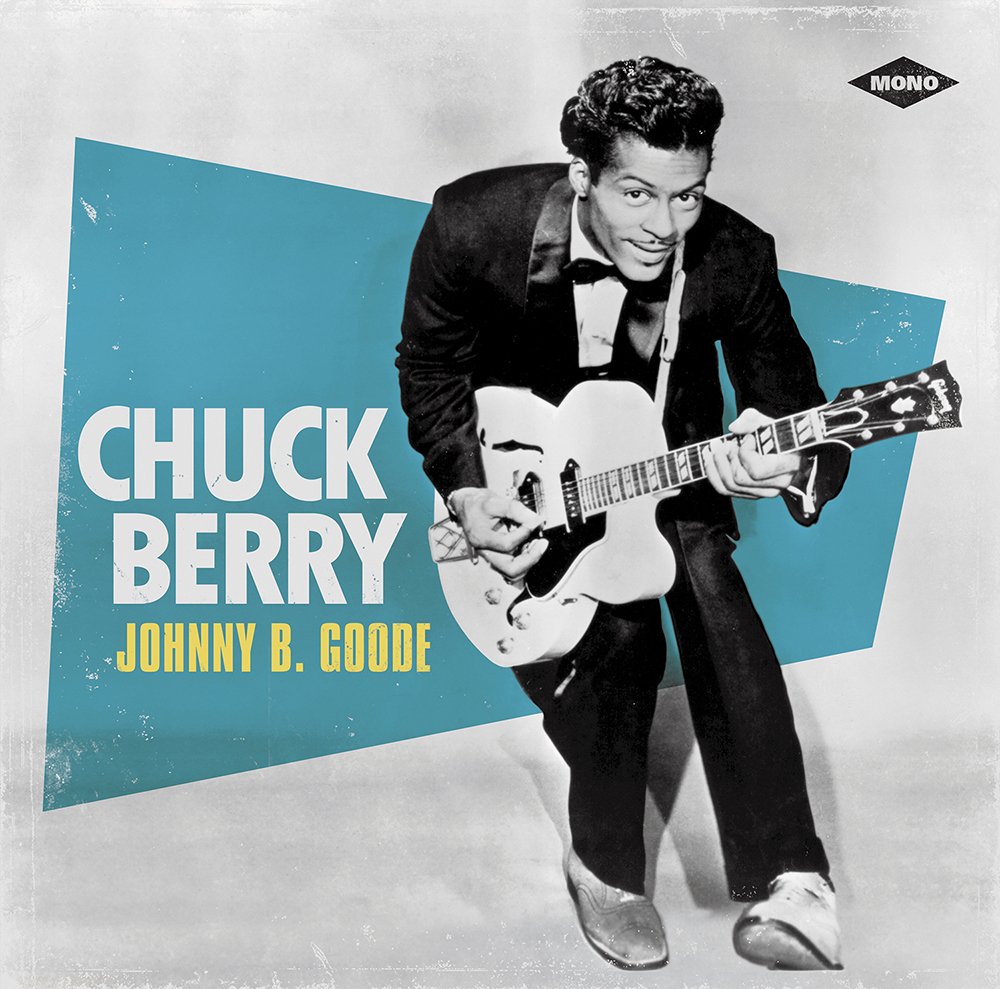 Was "Johnny B. Goode," one of Chuck Berry's signature compositions, autobiographical? Not really. The song, one of the defining anthems of the early rock 'n' roll era—released on this day in 1958—told of a "country boy" who "could play a guitar just like a-ringing a bell."
That Chuck Berry could play his electric guitar in a most sensational, genre-defining manner was undeniable. Berry, along with Bo Diddley, Scotty Moore, Carl Perkins and a handful of other innovative axe-slingers, created the guitar language of rock 'n' roll.
But the part about the guitarist being a "country boy" from a "log cabin made of earth and wood" somewhere "close to New Orleans"? Not Chuck Berry. And of course, unlike the boy in the song, Chuck Berry, as great a poet as this nation has ever produced, was anything but illiterate.
Charles Edward Anderson Berry was in fact a city boy, born in St. Louis on Oct. 18, 1926. (Trivia note: He grew up on Goode Avenue.) His family was neither poor nor rich, but Berry did manage to get himself intro trouble, spending time in reform school after an armed robbery conviction while still in high school. Upon his release he settled into a domestic life—he remained married to his wife Toddy for 68 years. For money to supplement his day jobs, Berry played guitar around St. Louis with the Johnnie Johnson Trio, led by the pianist who would later contribute to many of Berry's hits (although Lafayette Leake plays the piano on "Johnny B. Goode," with Willie Dixon on bass and Fred Below on drums).
In 1955, while working as a beautician, Berry asked Muddy Waters for some tips on how to make a record and the bluesman directed him to see Leonard Chess at Chess Records in Chicago. Signed to the label, Berry—who considered blues guitarist T-Bone Walker his primary influence—had a hit his first time out, with a reworking of the country tune "Ida Red," which he called "Maybellene."
Watch Chuck Berry sing "Johnny B. Goode" live
Berry's timing was perfect. American kids were eager for their own music and they didn't care whether it was made by white or black artists, as long as it had a strong beat, a memorable melody and words they could relate to. Berry's songs had all of that, and there was always that lyrical guitar—one to-be-classic riff after the next. Every new song he turned out spoke to the young generation: "Roll Over Beethoven," "School Day," "Rock & Roll Music," "Sweet Little Sixteen." Along with Elvis Presley, Jerry Lee Lewis, Little Richard, Buddy Holly and several others who'd eventually make up the first couple of classes of the Rock and Roll Hall of Fame, Chuck Berry became a hero to record-buying teens. Some of them, in places as far away as England, would form bands of their own and play his tunes.
Related: 17 great Chuck Berry covers
When he penned "Johnny B. Goode," Berry originally wrote of a "colored boy" who learned to play the guitar. Realizing he would have trouble getting radio airplay with that reference, he changed the line to "country." With another classic Berry tune, "Around & Around," on the flip side, "Johnny B. Goode" was released on March 31, 1958, and sailed up to #8 on the Billboard singles chart, Berry's last top 10 hit until 1964.
It has been covered by dozens of diverse artists, including Johnny Winter, Jimi Hendrix, the Beatles (for the Saturday Club radio program), country star Buck Owens, the Beach Boys, the Grateful Dead, reggae great Peter Tosh, Elvis Presley, Elton John, Judas Priest and John Denver! Cheap Trick and AC/DC joined to record it together in 1979.
When Berry was inducted into the Rock and Roll Hall of Fame in 1986, he performed the song backed by Bruce Springsteen and the E Street Band. "Johnny B. Goode" itself was inducted into the Grammy Hall of Fame in 1999.
Watch the 1986 Rock Hall performance

Latest posts by Best Classic Bands Staff
(see all)