50 Years Post-'Tapestry,' Carole King Finally Earned Rock Hall Induction as a Performer
by Greg Brodsky
When the nominees were announced for the Rock and Roll Hall of Fame's Class of 2021, eyebrows were raised when the alphabetized list included a singer-songwriter of note. "Carole King isn't already in the Hall of Fame?" was the typical reaction. The answer was "yes" and "no." Yes, King was an early inductee, in the Hall's fifth year, along with her longtime songwriting partner (and former husband), Gerry Goffin, for the Ahmet Ertegun Award, named after the Atlantic Records founder who was among the handful of industry executives whose vision created the Hall of Fame. But, no, though King's recording legacy included 1971's Tapestry, an album that practically invented a genre and influenced countless others, she had been overlooked by the Hall for decades as a performer.
As literally dozens of other non-rock and roll artists were selected for induction–the list includes Whitney Houston, ABBA, the O'Jays, Madonna, Grandmaster Flash & the Furious Five, Donna Summer, Tupac Shakur, and the Notorious B.I.G.–King continued to be passed over.
With Goffin, King had already proven herself a formidable songwriting talent with such major hits as "Will You Love Me Tomorrow," "The Loco-Motion," "Up on the Roof," "(You Make Me Feel Like) A Natural Woman," "Pleasant Valley Sunday" and other pop favorites. Tapestry, produced by Lou Adler, was King's second solo album, and it made the 29-year-old a recording star and set records and trends.
Powered by the double-sided #1 hit single "It's Too Late"/"I Feel the Earth Move," Tapestry hit #1 on the Billboard 200 on June 17, 1971, and remained there for 15 consecutive weeks, a record the album held for most weeks at number one by a female solo artist for over 20 years. It remained on the album chart for over six years, also setting a record for longest run on the charts until 1980.
Related: The #1 albums of 1971
If you're of a certain age, you owned a dog-eared vinyl copy of Tapestry. It has sold over 25 million copies and, get this… it was the best-selling album ever until 1976.
At the 1972 Grammy Awards, Tapestry won Album of the Year and Best Female Pop Vocal Performance. King also earned Record of the Year for "It's Too Late" and Song of the Year for "You've Got a Friend." She was the first solo female artist to win the Grammy for Record of the Year, and the first woman to win for Song of the Year.
King's many honors include induction into the Songwriters Hall of Fame, the Library of Congress Gershwin Prize for Popular Song (first woman to win it) and selection as a 2015 Kennedy Center honoree.
When the Class of 2021 was announced on May 12, King wrote: "I wanted to be a songwriter so I could meet all the great artists and they would know who I was. I thought being inducted into the Rock Hall as a songwriter with Gerry Goffin was the pinnacle. Until now. Thank you for ALSO inducting me as an artist. And to my fans always."
The apt choice to induct the 79-year-old King at the Oct. 30 Rock Hall ceremony was Taylor Swift. In her speech, Swift, born 18 years after Tapestry was released, called King "the greatest songwriter of all time."
In her own speech, King gratefully accepted the praise but also paid tribute to another legend. "I keep hearing it, so I guess I'm going to have to try to own it, that today's female singers and songwriters stand on my shoulders," she said. "Let it not be forgotten that they also stand on the shoulders of the first woman to be inducted into the Rock and Roll Hall of Fame. May she rest in power: Miss Aretha Franklin!"
Swift performed the album's "Will You Love Me Tomorrow?" that night. Jennifer Hudson sang "(You Make Me Feel Like) A Natural Woman." King, joined by her longtime recording and session musicians Danny Kortchmar, Leland Sklar and Russ Kunkel, performed "You've Got a Friend."
"I owe everything to music fans everywhere," she wrote.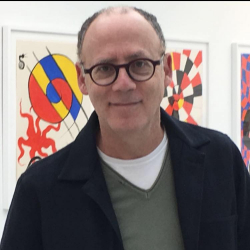 Latest posts by Greg Brodsky
(see all)