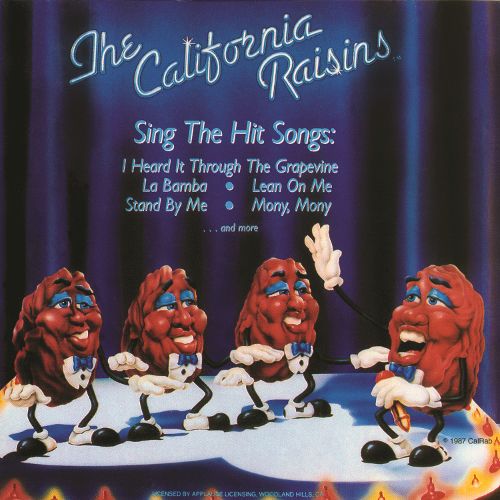 In the mid-to-late '80s, a bunch of singing raisins earned acclaim, thanks to some breakthrough technology and a well-received TV ad campaign. The fictionalized R&B music group, known as the California Raisins, were originally created by the ad agency, Foote, Cone & Belding, for a TV commercial on behalf of their client, the California Raisin Advisory Board.
With Buddy Miles singing lead vocals, the Raisins "performed" "I Heard it Through the Grapevine." The 1986 TV ad, produced by Vinton Studios, proved to be so popular that the characters were licensed for numerous uses, most notably four albums. The first, The California Raisins Sing the Hit Songs, was released by Priority Records in 1987.
Will Vinton had previously won an Academy Award for Best Animated Short Film. But he ultimately earned fame and far more accolades as the creator of the so-called "Claymation" technique which he popularized with the singing California Raisins.
Soon, the Raisins were the subject of a primetime TV special, Meet the Raisins!, which aired on CBS in November 1988.
Vinton, born November 17, 1947, earned his Oscar in 1975 for Best Animated Short Film for Closed Mondays. Three years later, he produced a 17-minute documentary featuring animation utilizing clay, dubbing it "Claymation." Vinton trademarked the name.
Vinton, known also for his distinctive mustache, won numerous primetime Emmy Awards for such fare as 1987's A Claymation Christmas Celebration.
Vinton and his production teams ultimately created the well known animated characters, including the California Raisins and later the "CG" (computer animated) M&Ms "Red" and "Yellow."
That same year, he produced a video for John Fogerty's "Vanz Kant Danz," from the musician's Centerfield album.
Vinton died October 4, 2018, at his Portland, Ore. home. He was 70. Vinton's death was announced by his children on their father's Facebook page.
The post indicated that Vinton had succumbed to a 12-year battle with multiple myeloma, "although you never would have known of this fight. For the vast majority of that time he continued forward in his life with strength, positivity, and humor, enjoying tropical get-aways, shepherding new creative ventures, and caring for his two sons, daughter and wife."

Latest posts by Best Classic Bands Staff
(see all)