Byrds' 'Sweetheart of the Rodeo' @50: Concert Review
by Jeff Tamarkin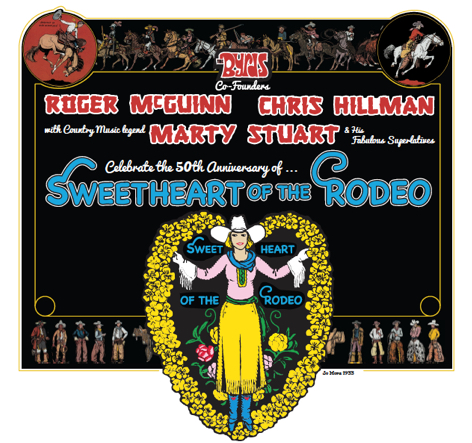 They didn't dare bill it as a Byrds reunion, but to those fans who've been fortunate enough to catch a show on one of the year's most talked-about classic rock tours, that's exactly what it was: co-founders Roger McGuinn and Chris Hillman, along with a band so good it's called the Fabulous Superlatives, performing not only one of the Byrds' most treasured albums but a healthy helping of their hits and obscurities as well.
The impetus behind the tour, which stopped at the intimate, acoustically impressive structure called The Egg in Albany, N.Y., on September 17 and 18, 2018, is the 50th anniversary of the Byrds' landmark Sweetheart of the Rodeo. Their sixth LP, it marked Hillman's last stand with the band before embarking on a remarkable solo career that's still going strong. Sweetheart found the Byrds decamping to Nashville, taking a sharp turn away from the folk-rock and psychedelia in which they'd been trafficking, and detouring into pure country music with seasoned session musicians. The album introduced rock fans to Gram Parsons, the multi-instrumentalist, singer and songwriter now accorded legend status although he bolted the group in just a matter of months when he and Hillman went off to start the Flying Burrito Brothers. Country-rock—which would flourish over the next decade—may or may not have started with Sweetheart of the Rodeo, but it's undeniably where many rockers were first exposed to the concept.
McGuinn and Hillman were careful not to make the Sweetheart anniversary show too much about Parsons, although they didn't skimp on the respect either. By the time the pair, backed for the entire two-plus-hour concert by Marty Stuart—a virtuoso on acoustic and electric guitars and mandolin—and the aforementioned Fabulous Superlatives, took the stage for the second set, which would center around the performance of the complete Sweetheart, they'd already established, through story and song, that the Byrds' country credentials were firmly in place by the time they got around to diving full-on into the genre.
Related: The Byrds' Sweetheart of the Rodeo album revisited at 50
The second tune of the night, following a potent, faithful revisit to the Byrds' cover of Bob Dylan's "My Back Pages," was "A Satisfied Mind," a song made famous originally by Country Music Hall of Famer Porter Wagoner and included on the Byrds' second album, 1965's Turn! Turn! Turn! To drive home the point that country was always part of their mix, McGuinn introduced the next tune, the Byrds' 1966 hit "Mr. Spaceman" with a backstory of how he'd heard the Beatles spin country into their act via tunes like Buck Owens' "Act Naturally" and their own "I've Just Seen a Face," and reasoned that, "If the Beatles could get away with it, so could the Byrds." (Did Byrds fans even know they were listening to a country-inspired tune at the time?) "Mr. Spaceman" only peaked at #36, although it remains a popular part of the group's canon, and it sure sounded country on this night.
Although Roger McGuinn was a country fan before Sweetheart—he spoke of tuning in to the megawatt country music radio station and even buying a sparkly Nudie rodeo outfit back in the Byrds days—Hillman was closest to the music among the original members, a notion bolstered by the next two numbers, songs even the most optimistic of Byrds fans probably never thought they'd hear performed live in this lifetime: "Time Between" (from early '67's Younger Than Yesterday album, and inspired by South African trumpet great Hugh Masekla, who once played on a Byrds album) and "Old John Robertson" (from the following year's The Notorious Byrd Brothers). The latter, Hillman explained, was inspired by a silent film actor he got to know, and here featured a crisp mandolin solo by Stuart, one of several he'd take during the evening on that instrument in addition to flawlessly executed runs on acoustic and electric guitars (the latter, a Telecaster, was previously owned by the late, latter-day Byrds guitarist Clarence White).
Stuart, a marvel of craftsmanship, tastefulness and ingenuity, and the Fabulous Superlatives—Kenny Vaughan on guitars, Chris Scruggs on bass and pedal steel guitar, Harry Stinson on drums and harmony vocals—throughout the show displayed an innate feel for the Byrds' music and their handling of Gerry Goffin and Carole King's "Wasn't Born to Follow," a highlight of Notorious (and the film Easy Rider), allowed them to slip seamlessly out of the country realm altogether during the song's brief mid-song psychedelic break. That they were able to move right back into pure country—a sweet cover of Merle Haggard's doomed-prisoner ballad "Sing Me Back Home" and "Drug Store Truck Drivin' Man," a McGuinn-Parsons tune—based on an uncomfortable encounter with a small-minded disc jockey—that didn't surface until 1969's Dr. Byrds & Mr. Hyde, was yet another indication of this sextet's ease with stylistic shifts. "Mr. Tambourine Man"—you didn't think they were going to skip that one, did you?—wrapped the first set, the fedora-topped McGuinn (whose Rickenbacker 370 guitar was his sole instrument throughout the night) first demonstrating what it sounded like in the form of Dylan's original demo and then sliding into the familiar Byrds arrangement, casting a "dancing spell" as hypnotic as it was 53 years ago.
Related: The Flying Burrito Brothers' debut album revisited
The second set belonged to Sweetheart of the Rodeo, but not before Stuart and the band warmed things up with two tunes sans McGuinn and Hillman: "Country Boy Rock & Roll" and "Time Don't Wait," the latter of which, Stuart informed, was motivated directly by the Byrds. The Sweetheart album was performed out of sequence, but started—as it should—with the original album's opening track, Dylan's "You Ain't Goin' Nowhere," the three principals trading lead vocal parts. As the album unfolded in Albany, so too did the stories of its creation. McGuinn, it seems, was looking for a pianist who could play like jazz great McCoy Tyner when he met Gram Parsons. The Florida-born musician played more like country pianist Floyd Cramer, but he also played guitar and could sing and write like a country pro. "He was morphing into George Jones in a sequined suit," when he joined the group, recounted McGuinn. At first there was no direct plan to make a country album, but that's the direction the music took, with Parsons contributing a pair of original tunes ("Hickory Wind" and "One Hundred Years From Now") to slot between the collection of covers that comprised the rest of the album.
Although it wasn't entirely a commercial success, peaking only at #77, Sweetheart of the Rodeo is today considered a masterpiece. It was a revolutionary recording because of what it wasn't as much because of what it was. In 1968, rock music had been veering increasingly toward louder and heavier—think Cream and Hendrix, and the San Francisco bands—while country music was considered square by the rock youth, something rednecks played in their trucks. But Parsons, Hillman and McGuinn—who made the album with drummer Kevin Kelley, Hillman's cousin—were feeling its less electric nature at that tense moment in time; it was, in a large sense, a reaction, a plea for calm.
Watch the group perform Sweetheart's "Hickory Wind" during the tour
And here is "I Am a Pilgrim"
Recording the album shortly after Dylan himself had made a back-to-basics LP, John Wesley Harding, the Byrds were addressing the violence and chaos of the day (1968 was marked by the assassinations of Sen. Robert F. Kennedy and Dr. Martin Luther King, as well as the escalation of the Vietnam War) by taking a deep breath, extolling the virtues of a more agrarian, simpler, less harried America. In songs like "I Am a Pilgrim" and "The Christian Life," sung sans irony or contempt, they were making a statement, perhaps, that there was more truth and shared values to be found in this rural-based music than its detractors knew. Sweetheart of the Rodeo was a celebration of a different kind of life than the rock crowd was presently living, but, it suggested, maybe there was something in it to be savored.
Watch a performance of William Bell's "You Don't Miss Your Water" from the Sweetheart tour
The album tracks were delivered at the Egg, as was the entire first set, in a no-nonsense fashion: the banter was minimal but engaging, gaps between songs barely existent. Dylan's "Nothing Was Delivered," McGuinn suggested, remains a mystery to him all these years later, while "The Christian Life" now makes sense, where it didn't at the time (McGuinn is an evangelical Christian). "Blue Canadian Rockies," Hillman offered, was written by Cindy Walker but first heard by him in a Gene Autry film, while he first encountered "I Am a Pilgrim" in an instrumental form as played by Clarence White. Throughout, the vocal performances, particularly the harmonies, were pristine (William Bell's "You Don't Miss Your Water" was absolutely gorgeous), the arrangements faithful to the recording (the steel guitar playing of Chris Scruggs, grandson of banjo giant Earl, was masterful). To wrap it, the band reprised "You Ain't Goin' Nowhere," this time conducting an audience sing-along that probably wasn't necessary but felt good anyway. With that they were gone, the inevitable encores on the way.
"So You Want To Be a Rock 'n' Roll Star," the Byrds' 1967 top 30 single about the wild pop life, was first, followed by no fewer than three Tom Petty tunes. That might seem excessive for a show that had no real connection to the late musician whose own popularity didn't kick in till the late '70s, but it worked and was welcomed.
Watch "So You Want to Be a Rock 'n' Roll Star" in Albany
"American Girl," from Petty's debut album with the Heartbreakers, is a song so directly influenced by the Byrds that McGuinn has said he once wondered if he'd recorded it and forgotten he did. Just to cover his bases, he did record it, including it on his 1977 solo album Thunderbyrd. "Wildflowers," the second of the three, was the title track of Petty's 1994 solo album and covered by Hillman on his 2017 Bidin' My Time album, produced by…Tom Petty. And finally, Stuart too had a long history with Petty and the Heartbreakers, whose guitarist Mike Campbell produced his last album, Way Out West. Stuart here took on Petty's "Runnin' Down a Dream" as his nod to a fan and friend.
Just as "Mr. Tambourine Man" had closed the first set, it had to be "Turn! Turn! Turn!"—the Pete Seeger-penned tune drawn from the biblical Book of Ecclesiastes—to close out the show. As with all of the other Byrds material, it was delivered authentically, just the way an audience who came up with this music more than 50 years ago would hope to hear it. The Byrds themselves may never fly again (David Crosby, the other surviving original member, has shown more interest than the others, who seem in no hurry to go there), but that's fine: this 50th anniversary tribute to one of their landmark recordings is closer than anyone ever expected at this late date. Witnessing it was a gift.
Watch McGuinn sing Tom Petty's "American Girl" during an early show on the tour, with guest Mike Campbell of the Heartbreakers
Sweetheart of the Rodeo, The Egg, Albany, N,Y., Sept. 17, 2018 Setlist
Set 1
My Back Pages
A Satisfied Mind
Mr. Spaceman
Time Between
Old John Robertson
Wasn't Born to Follow
Sing Me Back Home
Drug Store Truck Drivin' Man
Mr. Tambourine Man
Set 2
Country Boy Rock & Roll
Time Don't Wait
You Ain't Goin' Nowhere
Pretty Boy Floyd
Hickory Wind
Life in Prison
One Hundred Years From Now
Nothing Was Delivered
Blue Canadian Rockies
The Christian Life
You're Still On My Mind
You Don't Miss Your Water
I Am a Pilgrim
You Ain't Goin' Nowhere (Reprise)
Encore
So You Want to Be a Rock 'n' Roll Star
American Girl
Wildflowers
Runnin' Down a Dream
Turn! Turn! Turn! (To Everything There is a Season)
Watch the final encore, "Turn! Turn! Turn!" from The Egg
Bonus video: Here is the original Byrds version of "You Ain't Goin' Nowhere" performed live in 1968

Latest posts by Jeff Tamarkin
(see all)