Bryan Adams Concert Wins Fans' Hearts and Voices
by Rob Patterson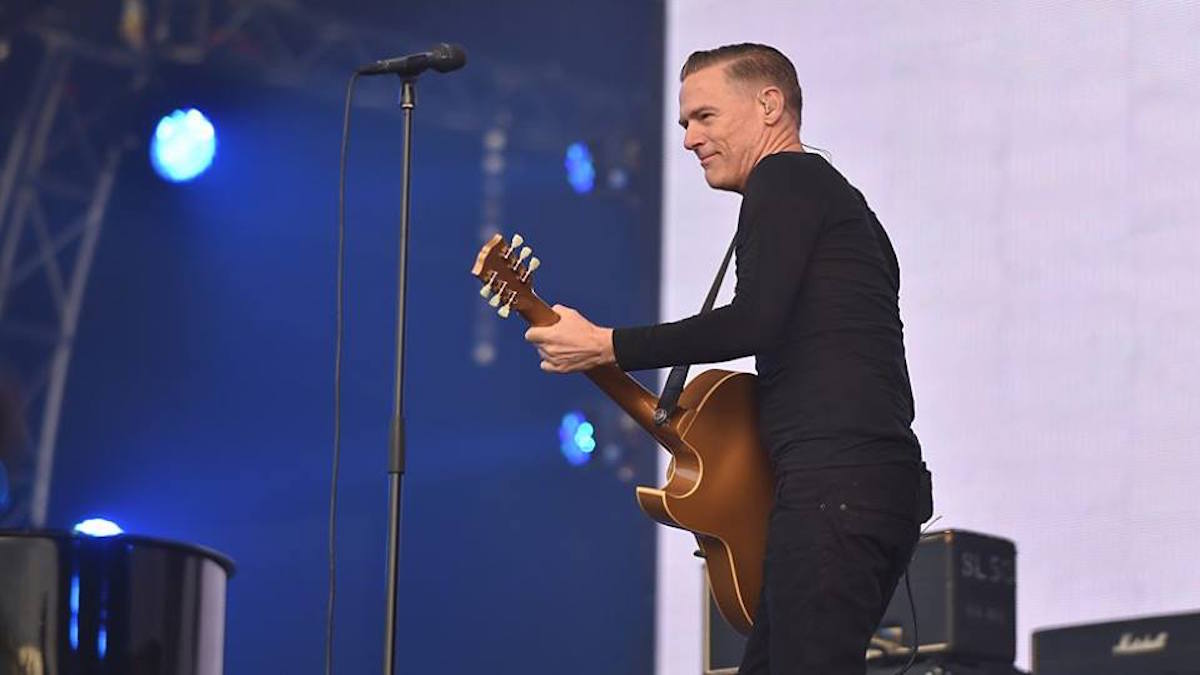 "I like it when you sing," Bryan Adams told his audience more than once on April 10, 2016, at the Cedar Park Center in the far northern suburbs of Austin, Tex. It obviously wasn't mere stage blather.
He may have only drawn in about a two-thirds crowd to the newish hockey rink cum concert venue (with an 8,700 capacity) in this stop on his Get Up Tour, but those who were there were there for him. The Canadian flag hanging at one end for (one assumes) the Texas Stars hockey players from the Great White North could also have been a nod to Adams.
The fans who were there sang along a lot throughout the night, and with gusto. From the moment he took the stage to "Do What You Wanna Do" (from his most recent Jeff Lynne-produced Get Up album), the audience on the floor of the arena was on their feet and stayed there. Others in the seats up and around rose time and again at key moments in the 27-song show. Many fisted or waved their songs in the air. Cell phones were used more for capturing the moment and what was, in the past, the "lighter effect" around the hall rather than texting and updating social media (other than the woman right next to me). The gathering of seemingly regular Joes and Janes seemed fervent about making this evening with Adams fulfill all the usual rock show rituals as anything but cliches.
And the 56-year-old singer, songwriter and guitarist who still looks a bit like a kid gave the folks what they came for from his end. First of all it was songs like "Run to You," "Have You Ever Really Loved a Woman?," "Somebody," "(Everything I Do) I Do It for You" and "Cuts Like a Knife" – and to Adams' credit not all of his Top 10s – that the gathered responded to more like moments in their lives than mere chart hits. This was obvious when he played "Summer of '69," which evoked a sense of nostalgia throughout the room so pungent you could almost smell it even if most of them weren't even alive in that particular year – they all (and we) have had those summers. Similarly, the 1996 album track (and title) "18 til I Die" struck a major chord in the crowd of largely thirty- and forty-somethings. The songs Adams writes, records and performs actually mean something significant to his fans.
Watch Adams perform two favorites, one year later
Hence they responded well to five tunes from the new album that most of them likely have not yet heard. Everything was musically delivered with no frills, though well and energetically, by his four-man guitar/bass/drums/keyboards backing band as Adams shifted from acoustic to electric guitar and back again. They all wore basic black sport coats and white shirts; the stage set was unadorned and had three lead singing mikes – center, left and right – so Adams could more closely sing to parts of the crowd that, as said, sang along and back to him (plus clapped along and even danced) on a bunch of numbers. A sophisticated feed of somewhat arty video footage combined with shots of the show subtly shifted over the course of the nearly two hours from black and white to color – a nice touch that most probably didn't even notice yet surely had its emotional impact.
Adams at one point late in the concert spoke about the "old adage that if there's no audience, there's no show," and later asked them to pose (they were happy to) as he took a selfie overlooking the crowd from the center of the stage. The bulk of the set showed how some of the kids still wanna rock, yet at the same time, many were visibly moved by an atypical rock show encore that was simply Adams on acoustic guitar playing and singing "She Knows Me," "Straight From the Heart" and "All for Love." (For good measure, he had just had them all up and shakin' it for Eddie Cochran's "C'mon Everybody" and "Brand New Day" from the latest album, on sale to help charity in the venue's halls by Shriners in fezzes.)
There's likely a bad Canadian joke hiding in how Adams is in some ways a north-of-the-border equivalent to the oh-so-American Bruce Springsteen (though these days he resides in London and Paris, poor fucker) for the less hip and literate (but no less worthy) set. He has engendered a parallel loyalty (though Adams has been largely off the charts over the last two decades) and his crowd finds meaning for themselves in what he writes and sings. That's one major factor in what music's all about. And why I'd lay odds that Bryan Adams will pull in a crowd to sing along again if he passes this way 20 years from now.
Related: Our rave review of Adams' 2015 album, Get Up

Latest posts by Rob Patterson
(see all)