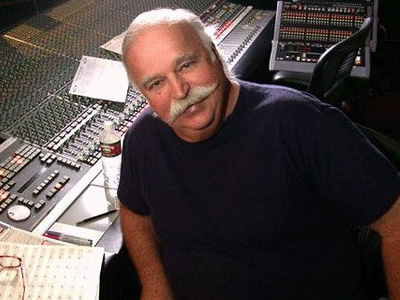 Bruce Swedien, a five-time Grammy Award winner for his many collaborations with producer Quincy Jones on several of Michael Jackson's landmark recordings, died November 16, 2020, at age 86. The news was shared by Jones on his Instagram account, who referred to Swedien as "my dear brother-in-arms." Swedien's daughter, Roberta, told The New York Times that the cause of death was complications of surgery to repair a broken hip.
In his post, Jones wrote in part, "[Bruce] was without question the absolute best engineer in the business, & for more than 70 years I wouldn't even think about going into a recording session unless I knew Bruce was behind the board. Along with the late great Rod Temperton, we reached heights that we could have never imagined & made history together. I have always said it's no accident that more than four decades later no matter where I go in the world, in every club, like clockwork at the witching hour you hear "Billie Jean," "Beat It," "Wanna Be Starting Something," & "Thriller." That was the sonic genius of Bruce Swedien."
View this post on Instagram
Swedien was born April 19, 1934, in Minneapolis, Minn. and studied electrical engineering at the Univ. of Minnesota. From 1958 to 1967, he worked for Universal Recording Studios in Chicago. During that period, he recorded such artists as Count Basie, Stan Kenton, Duke Ellington, Woody Herman, Oscar Peterson, Sarah Vaughn, Dinah Washington and many more.
In 1962, Swedien earned a Grammy Award nomination for engineering Frankie Valli and the Four Seasons' "Big Girls Don't Cry."
While in Chicago, Swedien met Quincy Jones when the latter was based there as a vice president with Mercury Records. The pair began working together in 1977, when Swedien joined Jones in New York to work on The Wiz. It was at that point that Swedien first met Jackson. In 1978, Jones and Jackson hired him to record and mix 1979's Off the Wall album. The collaboration continued with 1982's Thriller and 1987's Bad, and others, for which Swedien earned Grammys for Best Engineered Album – Non-Classical.
It was during this time that Bruce created a recording processed that he called "The Acusonic Recording Process," which used several 24-track tape machines, synchronized together as one recorder. This process opened up the potential for Swedien's sonic imagination to run wild. His mastery of technique combined with his innate musical sensibility and a virtually limitless sonic canvas helped set the standard for the way music should sound.
Swedien also recorded and mixed Jones' 1980 tour-de-force, The Dude.
Swedien authored many books, including In the Studio with Michael Jackson and The Bruce Swedien Recording Method. He also offered a series of Masterclasses to teach all phases of state-of-the-art studio recording.
He is survived by his wife of 67 years, Bea, and his daughters, Roberta Swedien and Julie (Loren) Johnson. He was preceded in death by his son David.
Related: Musicians we've lost in 2020

Latest posts by Best Classic Bands Staff
(see all)