'The British Psychedelic Sounds of 1967' Serves Up Little-Known Gems: Review
by Jeff Burger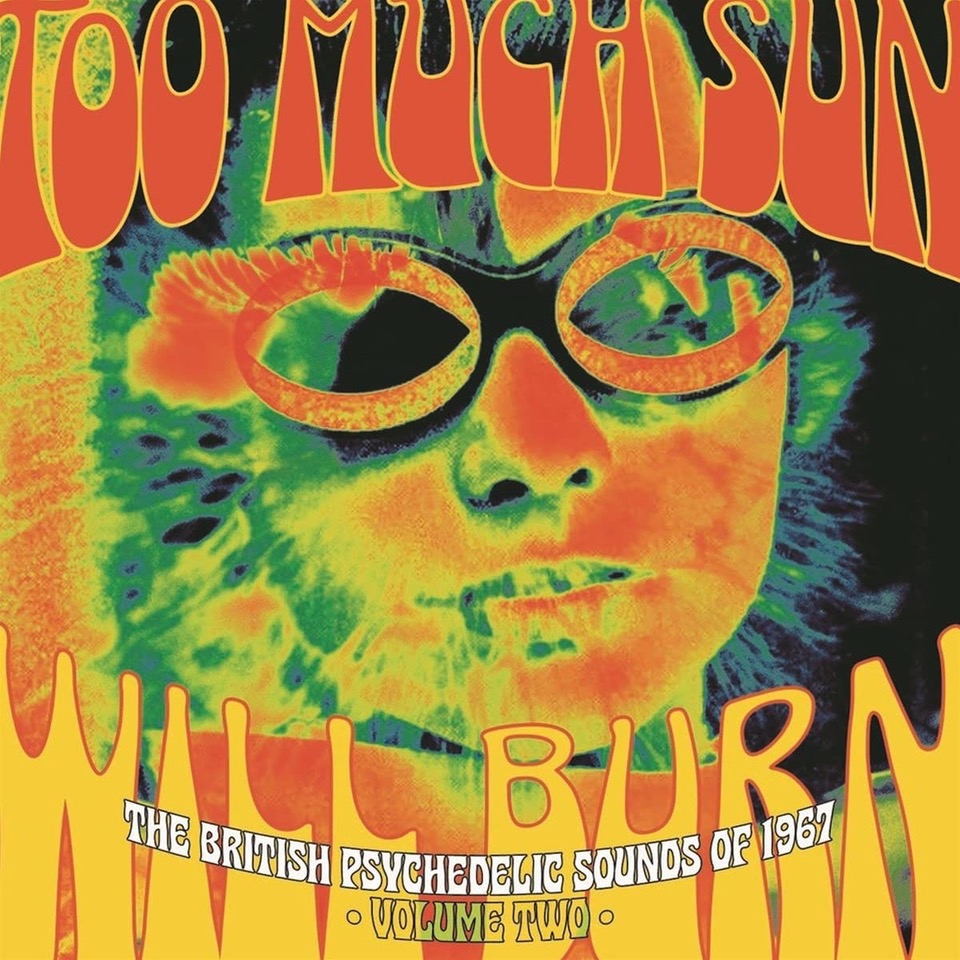 More than 20 years ago, the Rhino label issued a four-CD, 109-track boxed set of frequently psychedelic late 1960s rock obscurities called Nuggets II: Original Artyfacts from the British Empire and Beyond. You might think that would be enough to cover the territory, but this was an incredibly fertile time and place for the genre. In 2016, England's Grapefruit label narrowed the focus to that country and a single key year and still managed to come up with three CDs' worth of noteworthy but largely little-known music for Let's Go Down and Blow Our Minds: The British Psychedelic Sounds of 1967.
Now comes its 2023 sequel, Too Much Sun Will Burn: The British Psychedelic Sounds of 1967, Volume 2, which showcases 79 more great tracks (only four of which appear in the Rhino collection). If you need a reminder of just how adventurous rock artists were back in '67—or of just how many of them grabbed a seat on the psychedelic bandwagon—this three-disc set will deliver.
The clamshell-boxed anthology embraces a few hits, albeit not necessarily ones that made a mark on U.S. charts. Among them: Traffic's terrific, sitar-spiced "Paper Sun," a Top 5 UK single (presented here in its original mono version) whose lyrics provide the anthology's title; and Procol Harum's "Homburg," the magnificent follow-up to "A Whiter Shade of Pale," which made it to #38 in the States. Here, too, is "Let's Go to San Francisco (Parts 1 & 2)," a big British hit by a group called the Flower Pot Men that once filled two sides of a 45 and contains as many sonic elements as the Beach Boys' "Heroes and Villains."
The set also features album tracks from a smattering of other prominent acts from the period, including the Incredible String Band ("Painting Box"), the Move ("Wave the Flag and Stop the Train"), the Pretty Things ("Mr. Invasion"), the Easybeats ("Heaven and Hell"), the Who ("Silas Stingy"), the Hollies ("King Midas in Reverse") and the Small Faces ("Patterns"). Here, too, are pre-fame songs by a few soon-to-be-luminous artists, such as David Bowie ("Silly Boy Blue"), Elton John ("Nina," from a planned debut album that never materialized) and future Fairport Convention singer Sandy Denny (featured here with Strawbs on "Two Weeks Last Summer").
Like its predecessor, though, this box focuses mostly on music from cult favorites and other no-hit wonders—songs you've probably never heard of by acts you've probably also never heard of. Much of the material has not been on CD before or, in some cases, has not previously been issued at all.
A few tracks, such as Blossom Toes' "Look at Me, I'm You," now sound dated and designed mainly just to cash in on current trends. Even those songs are fascinating anachronisms, though, and the quality of most of Too Much Sun Will Burn is impressively consistent, especially given that many of its tracks never charted.
Among the numerous highlights: "Tiny Goddess," a heavily Beatles-influenced recording by Nirvana (not to be confused with Kurt Cobain's identically named American band), "Baby Your Phrasing Is Bad," a phased-guitar extravaganza from an artist named Caleb Quaye; "Gypsy Fred" by Liverpool's Koobas, a group that sounds a bit like the Association; and "Turn of the Century," a Bee Gees cover by a pop outfit called Tony Rivers and the Castaways. Also, "14 Hour Technicolour Dream," a B-side from a group called the Syn that ostensibly describes an April 1967 countercultural event in London but that sure sounds like a song about LSD.
A well-illustrated 48-page booklet adds discographic information and does a good job of telling the stories behind these tracks but fails to include songwriter credits for many of them.
Related: Lost British Invasion hits of the '60s
This is a good time overall to be a fan of 1960s psychedelia. The Rhino collection mentioned above is part of a series that began with Nuggets: Original Artyfacts from the First Psychedelic Era, which is being reissued as a five-disc, 50th-anniversary vinyl boxed set for this month's Record Store Day. In addition to the contents of the original two-LP set—which featured such rarely anthologized gems as the Seeds' "Pushin' Too Hard," the Count Five's "Psychotic Reaction" and the Electric Prunes' "I Had Too Much to Dream (Last Night)"—the box includes tunes from a planned but never issued Volume 2. Also in this limited-edition anthology are songs that were considered for but didn't make it into the first release, as well as new liner notes.
Latest posts by Jeff Burger
(see all)