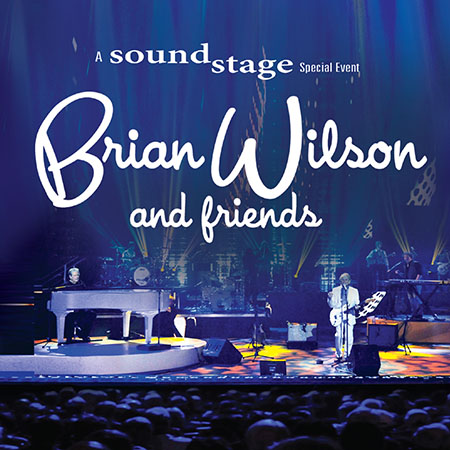 Brian Wilson and Friends, a new live CD/DVD set and Blu-ray edition, is being released today (July 29) by BMG, in collaboration with the PBS television series Soundstage. The concert performance is available both in stores and online. Filmed live at the Venetian Theatre in Las Vegas on December 12, 2014, the 19-track CD and 26-track DVD/Blu-ray editions feature many of Wilson's hits with the Beach Boys and selections from his solo career.
According to an official announcement, Brian Wilson and Friends originally aired on PBS nationwide throughout 2015. Initially offered exclusively in DVD and Blu-ray configurations as a premium gift incentive for viewers contributing donations during the network's annual pledge drive, the new release marks the first time that a companion CD is being offered, along with bonus material not included during the public television airings. It includes bonus tracks, behind-the-scenes footage, and interviews with guest artists.
Related: Review of Brian Wilson's 2016 Pet Sounds performance
The concert recording features Wilson along with fellow former Beach Boy Al Jardine, former Beach Boys sidemen Blondie Chaplin and Ricky Fataar, with special guest appearances from Nate Ruess of the band Fun., country artist Kacey Musgraves and trumpet player/composer Mark Isham; Sebu Simonian of the indie pop-duo Capital Cities; and Zooey Deschanel and M. Ward of indie duo She & Him.
Never miss a post! Sign up for Best Classic Bands' Newsletter; form is on every page.
Brian Wilson and Friends DVD & Blu-ray track listing:
1. Our Prayer
2. Heroes and Villains
3. Sloop John B
4. Dance, Dance, Dance
5. Good Vibrations
6. This Beautiful Day
7. Runaway Dancer (feat. Sebu Simonian of Capital Cities)
8. Don't Worry Baby (feat. Sebu Simonian of Capital Cities)
9. Marcella
10. Wild Honey (feat. Blondie Chaplin and Ricky Fataar)
11. Sail On Sailor (feat. Blondie Chaplin and Ricky Fataar)
12. Sail Away (feat. Blondie Chaplin and Ricky Fataar)
13. Half Moon Bay (feat. Mark Isham)
14. Don't Talk (feat. Mark Isham)
15. Saturday Night (feat. Nate Ruess of Fun.)
16. Hold On Dear Brother (feat. Blondie Chaplin, Ricky Fataar, and Nate Ruess of Fun.)
17. Darlin' (feat. Nate Ruess of Fun.)
18. On The Island (feat. Zooey Deschanel)
19. God Only Knows
20. The Right Time (feat. Al Jardine)
21. Wouldn't It Be Nice (feat. Al Jardine)
22. Help Me Rhonda (feat. Al Jardine)
23. All Summer Long
24. Fun, Fun, Fun
Bonus tracks:
Pacific Coast Highway
Summer's Gone
Brian Wilson and Friends CD track listing:
1. Our Prayer
2. Heroes and Villains
3. Sloop John B
4. Dance, Dance, Dance
5. Good Vibrations
6. This Beautiful Day
7. Marcella
8. Wild Honey (feat. Blondie Chaplin and Ricky Fataar)
9. Sail On Sailor (feat. Blondie Chaplin and Ricky Fataar)
10. Sail Away (feat. Blondie Chaplin, Al Jardine, Ricky Fataar)
11. Half Moon Bay (feat. Mark Isham)
12. Don't Talk (feat. Mark Isham)
13. The Right Time (feat. Al Jardine)
14. Wouldn't It Be Nice (feat. Al Jardine)
15. Help Me Rhonda (feat. Al Jardine)
16. Fun, Fun, Fun
17. California Girls
18. California Saga
19. All Summer Long

Latest posts by Best Classic Bands Staff
(see all)