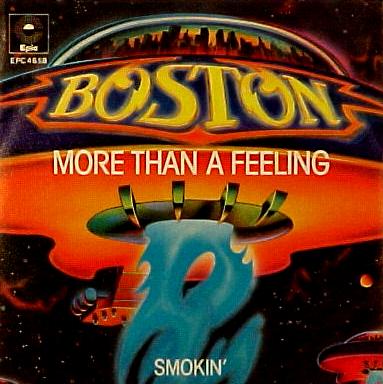 It seemed like they leapt to fame almost out of nowhere, though the band's name tells you their geographic origins. And more specifically, the band Boston emerged from the suburban basement studio of guitarist songwriter Tom Scholz, a Massachusetts Institute of Technology graduate whose work for Polaroid was able to finance his own professional-grade recording facility.
Scholz spent five years writing and developing "More Than a Feeling," which, on September 18, 1976, followed the August 8 release date of the self-titled Boston album on Epic Records as its first single. All that time and attention paid off: It hit #5 on the Billboard Hot 100 and helped propel Boston to huge sales of the band's first album – a reported 17 million copies, one of the most successful debuts ever in recorded music history.
In an amazing chart fluke, despite the debut album's phenomenal and durable success, the album never hit #1 in any individual week. The group also made music history by being the first band ever to play their New York City debut at Madison Square Garden.
The song's melody and structure has been compared to other classic rock hits, including the primal garage rock favorite "Louie Louie." Scholz admits it was inspired by another #5 hit, "Walk Away Renee" by the Left Banke in 1966. And it's not hard to hear the resemblance of its primary riff to another national pop radio debut single 25 years later: "Smells Like Teen Spirit" (which climbed to #6 on the singles chart). At England's Reading Festival in 1992 Nirvana performed "More Than a Feeling" and then segued into "Smells Like Teen Spirit," tacitly acknowledging the similarity.
Related: One of our most popular Classic Videos ever… Boston performing "More Than a Feeling" at Giants Stadium in 1979
A reviewer for Guitar World magazine summarized the song's appeal by noting how "few can resist indulging in fits of fleet-fingered air guitar and a spirited falsetto sing-along." A number about the feelings familiar old songs can evoke does just that today as a popular album rock radio recurrent tune.
Scholz turned 76 on March 10, 2023.
Related: Scholz reflects on 45 years of Boston
If you're a new Best Classic Bands reader, we'd be grateful if you would Like our Facebook page and/or bookmark our Home page.

Latest posts by Best Classic Bands Staff
(see all)