Bob Dylan 'More Blood, More Tracks' Review
by Jeff Burger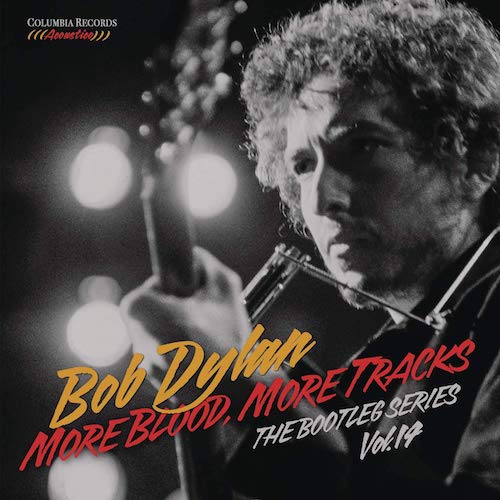 Bob Dylan's Bootleg Series began relatively modestly back in 1991, with a three-disc collection (labeled Volumes 1-3) that featured a grab bag of previously unreleased material recorded over nearly 30 years. Volume 4 didn't appear until seven years later, but the pace has picked up considerably since then, with the releases becoming increasingly ambitious and focused. In 2013, for example, the four-disc Another Self Portrait offered a fresh and surprisingly satisfying window into the sessions for one of Dylan's most critically derided albums. In 2014, The Basement Tapes Complete served up his entire legendary 1967 recordings with the Band on six CDs; and 2015's The Cutting Edge 1965-1966, another six-disc set, opened the vaults to unreleased material from one of Dylan's most creative periods.
Now comes the 14th volume of the Bootleg Series, More Blood, More Tracks—yet another six-CD package—which is at least as engrossing as any of its predecessors. This one focuses on the sessions for a single album, January 1975's Blood on the Tracks, which lyrically and musically ranks among the best works of Dylan's long career. Widely considered to be his "divorce album," it was clearIy influenced by the dissolution of his marriage to Sara Lownds (which officially ended two and a half years later, in June 1977); and it arguably exudes more raw real-life emotion—anger, bitterness, sadness, regret and forgiveness—than he had ever previously displayed on record. ("A lot of people tell me they enjoyed that album," he commented to singer Mary Travers in an interview three months after the LP's release. "It's hard for me to relate to that. I mean, people enjoying the type of pain.")
Like most songwriters, though, Dylan doesn't simply report on his own experiences; he appears to craft his songs by mixing his real-life memories with whatever happens to be in his imagination at the time. "I've heard it said that Dylan was never as truthful as when he wrote Blood on the Tracks," he told writer Jonathan Cott in 1978, "but that wasn't necessarily truth, it was just perceptive. Or when people say 'Sara' [from Desire, the follow-up to Blood on the Tracks] was written for 'his wife Sara'—it doesn't necessarily have to be about her just because my wife's name happened to be Sara. Anyway, was it the real Sara or the Sara in the dream? I still don't know."
Watch a trailer for the More Blood, More Tracks release
Be that as it may, many of the songs on Blood on the Tracks do seem influenced by Dylan's marital troubles. In "If You See Her, Say Hello," he sings that "we had a falling out, like lovers often will." In "Shelter from the Storm," he proclaims, "Now there's a wall between us, somethin' there's been lost." In "Meet Me in the Morning," "Every day's been darkness since you been gone." And then there's "You're Gonna Make Me Lonesome When You Go," whose title speaks for itself.
Also on the original album: "Tangled Up in Blue," an endlessly fascinating vignette about a failed relationship; "Idiot Wind," one of the most vitriolic—and in the last verse, self-loathing—songs Dylan has ever written; and the poignant "You're a Big Girl Now," "Shelter from the Storm" and "Buckets of Rain," all of which focus less on conflict and loss than on love, acceptance and healing. Another masterpiece here—and one that seems to have little or nothing to do with Dylan's marriage—is the lilting, nearly nine-minute "Lily, Rosemary and the Jack of Hearts," a mystery so lyrically rich and complex that you're tempted to take notes to try to suss out what's going on.
Related: Our Album Rewind of the original Blood on the Tracks
Blood on the Tracks—which topped the charts and sparked one of Dylan's several comebacks—is quite a package, but as many previous Bootleg Series albums have demonstrated, his released LPs barely scratch the surface of what the sessions for them produced. That's certainly the case with the six-hour More Blood, More Tracks, which features 87 performances from the Blood on the Tracks sessions, most of which have been officially unavailable until now. (I say "most" because the set includes remixed, remastered versions of five tracks that were featured on the original LP, as well as about a dozen other previously issued recordings.)
Watch Dylan perform "Simple Twist of Fate" on the TV special The World Of John Hammond
The material appears in the order Dylan created it, and the program incorporates studio conversation, false starts and alternate versions of all of the songs on Blood on the Tracks plus two numbers from the sessions that didn't make the cut: the lyrically notable "Up to Me" and the relatively minor "Call Letter Blues," both of which reference the breakup of a relationship. ("Well, your friends come by for you," Dylan sings in the latter song. "I don't know what to say . . . I just can't face up to tell 'em / Honey, you just went away.")
If you're at all lukewarm about Dylan, a glance at the program might be enough to turn you away. "Who needs 12 versions of 'Buckets of Rain'," you might wonder, "or 10 of 'Tangled Up in Blue'?" But if you're a serious fan, you know the answer: not only would it be worth hearing even relatively small variations on some of the greatest songs of the entire rock era, but Dylan isn't exactly known for minor changes: he rarely performs anything the same way twice, preferring to fiddle extensively with melodies, backups, vocals and lyrics both before and after a tune has been released. A dozen versions of a Dylan song can really sound like a dozen substantially different songs.
That's often the case with More Blood, More Tracks, partly because it includes renditions of some of these tunes that Dylan discarded at the last minute in favor of different ones. From his relatively barebones September 1974 New York sessions, he wound up using only five tracks: "Simple Twist of Fate," "You're Gonna Make Me Lonesome When You Go," "Shelter from the Storm" and "Buckets of Rain," which he recorded solo or with bassist Tony Brown, keyboardist Paul Griffin and pedal-steel player Buddy Cage; plus "Meet Me in the Morning," which features multi-instrumentalist Eric Weissberg and the musicians who played with Weissberg on the soundtrack to the film Deliverance.
Three months later, just weeks before the album's release, he rerecorded the remaining tracks—"Idiot Wind," "You're a Big Girl Now," "Tangled Up in Blue," "If You See Her, Say Hello" and "Lily, Rosemary and the Jack of Hearts"—in a two-day Minneapolis session with a larger band (which went uncredited, because the LP jackets were already being printed). These recordings were excellent but arguably less intimate and more commercial than the small-group and solo versions from New York. At Dylan's request, moreover, producer Phil Ramone sped up all the material that surfaced on the original album by several percent, which subtly raised its pitch; on More Blood, More Tracks, everything is restored to the speed at which it was recorded.
Watch the lyric video for "If You See Her, Say Hello (Take 1)"
The versions here often differ as much lyrically from the familiar ones as they do musically. A reading of "Lily, Rosemary and the Jack of Hearts," for example, includes a verse that never made it into the original LP, as does the first take of "Meet Me in the Morning"; and in "Tangled Up in Blue," he tries telling the first half of the tale in third person before switching to first person. (He sticks with first person throughout the performance that's on Blood on the Tracks; his handwritten notes reveal that he also considered second person.)
Anyone who loves Blood on the Tracks will likely be interested in the creative evolution that's on display in these tweaks. Though virtually all the lyrical changes that found their way onto the final album sound like improvements, the earlier drafts are fascinating. As for the music, while the Minneapolis performances are great, and while Dylan was wise to use them for the final LP, the previously unheard New York versions here are a different kind of great. Dylan's vocals are more prominent and so is his despair.
The set's two hardcover books are nearly as rewarding as the music. The one that holds the CDs includes a long and incisive essay as well as track notes by critic Jeff Slate, plus session credits and photos. The other delivers many more photos of Dylan and memorabilia and such other tidbits as a Blood on the Tracks review by Rolling Stone cofounder Ralph J. Gleason, who devotes the first third of his piece to praise for the artist's harmonica playing. The most interesting things in this second volume, though, are reproductions of pages from a spiral notebook that contain Dylan's handwritten lyrics—complete with umpteen cross-outs and revisions—for the songs on Blood on the Tracks and such ultimately rejected numbers as "Church Bell Blues" and "Don't Want No Married Woman." (There's even a photo of the notebook's cover, which shows a price tag of 19 cents. With Dylan's handwritten lyrics added, the notebook is quite likely worth a bit more than that today.)
Speaking of costs, it should be mentioned that you can opt for considerably less expensive one-CD or two-LP versions of this set that include no books and offer a single alternate version of each song from Blood on the Tracks plus a take of "Up to Me." Those single versions are well-chosen, but if you're a fan and your budget can stand it, you may want to pony up for the full six-disc package—and soon, because More Blood, More Tracks is being billed as a "strictly limited" edition.
As Slate observes in his liner notes, "There's Bob Dylan, and then there's the rest of us. You need look no further than Blood on the Tracks for proof of that."
True, but you'll find a whole lot of additional proof on More Blood, More Tracks.
Listen to "You're a Big Girl Now (Take 2)" from More Blood, More Tracks
Latest posts by Jeff Burger
(see all)