'More Cowbell': How Blue Öyster Cult Came to Be
by Jim Sullivan
If there was no Sandy Pearlman, there would have been no Blue Öyster Cult. Literally.
At least not as we've known it, dating back to the early '70s, with a classic lineup that boasted the Bouchard rhythm section, brothers Albert and Joe (drums and bass, respectively), guitarist-keyboardist Allen Lanier and forever frontmen singer-guitarists Eric Bloom and Donald "Buck Dharma" Roeser.
As to Pearlman's input, he didn't just name the band, though he did that, and manage it. He was a lyricist who co-wrote many of their early, career-defining songs (29 in total, including all of the 1988 album, Imaginos).
Pearlman got them signed to Columbia and co-produced seven of their albums. He also crafted Blue Öyster Cult's public image, presenting them to the world as a quasi-mystical, dark-hued, "thinking man's" heavy metal band. He kept them oblique; their mugs weren't even on the first two album covers and on the third it was a middle-distance etching of them standing by a German World War II plane. Their breakthrough album, Agents of Fortune, features a painting of a magician holding a fan of four Tarot cards.
And Pearlman, who died July 26, 2016, at age 72, was the man who brought lead singer Bloom into the band—first named Soft White Underbelly, then the Stalk-Forest Group—after it had sacked singer Les Braunstein in 1969.
Related: Sandy Pearlman obituary
Bloom was living in New York City and, had, he says, "Zero." He got hired at a Sam Ash musical instrument shop on Long Island, something he took until he could get on his feet.
"Underbelly walked in to buy amps and I was the salesman," Bloom says, picking up the story. "Les wasn't there. We started making small talk and I sold them a bunch of amps. Thanksgiving of '68, I got a phone call from Les out of the blue. They were playing the Electric Circus in the Village. The PA was not good. Could I come down with my PA and complement the house PA?"
This is something Bloom did previously at Hobart College in upstate New York. He had a PA and a van, left over from his days playing in a college bar band.
"So I went and did sound for the Underbelly," Bloom continues. "Pearlman came up to me after the show and said, 'How would you like to work for the band?' They already had a record deal on Elektra. Sandy invited me to move in to the band house and I moved in Christmas Day. And it changed my life right on the spot.
"Unknown to me, they were having personality problems with Les and around April of '69, Sandy walked up to me while I was watching TV in the living room. He had my tambourine in his hand, a smirk on his face, a little giggle and said, 'The boys want to talk to you.' They were rehearsing in the basement, so I followed him back downstairs and they asked me if I wanted to join the band. Sandy put me in front of the band. That's why I'm talking to you today."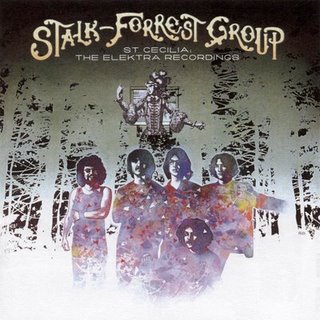 Pearlman had gotten the Underbelly signed to Elektra. They had recorded an album, but it was not released.
"A year went by and we went out and played bars to keep ourselves alive while Sandy was trying to take care of the big picture," says Bloom. "Sandy renegotiated the deal and got us enough money from Elektra to make a second album totally fresh. We went out to L.A. to make a record at the Elektra studios in La Cienega. By that time we had changed our name to the Stalk-Forest Group. That record does exist. It was put out I think 25 years later [by Rhino Records, as St. Cecilia: The Elektra Recordings—ed.], but [Elektra founder Jac] Holzman didn't like it at the end and never released it. This is all pre-history, but none of it would have happened without Sandy.
"Sandy met Murray Krugman, who was an executive with Columbia Records, and we did an audition for Clive Davis, who was president of the company—that Elektra money had long run out. They cleaned out a long corporate meeting room and we lined up against one short wall and on the other short wall they had about eight chairs facing. They turned off two-thirds of the lights and we did a five-song set in front of Clive Davis and a couple of other record executives including Bobby Colomby, who was [also] the drummer in Blood, Sweat and Tears. Patti Smith was there—she was Allen's girlfriend. Clive liked it and Sandy negotiated with Clive and got us signed. Sandy had his hand in everything.
"Some songs we wrote ourselves," Bloom says, "but right from the get-go we started writing songs with outside lyricists." Patti Smith, Helen Wheels, Richard Meltzer and others contributed.
One of Pearlman's most interesting, and arguably most controversial songs, was "ME 262" a rip-snorting rocker from their third album, Secret Treaties. The song, written more than four decades ago, concerns a topic that was of keen interest three decades before that. And after all these years, it's still a centerpiece of their live set.
If you're a new Best Classic Bands reader, we'd be grateful if you would Like our Facebook page and/or bookmark our Home page.
In the early '70s, Blue Öyster Cult was more of an underground sensation until Roeser's "(Don't Fear) the Reaper" became a #12 pop hit in 1976. Decades later, on April 8, 2000, the song inspired a popular Saturday Night Live sketch from Will Ferrell and catchphrase – "More cowbell" – from Christopher Walken, who uttered the line, portraying music producer the Bruce Dickinson.
[Also in the sketch are Chris Parnell portraying Bloom, Jimmy Fallon as Albert Bouchard, Horatio Sanz as Joe Bouchard, and Chris Kattan as Roeser.]
They rose out of clubland, co-headlined arena tours with Black Sabbath—the Black & Blue Tour. They had subsequent FM radio hits with "This Ain't the Summer of Love," "Godzilla," "Burnin' for You" and "Joan Crawford." Over the years, they made 17 studio albums and sold approximately 14-15 million copies, says Bloom.
The hit-making days don't come like they used to for the band—with longtime stalwarts guitarist-keyboardist Richie Castellano, bassist Kasim Sulton and drummer Jules Rodino. Bloom says the fun is still there.
Asked about their main impetus now, Bloom, born December 1, 1944, says, "It's a good question. My wife asks me that question. The alternative is not to do this. We play because we like playing, to get up and out and do what we like. It's what we always wanted when we were young guys and it's a lifestyle choice."
Watch them lip synch their hit
Blue Oyster Cult continue to tour. Click here for tickets. (Alternatively, you can try here.)

Latest posts by Jim Sullivan
(see all)