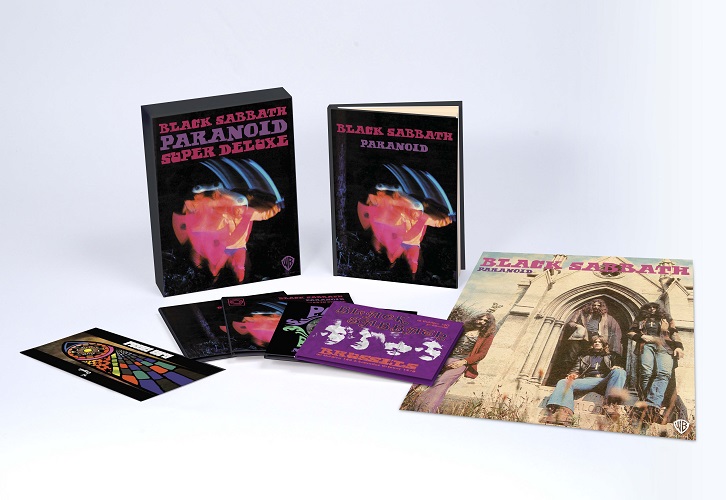 Hell hath nearly frozen over. Black Sabbath is nearing "The End" of their final tour. To celebrate the occasion, the heavy metal pioneers will release a four-disc set featuring live performance recordings from their beginnings in 1970 along with new interviews with all four members.
The new collection will arrive November 11 as the band nears the conclusion of its triumphant final tour. Paranoid: Super Deluxe Edition includes the 2012 remaster of the original album, in addition to a rare 1974 quad mix of the album folded down to stereo, plus two concerts from 1970, from Montreux and Brussels.
The four-disc set comes packaged as a hardbound book with extensive liner notes that include new interviews with Ozzy Osbourne, Tony Iommi, Geezer Butler and Bill Ward. Rare photos, memorabilia such as a poster and a replica of the tour book sold during the Paranoid tour are included as well. Pre-order is available here.
"Paranoid is important because it's the blueprint for metal. It led the world into a new sound and scene," writes Judas Priest frontman Rob Halford in the liner notes. Fans who buy the collection will find the 2012 remastered version of the original album on the first disc, the LP that launched classics such as "War Pigs," "Iron Man" and "Paranoid," the album's namesake track. Disc two, featuring a quadrophonic mix, was originally released on vinyl and 8-track in 1974 and has been out of print since. A fold-down-to-stereo mix is also available exclusively for this set.
Related: Black Sabbath releases deluxe editions of first three studio albums
The collection's final two discs mark the official debut of two 1970 live performances. The first was recorded on August 31 in Montreux, Switzerland, shortly before the release of Paranoid. The fourth disc includes recordings from the band's televised performance for public broadcaster RTBF in Brussels, Belgium, which stem from RTBF's master tapes.
Having only a handful of North American tour dates left until they head to Latin America on their final leg, "The End" is now very near after a five-year stretch of dates. The heavy metal gods will hang up their stage shoes for good on December 4 in São Paulo, Brazil.
Related: Black Sabbath Extends The End Tour
Watch a video of early Sabbath performing "Paranoid"…
Paranoid: Super Deluxe Edition Track Listing
Disc One: Original Album, 2012 Remastered
"War Pigs / Luke's Wall"
"Paranoid"
"Planet Caravan"
"Iron Man"
"Electric Funeral"
"Hand Of Doom"
"Rat Salad"
"Jack The Stripper / Fairies Wear Boots"
Disc Two: 1974 Quad Mix fold-down-to-stereo
Disc Three: Live in Montreux 1970 (Previously Unreleased)
Intro
"Paranoid"
"N.I.B"
"Behind the Wall of Sleep"
"Iron Man"
"Fairies Wear Boots"
"Hand of Doom"
Disc Four: Live in Brussels 1970
"Paranoid"
"Hand of Doom"
"Rat Salad"
"Iron Man"
"Black Sabbath"
"N.I.B"
"Behind the Wall of Sleep"
"War Pigs"
"Fairies Wear Boots"
For tickets to remaining shows, click here. If your date is sold-out, try here.
Black Sabbath's "The End" Tour, Remaining Dates:
Sept 17 – Las Vegas, NV – MGM Grand Garden Arena
Sept 19 – Hollywood, CA – Hollywood Bowl
Sept 21 – Phoenix, AZ – AK-Chin Pavilion
Sept 24 – San Bernadino, CA – Ozzfest Meets Knotfest
Nov 08 – Tulsa, OK – BOK Center
Nov 10 – Houston, TX – Toyota Center
Nov 12 – San Antonio, TX – AT&T Center
Latin America
Nov 16 – Mexico City, Mexico – Foro Sol
Nov 19 – Santiago, Chile – Estadio Nacional
Nov 24 – Cordoba, Argentina – Orfeo
Nov 26 – Buenos Aires, Argentina – Velez
Nov 30 – Curitiba, Brazil – Pedreira Paulo Leminski
Dec 02 – Rio de Janeiro, Brazil – Apoteose
Dec 04 – Sao Paulo, Brazil – Estadio Morumbi

Latest posts by Best Classic Bands Staff
(see all)