Billy Joel Surgery Puts Him on DL, Ends MSG Streak
by Greg Brodsky
Billy Joel has been forced to postpone his next monthly Madison Square Garden concert due to endoscopic sinus surgery, according to several published reports. Joel will take a six-week break and is rescheduling his planned September 30 appearance at the Garden to November 21 in order to have time to make a full recovery.
"The procedure will require him to rest his voice and avoid any strenuous activity," Joel's spokeswoman said in a statement. "With several weeks of rest, Billy is expected to make a full recovery." The spokeswoman said that Joel's upcoming surgery is connected to sinus issues and is not related to any throat problems.
Tickets purchased for the September 30 concert will be honored on November 21. Those who cannot make the rescheduled date can get refunds at their point of purchase.
Related: When Billy Joel sat in with a Billy Joel tribute band
Joel began his monthly residency at the Garden in January 2014 and since then has sold out every show,  32 straight months to date. Joel, who is 67, had been considering retirement prior to the launch of his MSG run. According to an article in Newsday, he credits the allergy shots he started receiving in 2014 with strengthening his voice and changing his mind about calling it quits.
"I'm not so much worried about losing my ability to sing until I get really old," Joel told the newspaper in 2015. "I'm just going to keep going. They want to see me? I'll play."
The classic rock piano man finished a brief European tour last Saturday at Wembley Stadium in London. His next scheduled performance will be October 28 at the Garden.
Related: Review of Billy Joel at MSG, May 2015
Watch: Billy Joel gets up from the piano to sing "Uptown Girl" at the Garden in June 2016
As also noted in Newsday, "By moving the September 30 show to November, September will become the first month without a Joel concert at the Garden since he began his record-breaking residency at the venue in 2014. He has rescheduled only one other Garden residency show, last September, when he delayed his show by a day so Pope Francis could hold mass at the venue."
Joel currently has concerts scheduled at the Garden and elsewhere through December. Tickets are available here and here. No announcement has been made about whether the residency will continue into 2017, though a new deal is expected in the coming months.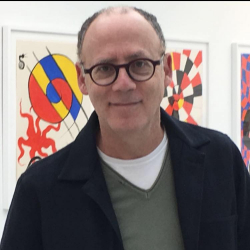 Latest posts by Greg Brodsky
(see all)