Rock and Roll Hall of Fame inductee Bill Bruford, the drummer best known for his work with Yes, King Crimson, Genesis and his solo career, is releasing the boxed set Bruford 1977-1980: Seems Like a Lifetime Ago. Scheduled for release on Winterfold Records on Oct. 28, the limited-edition eight-disc set features unreleased, remixed or remastered material from the Bruford band of the late 1970s, presented in a 12-inch box complete with 16-page color booklet and a signed, numbered certificate of authentication.
The booklet includes a Sid Smith essay, new interviews with producer, engineer, band members, eyewitnesses and others, previously unseen archive visual material and the complete band date sheet with contemporary critical reaction. Also two black-and-white 10" x 8" band photos and one color poster accompanying Live at the Venue. The boxed set is produced by Bill Bruford.
Related: Bruford was inducted into the Rock Hall with Yes in April
The box features 2017 remastered versions of the albums Feels Good To Me (1978), One of a Kind (1979), The Bruford Tapes (1979) and Gradually Going Tornado (1980). The set additionally includes the previously unreleased Live at the Venue (from 1980) and the "4th Album Rehearsal Sessions" (also from 1980).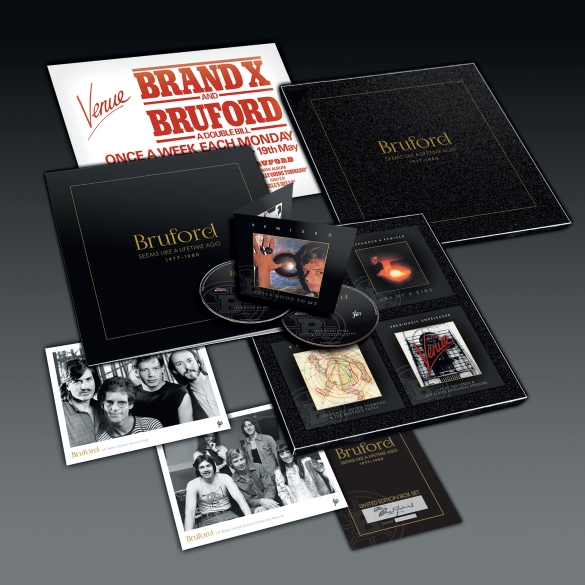 Bruford 1977-1980: Seems Like a Lifetime Ago showcases Bill Bruford, Dave Stewart, the late Allan Holdsworth (to whom the album is dedicated), Jeff Berlin and The "Unknown" John Clark.
In a press release, Bill Bruford reflects on embarking on a solo career and forming Bruford: "I wanted to play drums in a certain way and if you want to hear them played in that way you've got to write the song. You've got to control the audio environment in which your drums are going to be heard and once you're doing that you're into a solo career. Looking back, the band despatched these tricky little compositions with a smile on its face; with brio, vigour and only a handful of wrong notes. The band was over-caffeinated – short on subtlety but long on the sort of majestic stately themes with antecedents in progressive rock that set it apart from contemporaneous American outfits. We were a rock group with a jazz sensibility, rather than a jazz group with rock leanings."
Feels Good to Me and One of a Kind are available on both remastered CD and DVD-a, the latter featuring 2017 5.1 mixes by Jakko Jakszyk.
Watch Bill Bruford's introduction to the set.
To pre-order Bruford 1977-1980: Seems Like a Lifetime Ago, go here or here.
Boxed Set Contents
Disc 1 DVD: Feels Good to Me: 5.1 surround sound mix and original 1978 mix remastered
Disc 2 CD: Feels Good to Me: 2017 Jakko Jakszyk remix from original master tapes
Disc 3 DVD: One of a Kind: 5.1 surround sound mix and original 1979 mix remastered plus additional audio
Disc 4 CD: One of a Kind: 2017 Jakko Jakszyk remix from original master tapes
Disc 5 CD: Gradually Going Tornado: remastered
Disc 6 CD: The Bruford Tapes: remastered with bonus track
Disc 7 CD: Live at the Venue: previously unreleased: recorded London 1980
Disc 8 CD: The 4th Album Rehearsal Sessions: previously unreleased: eighteen sketches of new material recorded 1980
Watch Bill Bruford talk about the boxed set

Latest posts by Best Classic Bands Staff
(see all)