The Beatles released a new edition of their Singles Collection as a limited edition, seven-inch vinyl box set, on Nov. 22. The set of 23 singles were originally released in the U.K. and feature picture sleeves using artwork sourced from a variety of countries. The collection via by Apple Corps Ltd./Capitol/UMe, was first reported on Oct. 13 by the website, The Daily Beatle.
See the track listing below. It's available for order in the U.S. here and in the U.K. here. [Best Classic Bands is an Amazon Associate and earns from qualifying purchases.]
The collection, officially announced Oct. 16, spans the band's U.K. singles originally released on Parlophone and Apple, while they were an active band, from 1962's "Love Me Do" to 1970's "Let it Be," and adds "Free as a Bird," a John Lennon composition. His demo was released as a single in 1995 with contributions from Paul McCartney, George Harrison and Ringo Starr.
These singles, plus an exclusive new double A-side single for the mid-1990s-issued tracks "Free As A Bird" and "Real Love," are newly cut for vinyl from their original mono and stereo master tapes by Sean Magee at Abbey Road Studios for a new limited edition boxed set. The Beatles: The Singles Collection presents 46 tracks on 23 180-gram seven-inch vinyl singles in faithfully reproduced international picture sleeves, accompanied by a 40-page booklet with photos, ephemera, and detailed essays by Beatles historian Kevin Howlett.
Watch the official trailer
Fans in other countries looking for such #1 hits as "Eight Days a Week" and "Yesterday" won't find them in the Singles Collection. For many years, the Beatles' U.K. label, Parlophone, and their U.S. label, Capitol, did not release the same songs as singles.
Because it was rare in the 1960s for U.K. singles to be released in picture sleeves, the collection's seven-inches are presented in reproduced picture sleeves from their original releases in several countries around the world, including Argentina, Australia, Austria, Belgium, Chile, Denmark, France, Greece, Holland, Israel, Italy, Japan, Mexico, Norway, Portugal, South Africa, Spain, Sweden, Turkey, U.K., U.S., and West Germany.
The timing of the release is similar to what occurred in 2017 when the Beatles surprised fans with the release of the group's Christmas singles as a limited edition vinyl box set. That collection came on the heels of the elaborate 50th anniversary editions earlier that year of Sgt. Pepper's Lonely Hearts Club Band. (As of October 2019, the Christmas singles set was still in print.)
On Aug. 8, the Beatles announced 50th anniversary editions of Abbey Road. Those were released on Sept. 27.
Related: Check out the great music collections in our 2019 box set gift guide
And in November 2015, the Beatles released updated editions of 2000's 1, in a variety of formats, that contained their 27 U.S. and U.K. #1 singles. The deluxe editions included over 200 minutes of restored promotional films.
The new Singles Collection box set updates a 1976 U.K. set, which was ultimately released worldwide in 1982.
The Beatles – The Singles Collection Track Listing (with country of origin for sleeve)
1. Love Me Do b/w P.S. I Love You (U.S.)
2. Please Please Me b/w Ask Me Why (Italy)
3. From Me to You b/w Thank You Girl (Norway)
4. She Loves You b/w/ I'll Get You (Greece)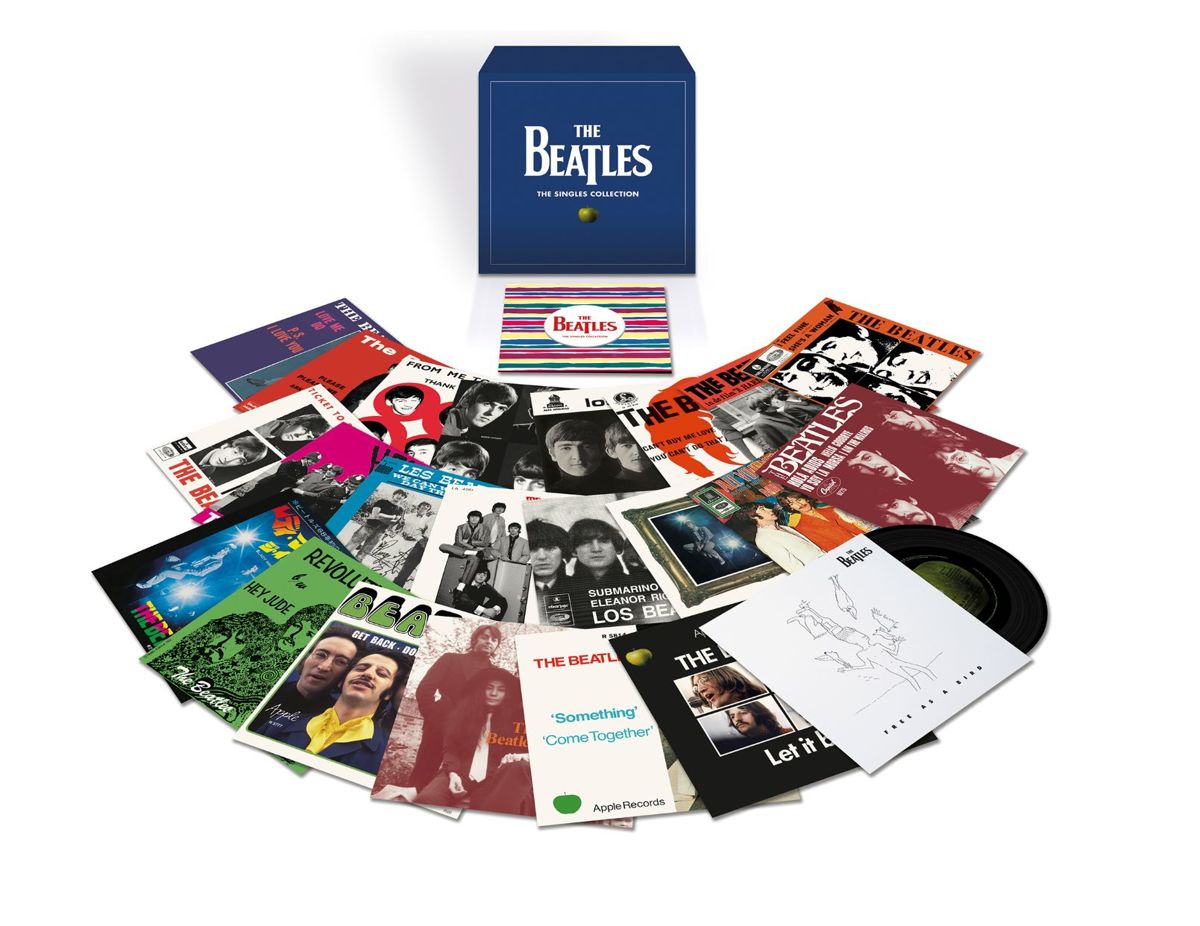 5. I Want to Hold Your Hand b/w This Boy (Chile)
6. Can't Buy Me Love b/w You Can't Do That (Austria)
7. A Hard Day's Night b/w Things We Said Today (Holland)
8. I Feel Fine b/w She's a Woman (Sweden)
9. Ticket to Ride b/w Yes It Is (Spain)
10. Help! b/w I'm Down (Belgium)
11. We Can Work It Out b/w Day Tripper (France)
12. Paperback Writer b/w Rain (Turkey)
13. Eleanor Rigby b/w Yellow Submarine (Argentina)
14. Strawberry Fields Forever b/w Penny Lane (Australia)
15. All You Need is Love b/w Baby, You're a Rich Man (Germany)
16. Hello, Goodbye b/w I Am the Walrus (Mexico)
17. Lady Madonna b/w The Inner Light (Japan)
18. Hey Jude b/w Revolution (South Africa)
19. Get Back b/w Don't Let Me Down (Denmark)
20. The Ballad of John and Yoko b/w Old Brown Shoe (Portugal)
21. Something b/w Come Together (Israel)
22. Let it Be b/w You Know My Name (Look Up the Number) (U.K.)
23. Free as a Bird b/w Real Love (worldwide)
Related: 16 classic double-sided smash singles of the '60s
Related: Listings for 100s of classic rock tours

Latest posts by Best Classic Bands Staff
(see all)