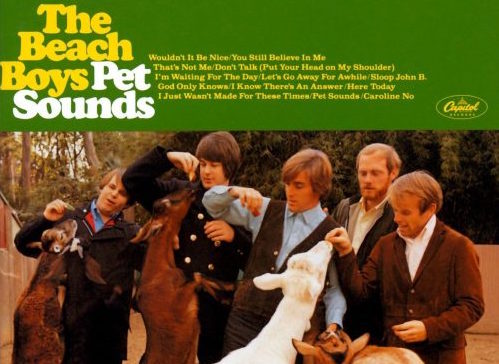 A new documentary on the album many consider to be one of the finest ever, The Beach Boys' 1966 landmark Pet Sounds, is set to premiere in the U.S. on Showtime on April 7 at 8 p.m. ET/PT. The film, titled simply Beach Boys: Making Pet Sounds, promises to feature plenty of archival footage as well as new interview material with band members Brian Wilson, Mike Love, Al Jardine, Bruce Johnston, and David Marks.
According to an announcement, the documentary will tell "the story of the creation of the record that cemented the Beach Boys reputation as a leading force to rival The Beatles."
The new doc would be the second to study the creation of the group's masterpiece, which influenced countless other artists, including the above-referenced Beatles, who were inspired to make Sgt. Pepper's Lonely Hearts Club Band after hearing it. Last year's 50th anniversary deluxe-edition reissue of the album included its own "making of" documentary.
The Beach Boys' 11th studio album, Pet Sounds wasn't initially met with the enthusiasm it has subsequently received. The band's five preceding studio releases all charted higher. Yet its impact as a concept album came to be appreciated in later years and has earned a rank as one of popular music's greatest albums ever recorded. It entered the Grammy Hall of Fame in 1998 and was ranked #2 in Rolling Stone's list of the 500 Greatest Albums of All Time.
Related: The Beach Boys' Brian Wilson, Mike Love and Al Jardine spoke to BCB about Pet Sounds
Pet Sounds' most well-known songs are its three most popular singles: "Sloop John B," "Wouldn't It Be Nice" and "God Only Knows."
Brian Wilson has been performing the entire Pet Sounds album live in recent years with his band, and the current lineup of the Beach Boys, featuring Love and Johnston, also includes several of its songs in their shows.
Watch the teaser trailer for Beach Boys: Making Pet Sounds…

Latest posts by Best Classic Bands Staff
(see all)