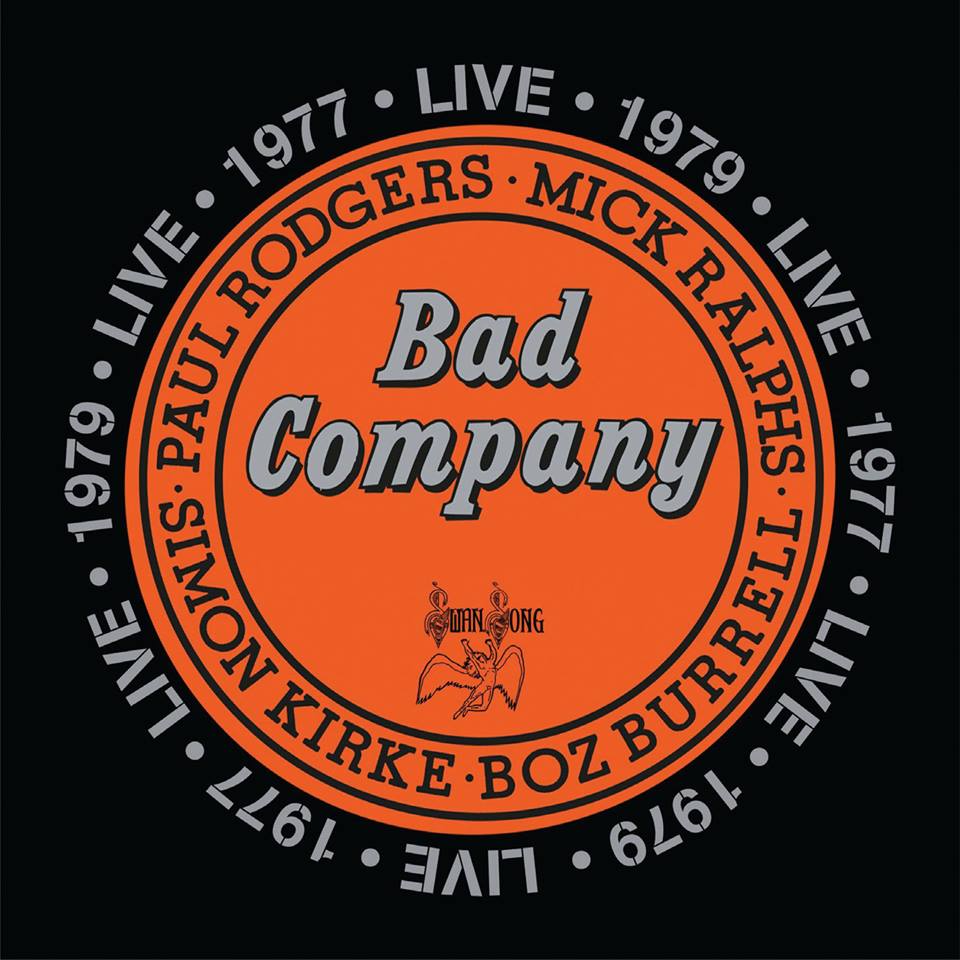 BadCo fans can soon enjoy more than one "Hell of a Night" this year. Hot on the heels of the band's announcement of its summer tour with Joe Walsh (see our news item here), they also have announced the first-ever official live album to spotlight the original Bad Company line up: Paul Rodgers, Mick Ralphs, Simon Kirke and Boz Burrell. Titled Bad Company: Live In Concert 1977 & 1979, the set features two shows from the group's prime.
It will be available on April 29 as a double-CD set and digital release with a 2 LP vinyl release to follow later this year. The 30-track package features more than two-and-half hours of unreleased music taken from 24-track tapes in the Bad Company vault. It was recorded on May 23, 1977 at The Summit, Houston, TX and on March 9, 1979 at The Empire Pool, Wembley, London (with one additional track, the rock standard "Hey Joe," tracked at the Capitol Center in Washington, DC on June 26, 1979.
The music heard on this live collection features absolutely no enhancements or overdubs, nothing but the band as they performed live on the night of the concerts. Click on the Amazon.com link below to pre-order now!
The Bad Company/Joe Walsh co-headlining tour begins May 12. Click here for tickets.
Live In Concert 1977 & 1979 Track Listing:
Disc One:
1. "Burnin' Sky"
2. "Too Bad"
3. "Ready For Love"
4. "Heartbeat"
5. "Morning Sun"
6. "Man Needs Woman"
7. "Leaving You"
8. "Shooting Star"
9. "Simple Man"
10. "Movin' On"
11. "Like Water"
12. "Live For The Music"
13. Drum Solo
14. "Good Lovin' Gone Bad"
15. "Feel Like Makin' Love"
Disc Two:
1. "Bad Company"
2. "Gone, Gone, Gone'
3. "Shooting Star"
4. "Rhythm Machine"
5. "Oh, Atlanta"
6. "She Brings Me Love"
7. "Run With The Pack"
8. "Evil Wind"
9. Drum Solo
10. "Honey Child"
11. "Rock Steady"
12. "Rock 'n' Roll Fantasy"
13. "Hey Joe"*
14. "Feel Like Makin' Love"
15. "Can't Get Enough"
* Recorded at Capitol Center, Washington, DC (6/26/79)
(If you're a new Best Classic Bands reader, we'd be grateful if you would Like our Facebook page and/or bookmark our Home page.)

Latest posts by Best Classic Bands Staff
(see all)