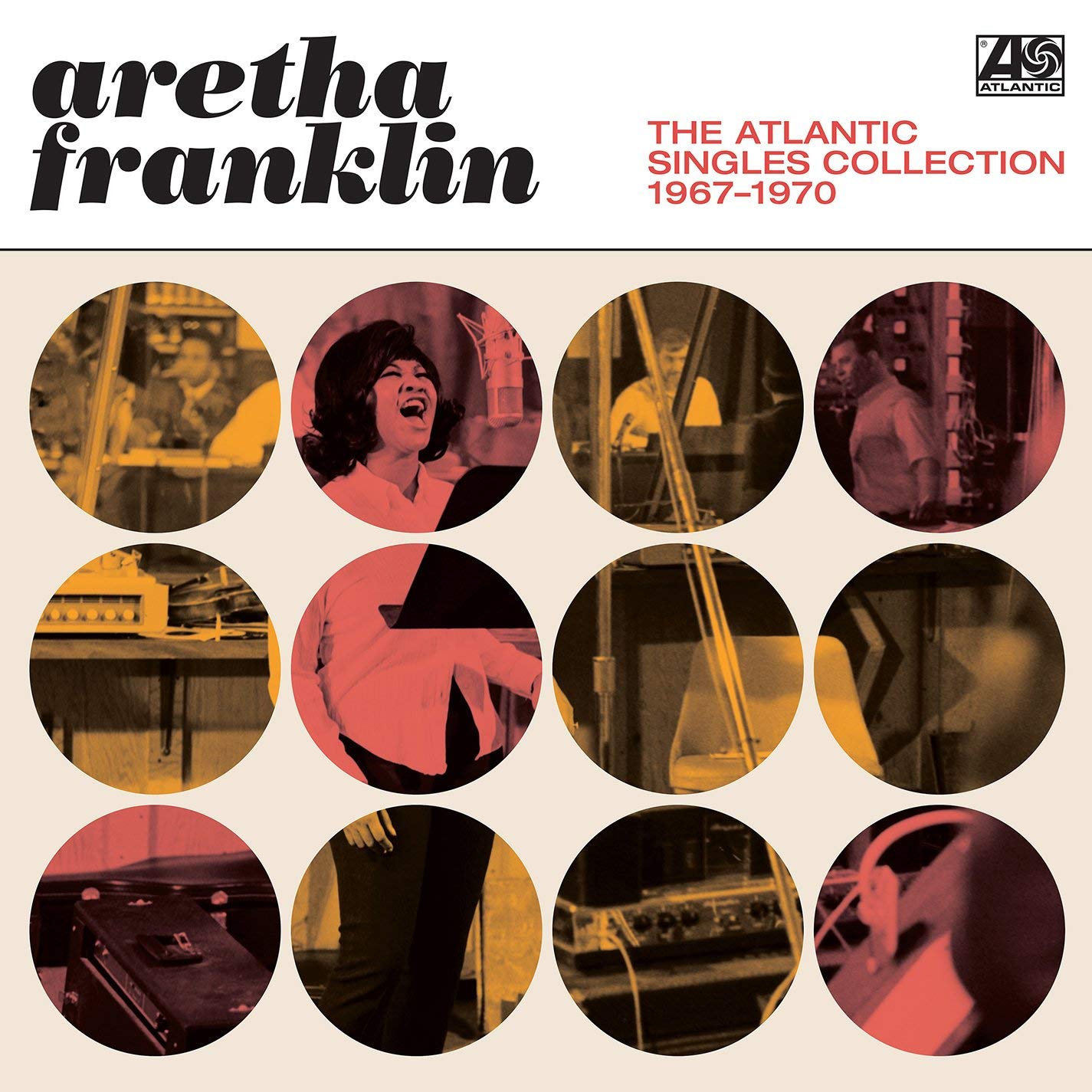 Atlantic and Rhino Records will release Aretha Franklin's The Atlantic Singles Collection 1967-1970 in two physical formats on Sept. 28, with double-CD and double-LP versions available. The collection will also be available for digital download and via streaming services.
The set features 34 singles that Franklin released during her first three years with Atlantic Records. The track listing for the vinyl version has been shortened to fit the LP format. Scroll down for the CD track listing and  pre-order links.
During her first three years with Atlantic, Franklin garnered nine gold singles, three gold albums, and three Grammy Awards.
Arranged chronologically, the songs on the new collection originally appeared on six studio albums: I Never Loved A Man the Way I Love You (1967), Aretha Arrives (1967), Lady Soul (1968), Aretha Now (1968), Soul '69 (1969), This Girl's In Love With You (1970), and Spirits In The Dark (1970). The only exception is Franklin's cover of Elton John's "Border Song," which was released as a single in 1970 and later appeared on her 1972 album Young, Gifted and Black.
The Atlantic Singles Collection 1967-1970 features many of Franklin's best-known songs, including the nine #1 R&B hits "I Never Loved A Man (The Way I Love You)," "Respect" (also a Pop #1), "Baby I Love You," "Chain Of Fools," "(Sweet Sweet Baby) Since You've Been Gone," "Think," "Share Your Love With Me," "Call Me" and "Don't Play That Song."
Related: Who was sharing the airwaves with Aretha in 1967?
Several of the songs on this collection are cover versions: Sam Cooke's "You Send Me," The Band's "The Weight," The Beatles' "Eleanor Rigby" and Dionne Warwick's "I Say A Little Prayer," which became a Billboard Top 10 hit for Franklin in 1968.
Franklin, 76, stated in early 2017 that she would retire from touring at the end of last year, however, she has not since made any official pronouncement to that effect. This March, Franklin canceled her scheduled appearance at the New Orleans Jazz & Heritage Festival due to doctors' orders.
Atlantic Singles Collection 1967-1970 CD Track Listing
Disc One
1. "I Never Loved A Man (The Way I Love You)"
2. "Do Right Woman, Do Right Man"
3. "Respect"
4. "Dr. Feelgood"
5. "Baby I Love You"
6. "Going Down Slow"
7. "A Natural Woman (You Make Me Feel Like)"
8. "Baby, Baby, Baby"
9. "Chain Of Fools"
10. "Prove It"
11. "(Sweet Sweet Baby) Since You've Been Gone"
12. "Ain't No Way"
13. "Think"
14. "You Send Me"
15. "The House That Jack Built"
16. "I Say A Little Prayer"
17. "See Saw"
18. "My Song"
Disc Two
1. "The Weight"
2. "Tracks Of My Tears"
3. "I Can't See Myself Leaving You"
4. "Gentle On My Mind"
5. "Share Your Love With Me"
6. "Pledging My Love / The Clock"
7. "Eleanor Rigby"
8. "It Ain't Fair"
9. "Call Me"
10. "Son Of A Preacher Man"
11. "Spirit In The Dark" – With The Dixie Flyers
12. "The Thrill Is Gone" – With The Dixie Flyers
13. "Don't Play That Song" – With The Dixie Flyers
14. "Let It Be" – With The Dixie Flyers
15. "Border Song (Holy Moses)"
16. "You And Me" – With The Dixie Flyers
Watch Aretha sing at the Democratic National Convention in 1968

Latest posts by Best Classic Bands Staff
(see all)