The British guitarist Allan Holdsworth, whose career began in the progressive rock idiom before he became one of the most admired and influential players in the jazz fusion arena, died today (April 16). He was 70.
Holdsworth's daughter Louise posted the following notice on Facebook, announcing his passing:
"It is with heavy hearts that we notify everyone of the passing of our beloved father.
"We would appreciate privacy and time while we grieve the loss of our dad, grandad, friend and musical genius.
"We will update close friends and family when service arrangements have been made and will notify the public of an open memorial service, which all would be welcome.
"We are undeniably still in shock with his unexpected death and cannot begin to put into words the overwhelming sadness we are experiencing. He is missed tremendously. -Louise, Sam, Emily & Rori."
The cause and place of death have not yet been revealed. We will update this story as more information becomes available.
Holdsworth has been cited as an influence by guitarists in both rock and jazz—among them Eddie Van Halen, Joe Satriani, Alex Lifeson, Neal Schon, Gary Moore, Yngwie Malmsteen and Tom Morello. Frank Zappa praised his talent and Robben Ford once dubbed him the "John Coltrane of the guitar."
Satriani tweeted today, "R.I.P. Allan Holdsworth. You remain an enormous inspiration to me. Your beautiful music will live on forever."
R.I.P. Allan Holdsworth. You remain an enormous inspiration to me. Your beautiful music will live on forever. pic.twitter.com/UEpuqCTm8s

— Joe Satriani (@chickenfootjoe) April 16, 2017
Related: A 12-CD Holdsworth boxed set and separate compilation were recently issued
A description of Holdsworth's technique on his Wikipedia page says: "Holdsworth is noted for his advanced knowledge of music, through which he incorporated a vast array of complex chord progressions and intricate solos; the latter comprising myriad scale forms often derived from those such as the diminished, augmented, whole tone, chromatic and altered scales, among others, resulting in an unpredictable and 'outside' sound. His unique legato soloing technique stems from his desire to originally play the saxophone, but having been unable to afford one he thus intentionally utilized the guitar in order to make it sound like a different instrument. He also become associated with playing an early form of guitar synthesizer called the SynthAxe, a company which he endorsed in the 1980s."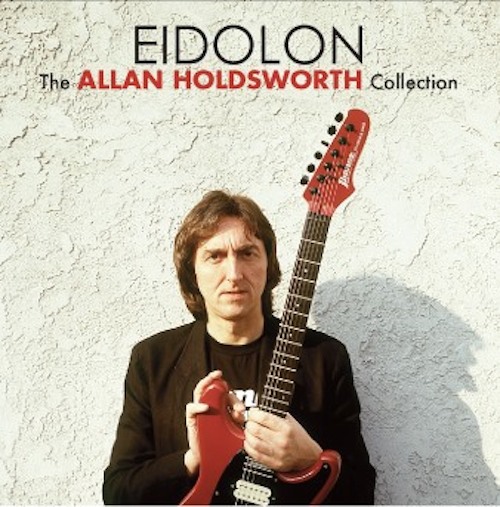 Allan Holdsworth was born Aug. 6, 1946, in Bradford, England, and first recorded with a prog band called 'Igginbottom in 1969. In the 1970s he subsequently played with a number of other prog bands, including Nucleus and Tempest, as well as Soft Machine and Pierre Moerlen's Gong. He played on Yes drummer Bill Bruford's debut solo album, Feels Good to Me, then joined Bruford's group U.K. with keyboardist/violinist Eddie Jobson and bassist John Wetton, but he soon left that outfit. He joined Bruford again in the latter's same-named group in 1979, playing on the album One of a Kind.
During that decade Holdsworth began crossing over into the jazz fusion scene, playing with musicians such as violinist Jean-Luc Ponty and drummer Tony Williams. Holdsworth teamed with pianist Gordon Beck for a 1980 album titled The Things You See, then formed his own trio, False Alarm (later renamed I.O.U. with the addition of Tempest singer Paul Williams), with drummer Gary Husband and bassist Paul Carmichael.
Holdsworth's first solo album, Velvet Darkness, had been released in 1976 but without his consent, and he disavowed it. The I.O.U. album, recorded in 1979 but released in 1982, became the next issued under his name. In all, Holdsworth released about a dozen solo studio albums, three live albums and a handful of collaborations. Road Games, a six-song EP released in 1983 by Warner Bros., included bassist Jack Bruce and drummer Chad Wackerman among its personnel. The latter would become a regular collaborator for decades, as would Husband. Metal Fatigue, Holdsworth's third solo album, released in 1985, was the first to truly establish him as an influential solo artist.
Allan Holdsworth RIP
An astounding player who continually defied the norm, ignored the perceived path and outplayed everyone!
– Steve pic.twitter.com/rWrjMmjkFo

— YESofficial (@yesofficial) April 17, 2017
By the mid-'80s, Holdsworth had moved squarely into jazz fusion, becoming a proponent of the SynthAxe, a fretted, guitar-like electronic instrument. He continued to use it for the better part of the '80s and '90s in addition to the standard guitar. Holdsworth also developed a signature guitar for the Ibanez company.
Related: Bassist John Wetton dies
In the early 90s, Holdsworth teamed up for a series of festival dates with jazz greats Stanley Clarke, Billy Cobham, and Michael and Randy Brecker, among others.
After spending his time on various projects, Holdsworth returned to live performance in a big way in 2012, touring worldwide.
He is the subject of two recent compilations, The Man Who Changed Guitar Forever, a boxed set, and a Eidolon: The Allan Holdsworth Collection, on Manifesto Records.
Watch Allan Holdsworth in 2014 with bassist Jimmy Haslip and drummer Gary Husband, at the Jarasum Jazz Festival

Latest posts by Best Classic Bands Staff
(see all)