In November 2021, ABBA released a winning new album, Voyage, their first new studio effort in 40 years. The group announced the title at a splashy event streamed live on Sept. 2. After years of rumors and news of "one or two" new songs, it finally arrived Nov. 5, via Universal Music Group, with several songs, most notably, "No Doubt About It" and "Keep an Eye on Dan," harkening back to their earlier days, when they enjoyed success on the worldwide charts. Two songs were released at the Sept. 2 event, "I Still Have Faith in You" and "Don't Shut Me Down."
The group's Benny Andersson and Björn Ulvaeus shared details of a "revolutionary" concert featuring the group's four members that is being performed at ABBA Arena, a 3,000-seat hall being built in London, specifically for the show. Tickets are available here. Performances for "Abba Voyage," began May 27, 2022. Tickets have been selling briskly and will do so even more, thanks to the initial praise.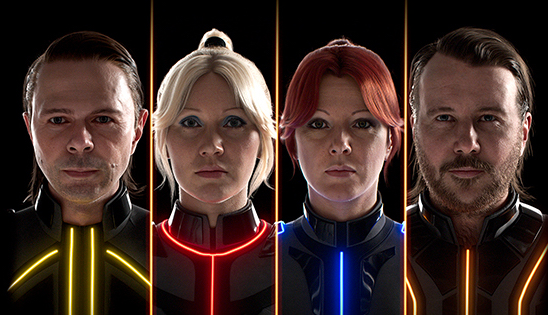 The opening night reviews raved about the production. In its five-star review, The Guardian described it as "jaw-dropping. Watching the four figures on the stage, it's almost impossible to tell you're not watching human beings. This is a show designed to run and run, potentially in several countries at once." The Telegraph called it "a mind-blowing celebration of some of the greatest pop music ever made."
In its favorable review, Variety wrote, "these digital doppelgangers look almost indistinguishable from real people from every angle, with each tuft of hair and outlandish '70s costume rendered in occasionally terrifying detail. They can dance, they can jive, they can even make bad jokes about pausing for costume changes — and the crowd are having the time of their lives, teetering on the brink of delirium throughout."
More reviewers' quotes below the official trailer…
Time Out London called it "a spectacular vision of pop's future." And the Evening Standard wrote, "There'll be no need to tell our grandchildren about the great bands of our youth. They could all still be on stage, forever young thanks to miraculous work like this."
The new concert experience, with one or two shows each day, sees Agnetha Fältskog, Björn, Benny and Anni-Frid Lyngstad performing digitally with a live 10-piece band, in the new purpose-built arena. In an interview (subscription required) with Britain's The Sunday Times published on May 2, Ulvaeus acknowledged, "Sometimes I wake up at four in the morning and think, 'What the hell have we done?'"
At the Sept. 2, 2021, event, Andersson noted that a hologram tour was first proposed to them "four or five" years ago, noting that the technology has improved considerably since then. "We wanted to do it before we're dead," joked Ulvaeus, who turned 77 on April 25.
The digital versions of ABBA have been created following months of motion-capture and performance techniques with the four group members and an 850-strong team from Industrial Light & Magic, the company founded by George Lucas, in what is the company's first foray into music.
Watch a preview of the "ABBA Voyage" concert
So, is the group taking a big chance? In the May 2 interview with The Sunday Times, Ulvaeus said he anticipated other musicians to be watching how the concerts are received. "Lots of artists are going to be studying us, definitely. I won't name names, but I can think of a few."
He expects others to follow suit. "I wonder who's going to be first," he said.
Watch the story of the Voyage album
Watch the lyric video for "Just a Notion," a previously unreleased track, recorded in 1978 during their classic era
The host of the streamed event asked the pair why London was chosen for the site. "London is the best city in the world for entertainment," said Ulvaeus. Viewing parties for "super fans" were organized in London, New York, and other cities worldwide.
Forty years since their last studio album, The Visitors, ABBA have recorded and produced a new album, recorded together at Andersson's studio Riksmixningsverket in Stockholm, Sweden.
At the Sept. 2 streamed announcement, Andersson said, "It was great to be in the studio again with the four of us." He added, laughing, "I realized I should've asked 'Can you still sing?'"
Ulvaeus added, "Memories rushed back in in a matter of seconds."
The "I Still Have Faith in You" video features nostalgic montages of ABBA from their glory days, when they were one of the world's top-selling recording artists.
The state-of-the-art ABBA Arena is located at Queen Elizabeth Olympic Park in London.
On Oct. 6, the group answered some fans' questions. One asked if the show will go on tour. "The home of ABBA Voyage will be at the ABBA Arena and it will stay there for some time," was the reply. A follow-up question wondered if there would be a live stream or Blu-ray release. The answer: "[It's] best experienced live in London – and it's all about the experience," adding that there were no plans for a live stream or DVD.
"When was 'I Still Have Faith in You' first recorded? When I heard it I thought it must have been filed away years ago. Frida's voice was so unchanged!" Frida herself replied, "That's very sweet of you, but the truth is that the first two songs we recorded for the album… in 2018."
The new album, Voyage, is "a mixture of everything." There's even a Christmas tune, "Little Things."
They were asked what inspired them to do a Christmas song (and who came up with the idea). "Benny played the melody to me," said Björn, "and we both knew it was a Christmas song. There was never any doubt about it. It's so calm and sweet and I imagined an early Christmas morning rather than a Christmas night."
Watch the lyric video for the second new song that was released in advance, "Don't Shut Me Down"
Andersson was asked how he thought the new album would be received by their fans. "I have no idea," he said.
Listen to "No Doubt About It," which harkens back to their peak
For the Oct. 6 Q-and-A, one fan asked what it was like when the group listened to the entire album for the first time. "Great relief, happiness and [pride] that we are still able to deliver and work together in harmony and with great friendship," replied Frida.
Listen to the final track, "Ode to Freedom," with an orchestral accompaniment
Abba Voyage Track Listing
I Still Have Faith In You
When You Danced With Me
Little Things
Don't Shut Me Down
Just A Notion
I Can Be That Woman
Keep An Eye on Dan
Bumblebee
No Doubt About It
Ode to Freedom
Listen to "Keep an Eye on Dan"
The album was #1 upon release in both the U.S. and U.K.
ABBA have sold an estimated 150 million records worldwide thanks to such hit singles as "Waterloo," "Dancing Queen," "Take a Chance on Me" and "Mamma Mia."
Watch some vintage ABBA in remastered 4K
Related: The Atlantic Records exec who signed ABBA for the U.S. shares how the label launched the group in America

Latest posts by Best Classic Bands Staff
(see all)