Elvis Costello's 1977 U.S. Launch: The Inside Story
by Greg Brodsky
The album had been released by Stiff Records in the U.K. on July 22. For Dick Wingate, a 25-year-old, New York-based Product Manager of Columbia Records' U.S. label, he and his counterparts at other key areas of the company were devising a plan to introduce Elvis Costello to American audiences later that fall.
In Wingate's own words—from his marketing plan for the November 1, 1977 U.S. release of My Aim Is True that he meticulously has saved for decades—"Elvis is the most marketable new artist that has come our way in a long time." In his plan, distributed to the label's senior management and field staff, Wingate noted Costello's "striking visual image," adding: "His enigmatic personality only heightens the excitement."
The major labels had enormous release schedules and plenty of constituents vying to make each one an internal priority. Those included: the Artists and Repertoire (A&R) exec that signed them; the record company's senior management whose guidance to effectively managing the artist roster and deliver a solid batting average of hits would determine their own fates; producers, artist managers, and, of course, the artists themselves.
Any label veteran can recite dozens of records that "deserved" to be hits yet weren't for any number of reasons: the timing wasn't right, the act didn't have a powerful enough manager behind them, and so on.
Wingate was well aware of the industry batting average. But he knew he had a great album to work and that the internal set-up with Columbia's radio promotion, sales and publicity departments to introduce My Aim Is True to American audiences left no stones unturned. The U.S. release date finally was here.
On November 11, just days after the album's U.S. release, Wingate received amazing news that travelled quickly throughout Columbia and the powerful CBS Records distribution arm: the editors of Rolling Stone, then celebrating its 10th anniversary, had selected My Aim Is True as its Album of the Year.
Ever since Columbia's VP of A&R, Gregg Geller, had signed Costello after seeing him perform outside the CBS Records senior management conference in London earlier that year, establishing the young artist became a label priority.
In an Oct. 13 internal memo to key staff, Wingate wrote: "Enclosed is the hottest selling import of the year. Despite his appearance, [he] is a deadly serious artist, singer and songwriter… in the R&B revivalist/rock-and-roll school of Graham Parker, Southside Johnny, or even Springsteen. His music is not punk-rock, and should never be labeled so."
On Oct. 27, Mike Pillot, Columbia's VP of National Album Promotion, sent an "Album Blitz" memo to the label's radio promotion field staff. "One of the most unique and exciting new albums that has graced any turntable during the last few years is being officially released in America next week.
"My Aim Is True… is loaded with G-R-E-A-T rock 'n roll!!!!! His songs are honest, sometimes crazy but always right on the pulse of reality. Just one "real" listen and you're hooked forever!"
Costello, at 23, was a publicity department's dream. As if his songwriting, singing and unique looks—with the horn-rimmed glasses—wasn't enough, his stage name, as Wingate noted to the staff, obviously recalled the other Elvis, who had died just two months before. The music press, major newspapers, and mainstream magazines were all doing major features on him.
Wingate was given a significant marketing budget, part of which he used to buy a pricey billboard on Los Angeles' Sunset Blvd., normally reserved for superstar acts. He created plenty of merchandise—like a My Aim Is True dartboard—for the Columbia and CBS Records Distribution field staff to use with their constituents at radio and retail.
Costello and his new band, the Attractions, were booked for a national club tour. With most tickets reserved by the label for radio, press and retailers, tickets for the public were scarce, which added to the frenzy.
As luck would have it, when the Sex Pistols couldn't get work visas and were forced to cancel an appearance on the Dec. 17 holiday show of the ultra-hot Saturday Night Live, Costello was selected to replace them.
Costello's aim, ever true, to be a non-conformist, abruptly stopped playing the album cut "Less Than Zero" and switched to "Radio Radio" which wasn't even on the album. SNL Executive Producer Lorne Michaels, not one for surprises, was none-too-pleased. As Wingate recalls: "It was a sh*t show on the set."
Looking back at Costello's significant career, the album's "Alison," is certainly considered one of his signature songs. Yet despite Columbia's best efforts—and great airplay at AOR radio—the song never charted on the U.S. Hot 100. And while My Aim Is True put Costello on the map, the album—with such favorites as "Watching the Detectives," "(The Angels Wanna Wear My) Red Shoes" and "Welcome to the Working Week"—would peak at just #32 on the sales chart. However, Elvis was nominated for Best New Artist at the 1978 Grammy Awards, losing out to… (drumroll, please…) A Taste of Honey.
Costello is on tour. Tickets are available here and here. His latest album, The Boy Named If, arrived Jan. 14, 2022.
Wingate also marketed Bruce Springsteen, Pink Floyd, Peter Tosh and Costello's two follow-up albums, among many others, while at Columbia. He moved to sister label, Epic Records as Director of A&R, where his signings included Aimee Mann's 'Til Tuesday, Eddy Grant (Electric Avenue), Stiff Records and Garland Jeffreys. He subsequently held senior executive roles at PolyGram and Arista Records.
Wingate helped pioneer the digital music business at Liquid Audio. His digital entertainment consulting firm, DEV Advisors, provides expertise to content owners, service providers, app developers and investors. He is also a partner in Big House Music Publishing.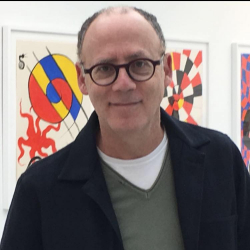 Latest posts by Greg Brodsky
(see all)