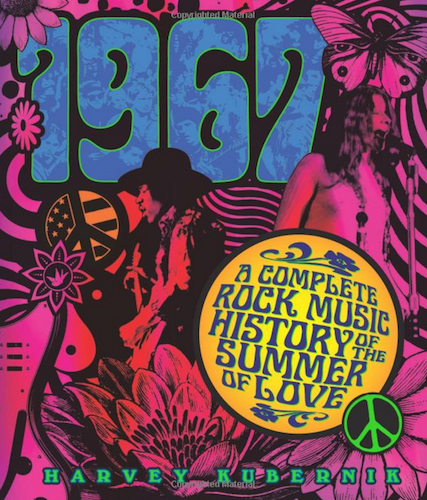 A new 272-page, coffee-table book—1967: A Complete Rock Music History of the Summer of Love—celebrates the music and youth culture of that pivotal year that gave us Sgt. Pepper's Lonely Hearts Club Band, Jimi Hendrix, Janis Joplin, the Doors and so much more. Written by Harvey Kubernik, a veteran California-based author and journalist, the 9 3/4″ x 11 1/2″ book, out April 18 from Sterling Publishing, takes a month-by-month look at the musical happenings of the year, including rock, R&B and more.
Order it here.
Both the American and British rock scenes are covered extensively—the hip young bands such as Jefferson Airplane and Procol Harum, hitmakers like the Monkees, the Beach Boys and the Turtles, and soul from Motown and Stax—with hundreds of first-hand recollections from artists, fans, critics, music industry executives and others. Hundreds of color and black-and-white photos, as well as period-specific art, are included. Events such as the Monterey Pop Festival, love-ins and the 14-Hour Technicolor Dream concert in London (which featured newcomers Pink Floyd) are also spotlighted.
Related: What were the top radio hits of 1967?
From the back cover: "During late spring 1967, tens of thousands of young people began streaming into San Francisco, kicking off a counterculture revolution and cultural explosion that was the Summer of Love. Now, on the 50th anniversary of that revolutionary event, acclaimed journalist and pop culture historian Harvey Kubernik takes us on an insider's look at the happenings in San Francisco, Los Angeles and beyond—in the months leading up to, during, and after that seminal summer—through the lens of rock music. This lush volume features a trove of little-known and previously unpublished interviews with scenemakers and musicians of the time and the people who knew them; psychedelic festival posters, concert flyers, and other 1960s ephemera; and stunning images from acclaimed photographers of the era."
Watch: The Who perform "Summertime Blues" at the Monterey Pop Festival in June 1967
Related: 50th anniversary of Monterey Pop Festival announced

Latest posts by Best Classic Bands Staff
(see all)