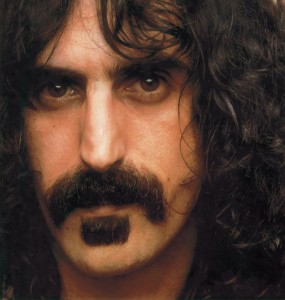 On October 23rd, 2013, Esa-Pekka Salonen conducted the Los Angeles Philharmonic and the Los Angeles Master Chorale in a spectacular orchestral performance of Frank Zappa's 1971 masterwork 200 Motels (The Suites). Now, fans can experience the magic for themselves in the comfort of their own homes. The sold-out, one-night-only show at the Walt Disney Concert Hall will be released in both double-disc and digital audio formats worldwide on November 20th.
200 Motels is the soundtrack Zappa wrote and produced to accompany his surrealist film of the same name, which features the avant-garde musician's actual backing band, the Mothers of Invention, in a fictional musical setting. It combines rock, jazz, orchestral tunes and comedic spoken dialogue, and was considered quite outrageous at the time of its release. (The Royal Albert Hall actually canceled scheduled performances of the show in 1975.)
"We're witnessing an historical moment where we can actually hear the other aspects of [Zappa's] music better because we are no longer stunned by the outrageousness," Salonen told Variety in an interview prior to the 2013 performance. "Reading this score now, there is a sheer richness of fantasy. He had such a vivid imagination in every way."
Also included with the forthcoming release are photos from the evening and essays by a number of people involved in the show's production and recording – producers Gail Zappa and Frank Filipetti, director James Darrah, "Scoremeister" Kurt Morgan and performers Diva Zappa, Michael Des Barres, rhythm section drummer Joe Travers and former Zappa band member Scott Thunes.
Just released is also Zappa's Roxy: The Movie, a concert film lensed and recorded at the famed Roxy showcase club on Sunset Strip in 1973. His Mothers of Invention at the time included such noted players as George Duke, Bruce Fowler, Tom Fowler, Napoleon Murphy Brock, Chester Thompson and Ruth Underwood. It is available as a DVD or Blu-ray plus CD soundtrack.
Director and huge Zappa fan Alex Winter – perhaps best known for his starring role in Bill & Ted's Excellent Adventure – is currently tackling a documentary about the rock legend.
Frank Zappa's 200 Motels (The Suites) Track List:
Disc 1:
1. Overture [2:17]
2. Went On The Road [1:41]
3. Centerville [2:24]
4. This Town Is A Sealed Tuna Sandwich [10:15]
5. The Restaurant Scene [4:23]
6. Touring Can Make You Crazy [2:06]
7. What's The Name Of Your Group? [11:46]
8. Can I Help You With This Dummy? [2:33]
9. The Pleated Gazelle [21:00]
Disc 2:
1. I'm Stealing The Room [13:44]
2. Shove It Right In [7:26]
3. Penis Dimension [9:58]
4. Strictly Genteel [11:14]

Latest posts by Best Classic Bands Staff
(see all)