It was, to be sure, one of the bleakest songs ever to hit #1 on the Billboard Hot 100. Zager and Evans' "In the Year 2525" began by wondering if humankind would still exist in the year in question. Then, failing to venture a definitive answer, the singer-songwriters postulated that even if we do make it that far, it won't matter much, because in future millennia something or other will surely do us in.
The only charting single by Nebraskans Denny Zager and Rick Evans, "In the Year 2525 (Exordium & Terminus)"—its official title, and no, we don't know what that parenthetical postscript means either—was actually written, by Evans, all the way back in 1964, recorded in 1968, released on the indie Truth Records and then, after receiving some airplay in Texas, re-released by RCA Victor in 1969. It entered the national chart at #95 on June 21, and jumped to #35 and #11 in the next week weeks. By July 12 it topped all other songs, including current hits by the Beatles, Elvis Presley and Stevie Wonder.
It remained at #1 as Neil Armstrong and Buzz Aldrin walked on the moon, and as Charles Manson's crew performed their evil, and took its leave just as Woodstock wrapped up. It also topped the Record World chart for three weeks during the same period and, in August-September, was #1 in the U.K.
How Zager and Evans somehow found themselves with a smash hit that pondered a world where machines have so triumphed over humans that "You ain't gonna need your teeth, won't need your eyes/You won't find a thing to chew/Nobody's gonna look at you" is just one of those '60s tales that has no real rhyme or reason to it.
Perhaps the world just needed a reality check, during that heady summer, that nothing is forever.
The ascendance of Zager and Evans was nothing unique. The pair had met at Nebraska Wesleyan University in 1962, where they became part of a band called the Eccentrics. Various other members came and went until the two found themselves working under their own names, backed by a few musician pals.
Evans' chorus-free composition, unlike many starry-eyed, flower-power anthems of the day, didn't bother redeeming its apocalyptic vision with a late-song uplifting resolution: By 5555, they sang, "Your arms hangin' limp at your sides/Your legs got nothin' to do/Some machine's doin' that for you," and in another thousand years, test tube babies would be the norm.  Homo sapiens, having come to rely on pills and automation where once there was imagination and self-determination, would become increasingly marginalized.
Periodically, the tune changes key, and an orchestra gives the words an eerie tone. As "2525" waves goodbye, we've had it:
"Now it's been 10,000 years
Man has cried a billion tears
For what he never knew
Now man's reign is through"
Or have we?
"But through the eternal night
The twinkling of starlight
So very far away
Maybe it's only yesterday"
And then it starts all over again, back to 2525. Are we getting another chance? You can decide for yourself; Z&E aren't telling.
"In the Year 2525" was a far cry from the song that was perched at #3 during its first week on the chart, Oliver's cover of Hair's "Good Morning Starshine," a song so bubble-gummy cheery that its chorus actually went, "Gliddy glub gloopy, nibby nabby noopy la, la, la, lo, lo/Sabba sibby sabba, nooby abba nabba, le, le, lo, lo."
Related: Where did the song rank among 1969's biggest singles?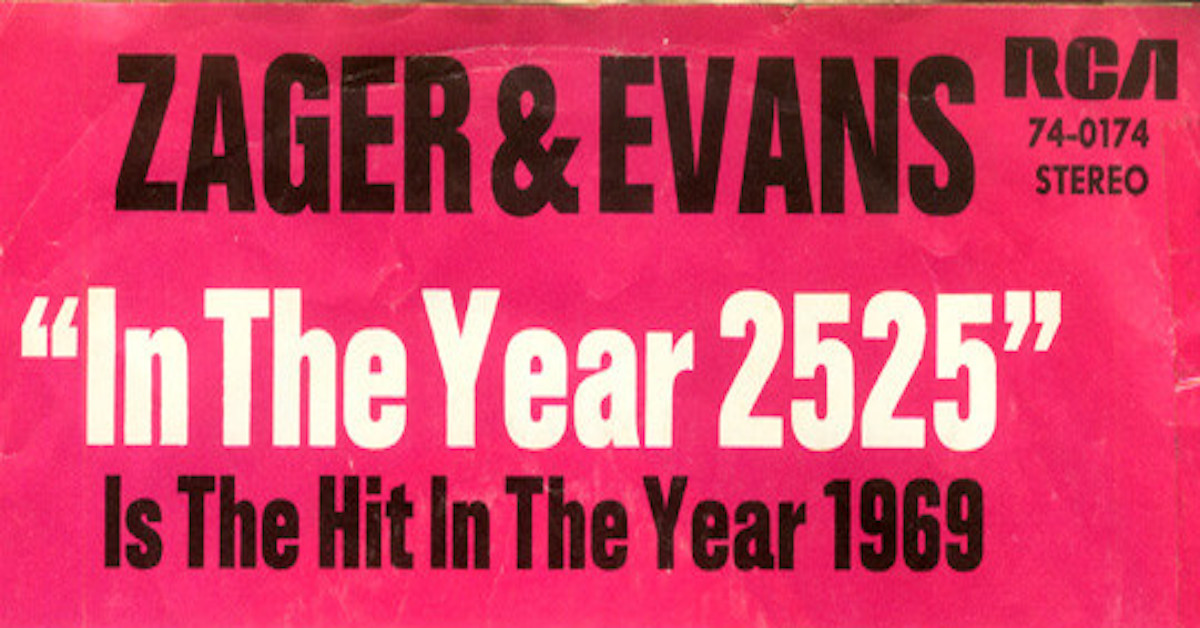 It was that kind of era.
Whatever magic "2525" possessed, it proved to be fleeting. Zager and Evans' followup single, "Mr. Turnkey," missed the Hot 100 altogether, and although there were other singles and a quickly released cash-in album that managed to climb to #30, they never again came close to repeating their first stroke of luck.
To this day, Zager and Evans remain the only artists to reach #1 in both the U.S. and the U.K. and never have another charting record on either side of the Atlantic.
Watch a video of "2525"
Rick Evans died in 2018. Denny Zager was born on Feb. 14, 1944.
Related: What were the other music highlights of 1969?

Latest posts by Jeff Tamarkin
(see all)