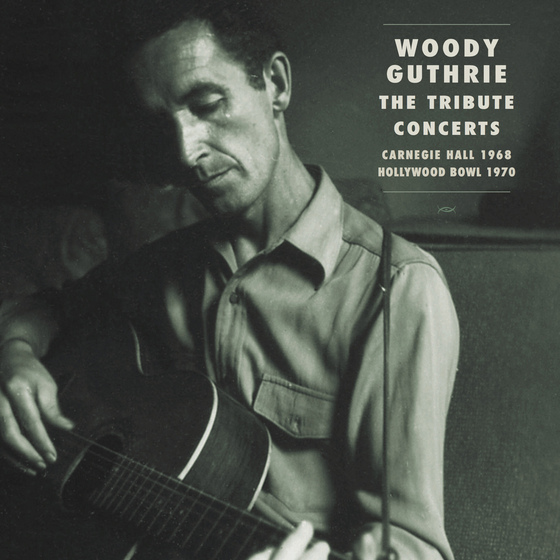 In 1972, Columbia Records and Warner Bros. Records each released separate "Tribute to Woody Guthrie" albums, a rare cooperative effort between rival labels that speaks to the high reverence that Woody Guthrie was held. However, those albums (as well as the subsequent cassette and CD versions) edited and intermingled tracks from the two events. Now, exactly 50 years after Guthrie's death, Bear Family Records will present what took place on those two iconic evenings in the original, scripted order.
Bear Family's comprehensive three-CD box set Woody Guthrie: The Tribute Concerts, due out on September 22, has one 33-track disc of the 1968 Carnegie Hall event, while discs two and three contain 45 tracks from the 1970 Hollywood Bowl tribute. Pre-order here.
The three-plus hours of concert material showcase most of Guthrie's finest songs: "So Long, It's Been Good To Know You," "Goin' Down the Road," "Oklahoma Hills," "This Train Is Bound for Glory," "Deportee," and, of course, "This Land Is Your Land," which closed both concerts. In addition to commemorating 50 years since Woody Guthrie passed away, this release marks the 50th anniversary of the Committee to Combat Huntington's Disease, renamed the Huntington's Disease Society of America, founded by Woody Guthrie's wife, Marjorie Guthrie in September 1967.
Judy Collins, Bob Dylan, Richie Havens, Arlo Guthrie, Tom Paxton, Pete Seeger and Odetta all played at Carnegie Hall, where actors Will Geer and Robert Ryan served as narrators. Seeger, Havens, Guthrie and Odetta also performed at the Hollywood Bowl along with Joan Baez, Country Joe McDonald, Ramblin' Jack Elliott and Earl Robinson; Peter Fonda shared narrator duties with Geer.
Related: Arlo Guthrie's "Alice's Restaurant" turns 50
Dylan played three tunes ("Grand Coulee Dam," "Dear Mrs. Roosevelt" and "I Ain't Got No Home") at Carnegie Hall, and accompanying him was The Band, who hadn't recorded their debut album yet. There were notable players too in the Hollywood Bowl's house band, which featured then up-and-coming guitar ace Ry Cooder, Flying Burrito Brothers bassist Chris Etheridge and future Burrito Brothers Gib Guilbeau and John Beland.
Listen to "I Ain't Got No Home" from the box
According to a press release, "Producers Nora Guthrie, Michael Kleff and Steve Rosenthal dug deep into the full story behind the concerts. Working with the original reel-to-reel concert tapes and concert scripts, business letters, and personal stories, they recreate and recount how, when and why these early tribute concerts are still important and reveal the impact they had on those who attended." The original Carnegie Hall tapes have been lost over time, so this CD comes from tapes that Columbia and Warner Brothers used to make their albums, as well as additional tapes from concert producer Harold Leventhal's collection.
The boxed set offers two illustrated books containing historic liner notes, a Guthrie biography, and essays by Will Kaufman, Wenzel and Sean Wilentz. There also is a reproduction of the original 1972 TRO Concert Book, which includes historic and concert photos with music notations and lyrics, along with original show reviews and photographs, attendees interviews, artists bios, and concert ephemera as well as never-before-seen stills from the Hollywood Bowl show film masters for a still-unreleased concert documentary.
Complete track list
CD 1: At Carnegie Hall
Pete Seeger & Arlo Guthrie (harmonica) with Full Cast: Intro This Train Is Bound For Glory
Robert Ryan: Narration
Will Geer: Narration
Arlo Guthrie: Oklahoma Hills *
Will Geer: Narration
Judy Collins: So Long, It's Been Good To Know Yuh (Dusty Old Dust)
Robert Ryan: Narration
Woody Guthrie: Riding In My Car
Will Geer: Narration
Pete Seeger: Curly Headed Baby
Robert Ryan: Narration
Odetta: Ramblin' Round *
Will Geer: Narration
Pete Seeger, Judy Collins & Arlo Guthrie: Goin' Down The Road (I Ain't Gonna Be Treated This A-Way) *
Robert Ryan: Narration
Tom Paxton: Pretty Boy Floyd *
Will Geer: Narration
Richie Havens: Blues For Woody *
Will Geer: Narration
Judy Collins: Plane Wreck At Los Gatos (Deportee)
Richie Havens: Vigilante Man
Tom Paxton: Pastures Of Plenty
Bob Dylan: Grand Coulee Dam
Bob Dylan: Dear Mrs. Roosevelt
Bob Dylan: I Ain't Got No Home
Judy Collins: Roll On Columbia (Part 1)
Robert Ryan: Narration
Judy Collins: Roll On Columbia (Part 2)
Pete Seeger & Richie Havens: Jackhammer John
Tom Paxton: Biggest Thing That Man Has Ever Done (The Great Historical Bum)
Judy Collins & Pete Seeger: Union Maid
Robert Ryan/Will Geer/Judy Collins: Narration
Odetta, Will Geer, Arlo Guthrie with Full Cast: This Land Is Your Land
CD 2: At The Hollywood Bowl, Part 1
Full Cast: Intro This Train Is Bound For Glory
Peter Fonda & Will Geer: Narration
Arlo Guthrie: Oklahoma Hills
Will Geer: Narration
Joan Baez & Pete Seeger: So Long, It's Been Good To Know Yuh *
Peter Fonda: Narration
Country Joe McDonald, Arlo Guthrie, Jack Elliott & Pete Seeger: Goin' Down The Road (Ain't Gonna Be Treated This A-Way) *
Peter Fonda & Will Geer: Narration
Joan Baez: Hobo's Lullaby
Peter Fonda: Narration
Odetta: Ramblin' Round
Will Geer: Narration
Pete Seeger & Arlo Guthrie: I Ain't Got No Home (Woody Guthrie) *
Peter Fonda: Narration
Country Joe McDonald: Pretty Boy Floyd *
Richie Havens: Nine Hundred Miles *
Will Geer & Peter Fonda: Narration
Joan Baez: Plane Wreck At Los Gatos (Deportee) *
Peter Fonda: Narration
Odetta: John Hardy *
Will Geer: Narration
Jack Elliott, Pete Seeger, Joan Baez, Earl Robinson, Country Joe McDonald & Arlo Guthrie: Hard Travelin' *
Will Geer: Narration
Richie Havens: Vigilante Man *
Peter Fonda: Narration
Jack Elliott: 1913 Massacre
Arlo Guthrie: Do Re Mi (Woody Guthrie)
Will Geer: Narration
Joan Baez: Pastures Of Plenty (Woody Guthrie) *
Peter Fonda: Narration
Earl Robinson & Pete Seeger: Roll On Columbia *
CD 3: At The Hollywood Bowl, Part 2 / Bonus Tracks
Will Geer: Narration
Odetta with Will Geer & Peter Fonda: Why Oh Why & Narration
Earl Robinson: Mail Myself To You
Jack Elliott: Howdido
Peter Fonda: Narration
Country Joe McDonald: Woman At Home (Woody Guthrie – Country Joe McDonald)
Will Geer: Narration
Pete Seeger: The Sinking Of The Reuben James *
Will Geer: Narration
Arlo Guthrie: Jesus Christ
Arlo Guthrie & Joan Baez (Background vocals: Odetta, John Pilla & Gib Guilbeau): I've Got To Know *
Arlo Guthrie, Country Joe McDonald, Odetta, Joan Baez & Pete Seeger: This Train Is Bound For Glory *
Peter Fonda & Joan Baez: Narration
Full Cast: This Land Is Your Land / So Long, It's Been Good To Know Yuh *
BONUS TRACKS:
Arlo Guthrie: "The only thing I really remember…"
Arlo Guthrie: "These events with a multitude of people…"
Judy Collins: "First of all, your mom…"
Jack Elliott: "I received an invitation…"
Jack Elliott: "I was very excited about the whole thing…"
Rick Robbins: "It was a mob scene…"
Rick Robbins: "When he came out…"
Judy Collins: "I was very nervous…"
Rick Robbins: "I was very moved by…"
Tom Paxton: "I was invited by…"
Tom Paxton: "We all went on stage together…"
Tom Paxton: "Oh, I look at pictures of me…"
Rick Robbins: "And then after the show was more memories…"
Phil Ochs: "The Woody Guthrie concert was my last straw…"
Arlo Guthrie: "The second time I had more of a hand…"
Country Joe McDonald: "Well at the rehearsal…"
Country Joe McDonald: "The soundcheck for the show I was sitting…"
Arlo Guthrie: "One of the great things…"
Arlo Guthrie: "I was with Warner Brothers at the time…"
Arlo Guthrie: "The records were made taking bits and pieces…"
Pete Seeger: "Woody lives on…"
Bob Dylan: Last Thoughts On Woody Guthrie
* Previously Unreleased Songs

Latest posts by Best Classic Bands Staff
(see all)