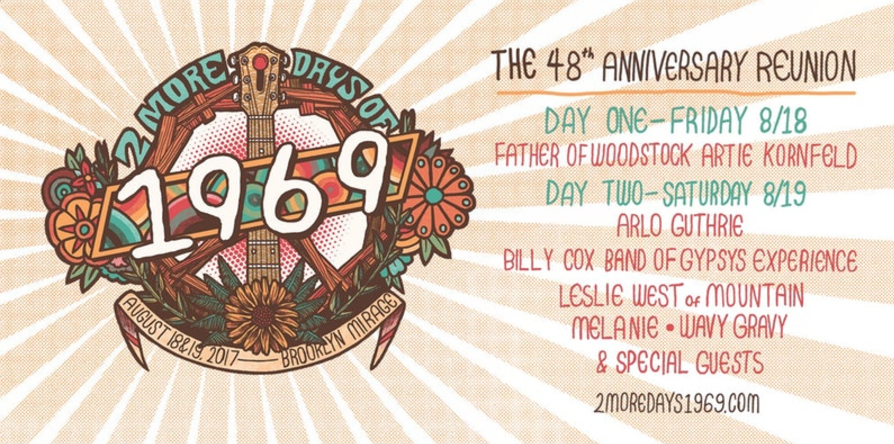 2 More Days of 1969: The 48th Anniversary Reunion is the official name of a concert that was supposed to feature Woodstock festival alumni Arlo Guthrie, Billy Cox (former Jimi Hendrix bassist), Leslie West of Mountain, Melanie, Wavy Gravy, Artie Kornfeld (one of the producers of the original Woodstock) and special guests. The event was scheduled to take place over two days, Aug. 18-19, in Brooklyn at a new venue called the Brooklyn Mirage.
However, on August 16, the event organizers posted a notice that the event "won't take place due to unforeseen circumstances."
The advertised schedule was as follows:
Friday, August 18
Speaking Engagment with Artie Kornfeld: songwriter, producer and "Father of Woodstock"
Doors at 5 p.m.
General Admission Tickets: start at $10
Seated Tickets: $30
Saturday, August 19
Reunion Concert
Doors at 4 p.m.
General Admission Tickets: start at $69
Seated Tickets: start at $99
Following the cancellation, the organizers noted: "[We] regret this unfortunate turn of events but encourage fans to celebrate peace and love in the spirit of Woodstock '69 in honor of the historic festival's anniversary, and at a time when we can use it most.
"Ticket holders for 2 More Days of 1969 will be automatically refunded in full."
Related: The Woodstock performers–where are they now?
According to the event's original announcement, "The weekend will kick off August 18 with Woodstock co-creator/promoter Artie Kornfeld talking about the significance of Woodstock. Originally from Bensonhurst, Kornfeld says he's coming back to Brooklyn to bring "the spirit of Woodstock into the hearts of today's Brooklyn audience."
More from the original announcement: "Following the talk by music biz legend and renowned public speaker, a special cut of the Academy Award-winning documentary Woodstock will be screened."
Along with Wavy Gravy, the original emcee of Woodstock 1969, Kornfeld will host day two (August 19) of 2 More Days of 1969 featuring original performers from the festival.
"Everywhere I go I hear people crying out for something like what we did in 1969," says Kornfeld, author of The Pied Piper of Woodstock, in the announcement. "While we can never duplicate Woodstock, this August 18-19, we're going to try to come close. I'm coming home to Brooklyn for a reason—to remind today's generation of their power. It's time for them to step up and make themselves heard. The people are Woodstock."
Watch Leslie West in a recent live performance

Latest posts by Best Classic Bands Staff
(see all)