As word spread of the June 22, 2018 death of Vinnie Paul, members of the rock community took to social media to mourn one of their own. Paul, born Vincent Paul Abbott, was a co-founder of the groove metal band Pantera, one of the most popular and influential hard rock/metal bands of the 1990s. He later joined Hellyeah.
[A public celebration for Paul is taking place on July 1. See details below.]
His younger brother, Pantera guitarist Dimebag Darrell, was murdered in 2004 while performing onstage with Damageplan, a band the pair co-founded.
News of Paul's death was announced on Pantera's Facebook page and then on Twitter.
Vincent Paul Abbott aka Vinnie Paul has passed away.
Paul is best known for his work as the drummer in the bands
Pantera and Hellyeah.
No further details are available at this time.
The family requests you please respect their privacy during this time. pic.twitter.com/4yCzabmWVt

— Pantera (@Pantera) June 23, 2018
On June 27, Pantera revealed plans for Vinnie Paul: A Public Celebration of Life, to be held on Sunday, July 1 at 3:33 p.m. at The Bomb Factory at 2713 Canton St. in Dallas, Tex. The venue holds 4300 people and there was no indication as to what the event will entail, nor are there advance tickets, lines or lists. Fans can line up for wristbands beginning at 12 Noon that day.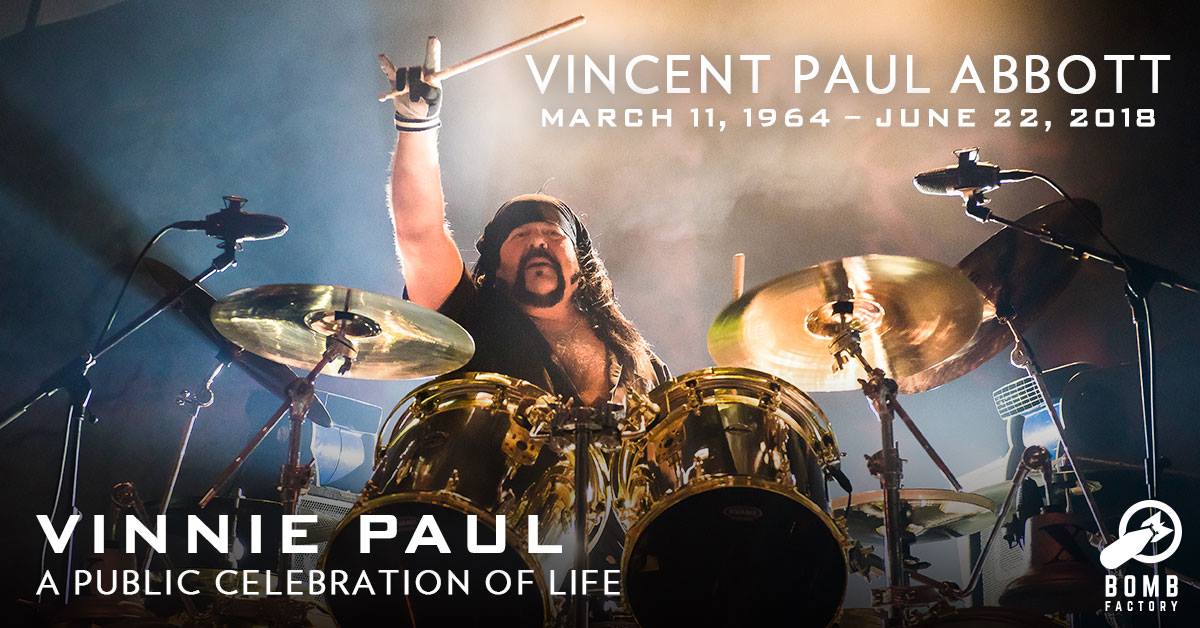 Following Paul's death, many classic rock acts shared their admiration and grief for the drummer. Hellyeah co-founder Tom Maxwell wrote on the band's Facebook page:
"Just so broken hearted and in shock. I'm struggling to write this but we want to thank you all for your kind words and support in this tragic time. We don't have much info to give you other then Vinnie is now with Dime and they are together in a better place. Sadness, shock, confusion, anger, despair. We feel it all together. Hug your loved ones and keep them close. Thank you all again for all your love. Vinnie will be and is greatly loved and missed but his music will live forever. Crank it loud today and scream to the heavens so he can hear you.
-Maxwell"
Alice Cooper called Paul "a beloved fixture in the rock and metal communities [whose] impact on heavy music is immeasurable."
Terribly saddened by the news of Vinnie Paul's passing. Vinnie was a beloved fixture in the rock and metal communities and we will miss seeing him out on the road. His impact on heavy music is immeasurable. Rest In Peace Vinnie, condolences to your family, friends and fans.

— Alice Cooper (@alicecooper) June 23, 2018
Slash called him "one of the warmest people I knew."
Tragic news about Vinnie Paul today. He was one of the warmest people I knew. A truly good & fun friend. We're going to miss you more than you could possibly have known. RIP buddy. https://t.co/yQqruY4tio

— Slash (@Slash) June 23, 2018
Sad 2 hear of Vinnie Paul of #Pantera passing…great guy…RIP

— Billy Idol (@BillyIdol) June 23, 2018
Sad to hear about my friend Vinnie Paul's passing. One of the true great ones. He'll truly be missed. RIP Brother.

— Vince Neil (@thevinceneil) June 23, 2018
Overkill drummer Jason Bittner…
RIP Vinnie Paul – metal drumming will not be the same without you my friend! pic.twitter.com/ZfspSNMPC0

— Jason Bittner (@jbittnerdrums) June 23, 2018
Megadeth's Dave Mustaine…
I just woke up in Belgium to the news that my friend Vinnie Paul has passed away. Another metal hero taken too soon. Say hello to Daryl for me. Rest In Peace, my dear friend. @Pantera @hellyeahband #vinniepaul

— Dave Mustaine (@DaveMustaine) June 23, 2018
GOD BLESS VINNIE PAUL – 1964-2O18 – FATHER VINNIE,Your Compassion for others & Your Love for seeing everyone around you Happy I will never forget – Your Heart of Gold Made The World a Better Place – Go be w/Your BELOVED BROTHER – I LOVE YOU – tBLSt SDMF pic.twitter.com/8VC3T3hQa2

— Zakk Wylde (@ZakkWyldeBLS) June 23, 2018
RIP Vinnie Paul. Friend. Humorist. Badass drummer. All-around good man. Condolences to the family. You will be missed bro…

— Duff McKagan (@DuffMcKagan) June 23, 2018
Sebastian Bach shared his tears…
Rock in peace Vinnie Paul
Say hi to brother Dime from all of us
We love you . Wish you were still here. Gone too soon man . Thanks for the music. And more importantly 30 years of non stop friendship. How rare is that In this business? I'm really gonna miss you 💕 pic.twitter.com/LUY41pzC0l

— Sebastian Bach (@sebastianbach) June 23, 2018
Sammy Hagar: "Vinnie has been at nearly every birthday bash in Cabo from the beginning. I was at the cantina in Cabo late last night when I got the news. It sure is hard to believe. Great drummer, great guy and a great friend. Very sad."

Latest posts by Best Classic Bands Staff
(see all)