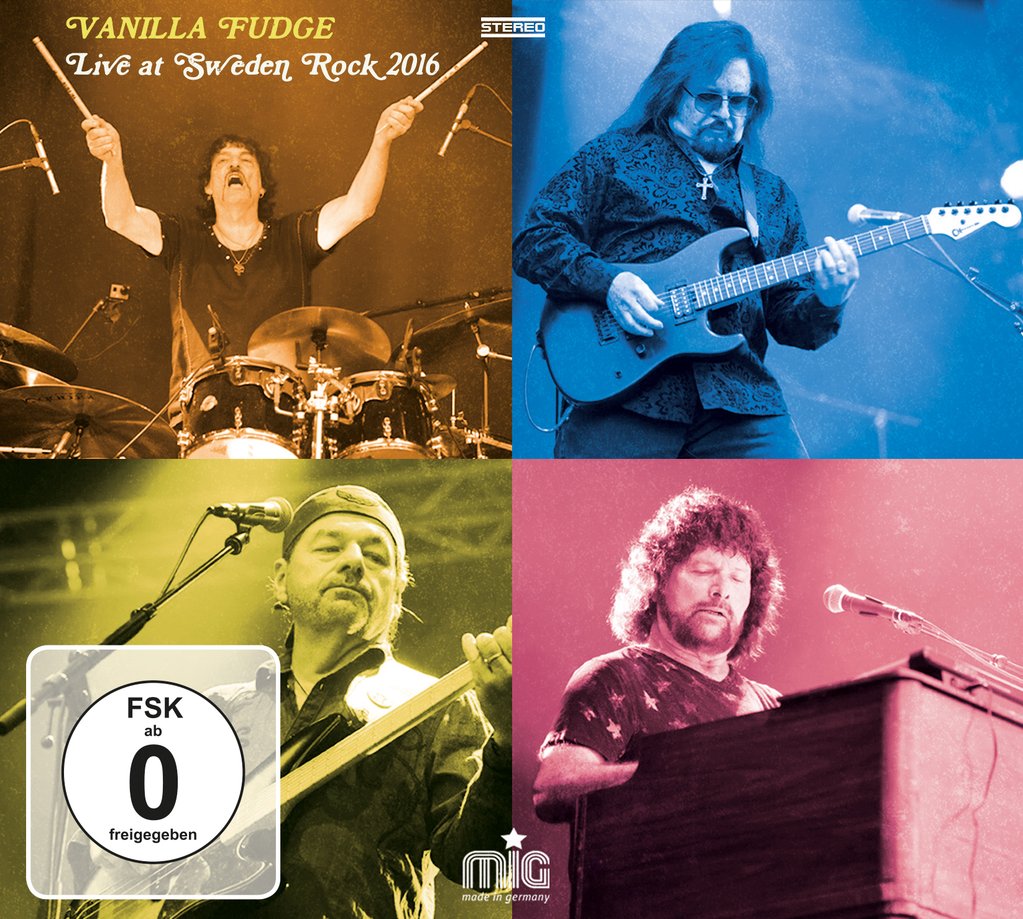 In the small Swedish town of Nörje near Sölvesborg, on July 9, 2016, Vanilla Fudge performed at the Sweden Rock festival. Now a complete audio and video document of that show is available as a CD/DVD titled Live at Sweden Rock—The 50th Anniversary.
Available on MIG Records and distributed by MVD, Live at Sweden Rock, according to a press release, "presents the band in its rawest and most honest setting. Guitar, bass, drums and keyboards hold down the music, while the perfectly blended voices of the group provide the color behind the compelling lead vocals of Mark Stein. The result is a band that sounds just as strong and relevant today as it did in 1967."
The album features psychedelic re-workings of classic songs from The Doors, The Monkees, Spencer Davis, Donovan and Led Zeppelin, along with the Fudge's take on the Motown and R&B classics, "Shotgun" "Take Me for a Little While" and "You Keep Me Hanging On." Order the title here.
Related: Our review of Vanilla Fudge's Spirit of '67 album
The band includes original members Mark Stein (keyboards and lead vocals), Carmine Appice (drums) and Vince Martell (guitar) in place, along with bassist Pete Bremy.
Originally formed in 1967 out of the ashes of the Pigeons, with Stein, Appice, Martell and bassist Tim Bogert, the band was soon renamed Vanilla Fudge, because of its musical concept of four New York-based white musicians playing re-vamped rock versions of popular soul hits. The group has remained together off and on ever since, with Bogert departing in 2006 after a motorcycle accident and his decision to retire.
Upon the release of Live at Sweden Rock—The 50th Anniversary, Vanilla Fudge will resume its schedule of live performances, including an appearance on the Rock Legends VI Cruise, with Sammy Hagar and Bad Company, among others.
Watch the trailer for Live at Sweden Rock

Latest posts by Best Classic Bands Staff
(see all)