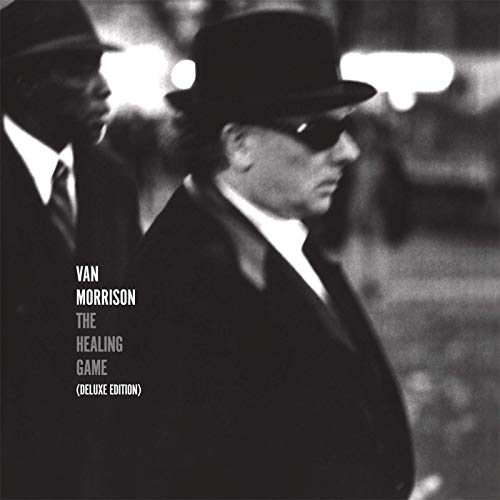 Legacy Recordings will reissue Van Morrison's The Healing Game (Deluxe Edition), on March 22, as a three-disc collection chronicling the sessions, collaborations and live performances surrounding the album, originally released in March 1997.
Listen to several tracks below. Among the extras are five previously unissued tracks with Carl Perkins.
The Healing Game (Deluxe Edition) will be available in 3-CD plus a 1-LP 12" vinyl edition of the (long out-of-print) original album (minus the bonus tracks).
The Deluxe Edition's first disc, "The Original Album Plus…," features the 10 recordings that form the core of The Healing Game in addition to five bonus tracks, previously issued on singles or compilations, assembled together here for the first time: "Look What the Good People Done," "At the End of the Day," "The Healing Game," "Full Force Gale '96" and "St. Dominic's Preview."
Related: Looking back at Morrison's masterpiece Astral Weeks
Disc 2—"Sessions & Collaborations" includes formative early versions of "The Healing Game" and "Fire in the Belly" and a variety of previously unreleased recordings, including a jazz version of "The Healing Game," the full-length version of "Sometimes We Cry," a cover of "A Kiss to Build a Dream On" and several previously unissued collaborations with rock and roll guitar hero Carl Perkins ("Boppin' the Blues," "Matchbox," "My Angel," and "All By Myself"). Disc 2 showcases blues legend John Lee Hooker on two tracks—"Don't Look Back" and "The Healing Game"—from Hooker's 1997 album Don't Look Back. Produced by Morrison and released the same day (March 4, 1997) as The Healing Game, Don't Look Back took home the Best Traditional Blues Album Grammy in 1998 while the title track won Best Pop Collaboration with Vocals. Disc 2 of The Healing Game (Deluxe Edition) closes with Morrison collaborating with skiffle king Lonnie Donegan on a definitive interpretation of Jimmie Rodgers' "Mule Skinner Blues."
Listen to an alternate take of "Fire in the Belly"
"Disc 3—"Live at Montreux 17 July 1997," according to a press release, finds Morrison "at the peak of his on-stage powers soulfully roaring through an extraordinary live set," featuring songs from The Healing Game alongside hits and personal favorites from his catalog; covers of Ray Charles ("Fool For You"), Anthony Newley ("Who Can I Turn To [When Nobody Needs Me]" and Sly Stone ("Thank You [Falettinme Be Mice Elf Agin])" and more. Live at Montreux is officially available for the first time on The Healing Game (Deluxe Edition).
Listen to the title track, performed live at Montreux

Latest posts by Best Classic Bands Staff
(see all)