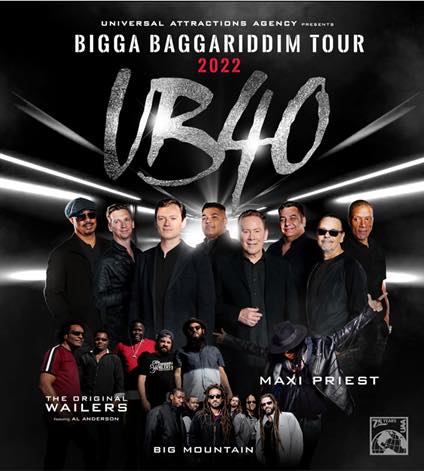 UB40, the legendary reggae-pop band and four-time Grammy® nominees, will hit the road this summer in the U.S. for a 2022 tour. They'll be joined by three acts: the Original Wailers featuring Al Anderson, Maxi Priest and Big Mountain.
UB40 will perform its worldwide hit singles "Red Red Wine" and "(I Can't Help) Falling In Love With You," and many more, as well as songs from their most recent album, Bigga Baggariddim, for which the tour is named. (UB40 has many other dates this year in the U.K. and Europe.) Tickets are available here.
Says UB40's Robin Campbell in the April 11 announcement, "We can't wait to feel the vibe and love of a live crowd in the states, and for all the UB40 fans to meet our new vocalist Matt [Doyle]. They can expect a phenomenal show. We'll be sure to bring the party."
Having sold 100 million records worldwide, UB40's lineup features Jimmy Brown (drums), Robin Campbell (guitar/vocals), Earl Falconer (bass/vocals), Norman Lamont Hassan (percussion/vocals), Martin Meredith (keyboards/WX7/saxophone), Tony Mullings (keyboards), Laurence Parry (trumpet/flugal/trombone), Ian Thompson (saxophone) – and new lead vocalist Matt Doyle. The band originally formed in Birmingham, U.K. and has charted more than 50 singles in the U.K.
Doyle's lead vocals are featured on the recently released track "You Don't Call Anymore."
In 1974 when Bob Marley went solo, he surprised the music community by choosing as his lead guitarist the American-born Al Anderson. It was Anderson's stunning lead work on such classics as "No Woman, No Cry" and "Three O'Clock Roadblock" that helped bring attention to The Wailers' music. He is the sole member of the Bob Marley & the Wailers' mid-1970s line-up in the Original Wailers.
Maxi Priest's 2019 album, It All Comes Back to Love, co-produced by Shaggy, was nominated for the Grammy® award for Best Reggae Album. He followed that with 2020's United State of Mind, a collaborative album with Robin Trower and Livingstone Brown. He scored a worldwide hit with his 1988 cover of "Wild World."
Big Mountain earned a worldwide hit with their cover of "Baby I Love Your Way." On the tour, the group will also perform songs from their forthcoming album Freedom.
UB40 2022 Tour With the Original Wailers (Tickets are available here and here)
Aug 19 – Detroit, MI – The Aretha Franklin Amphitheatre
Aug 20 – Pittsburgh, PA – Rock, Reggae & Relief Festival
Aug 21 – Newark, NJ – New Jersey Performing Arts Center
Aug 24 – New York, NY – Central Park
Aug 25 – Boston, MA – House of Blues
Aug 27 – Washington, DC – Entertainment & Sports Arena
Aug 30 – St. Petersburg, FL – Jannus Live
Sep 01 – Boca Raton, FL – Mizner Park Amphitheater
Sep 02 – Stockbridge, GA – Stockbridge Amphitheater
Sep 03 – Pelham, TN – The Caverns (Above Ground Amphitheater)
Sep 04 – Charlotte, NC – QC Sound Stage
Sep 09 – Ft. Worth, TX – Wild Acre Live
Sep 10 – Cedar Park, TX – Haute Spot Event Venue
Sep 11 – Houston, TX – Arena Theatre
Sep 13 – Phoenix, AZ – Celebrity Theatre
Sep 15 – Saratoga, CA – Mountain Winery
Sep 16 – Murphys, CA – Ironstone Amphitheatre
Sep 18 – Los Angeles, CA – Hollywood Bowl
Related: Listings for 100s of classic rock tours

Latest posts by Best Classic Bands Staff
(see all)