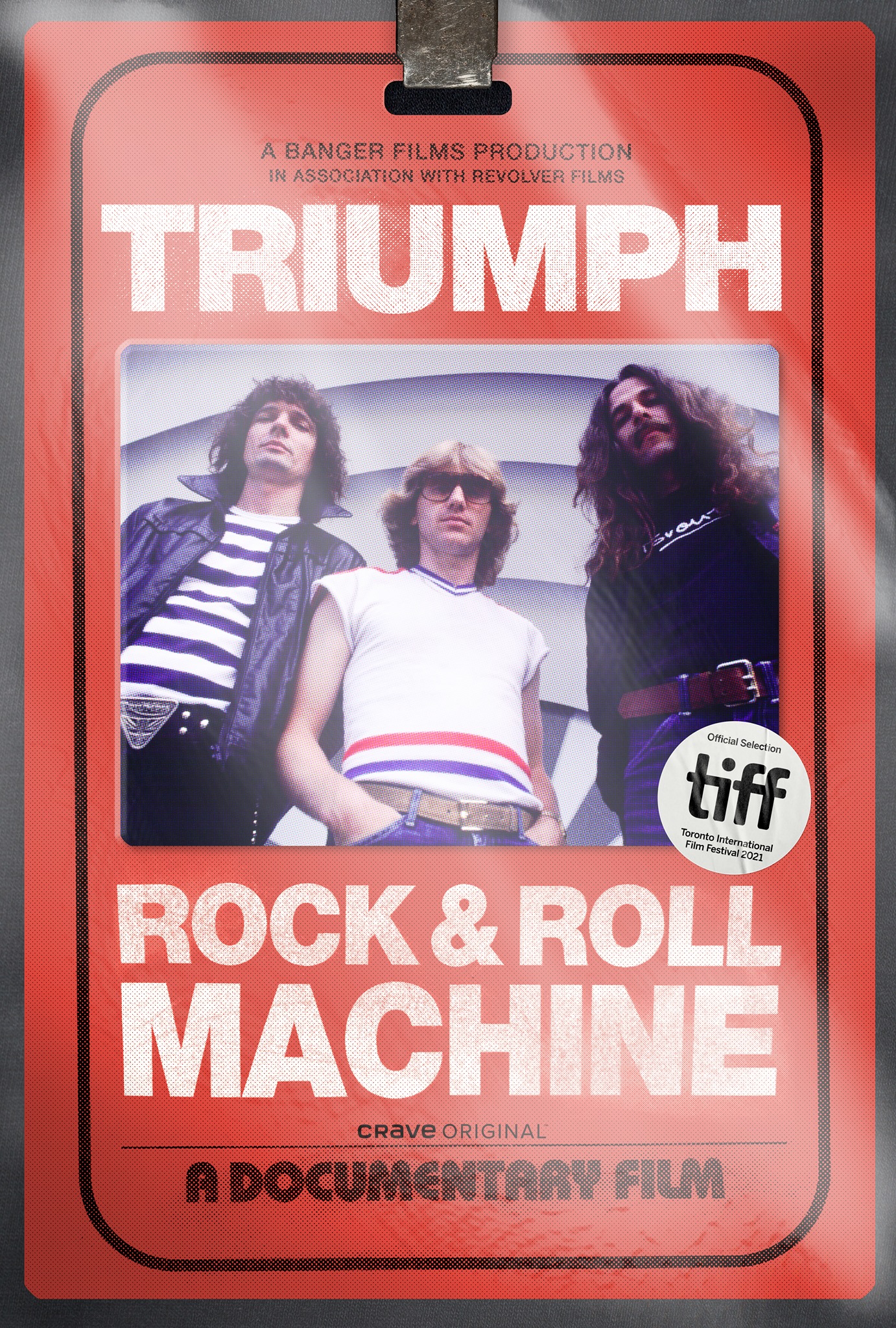 It's been a long road but the first feature-length documentary about legendary Canadian power trio Triumph will finally make its streaming premiere. Triumph: Rock & Roll Machine will be available worldwide on May 13, 2022, at 8:30 p.m. via nugs.net, the leading platform for live concert streams and recordings. The event will kick off with an exclusive, moderated Q&A with all three members of Triumph – Rik Emmett, Gil Moore, and Mike Levine.
The documentary had its world theatrical premiere on September 10, 2021, at the acclaimed Toronto International Film Festival (TIFF). The 97-minute film, with the previous working title, Triumph: Lay it On the Line, was in pre-production in 2019 with plans for a 2020 release. It is directed by Sam Dunn and Marc Ricciardelli and comes from Banger Films in association with Revolver Films, Bell Media's Crave, Live Nation Productions, NBC Universal Canada, Slaight Communications Inc. and the Rogers Documentary Fund.
Tickets for the streaming event are available here. Watch the trailer below.
From the film's original announcement: Known simply as Triumph, this rock trio—which includes drummer/singer Gil Moore, singer/guitarist Rik Emmett, and bassist/keyboardist Mike Levine—scored in the '80s with hits such as "Lay It On the Line," "Hold On," and "Magic Power." Despite being one of the world's biggest rock bands, the group split at the height of their fame and seemingly disappeared without explanation to their fans or media. Set to a mesmerizing visual backdrop of spandex, 80s hair, and explosive pyro, Triumph: Rock & Roll Machine delivers a deeper story about fame and the human condition while chronicling the band's reunion for what might be the very last time they play music together.
"The Triumph story was compelling to me, Marc, and the Banger team because it was an opportunity to piece together a broken puzzle," says Sam Dunn. "We wanted to know how and why the band dissolved at the peak of their powers."
Watch the trailer for Triumph: Rock & Roll Machine
In 2019, Banger Films offered a limited number of lucky fans a once-in-a-lifetime opportunity to attend a special event in Toronto that was filmed for the documentary.
Watch the "Triumph Superfan Fantasy Event" teaser video
The film covers Triumph's humble beginnings as staples of the GTA circuit in the mid-70s to their heyday when they sold out arenas and stadiums.
Moore, Levine, and Emmett formed Triumph in 1975, and their blend of heavy riff-rockers with progressive odysseys, peppered with thoughtful, inspiring lyrics and virtuosic guitar playing quickly made them a household name in Canada. Anthems like "Lay it On the Line," "Magic Power" and "Fight the Good Fight" earned them significant success on U.S. rock radio along with some pop airplay, and they amassed a legion of passionate fans.
Watch the official music video for the "Lay it On the Line" single
They ultimately disbanded. The 2019 announcement noted: "Triumph missed out on an opportunity to say thank you to those loyal and devoted fans, a base that is still active today, three decades later."
"Mike, Rik, and I are thrilled to revisit Triumph's history, and especially to express our gratitude to our amazing fans," said Moore.
Featuring interviews with Triumph, their contemporaries, their close friends and partners, and their fans, Triumph: Rock & Roll Machine is described as "an all-access pass into the story behind the hit records and the light shows."
Related: Listings for 100s of classic rock tours

Latest posts by Best Classic Bands Staff
(see all)