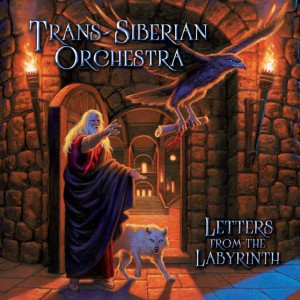 It's been six years since we got a full-length record from Trans-Siberian Orchestra, and we have good news. Just in time for the holidays, the critically acclaimed prog-rock band is giving fans the perfect gift – Letters from the Labyrinth, out November 13th through Lava/Republic Records.
As you may recall, TSO's 2009 LP Night Castle was a rock opera tour de force, centering around the dialogue between a young child and a mysterious older friend of the child's grandfather. While their sixth studio album isn't quite as concrete of a completed story, it does pick up where Night Castle left off thematically, further exploring the tensions between youthful hopes and hard-earned wisdom. TSO creator, lyricist and composer Paul O'Neill calls it the group's "first hybrid album," featuring 14 new tunes as well as a bonus track with Lzzy Hale of Halestorm.
Trans-Siberian Orchestra are probably best known for their powerhouse concerts (read: lots of laser light shows) and unique Christmas songs, fusing heavy metal and symphonic sounds. In later years, they've expanded their repertoire to include more historical and philosophical themes. For just a taste of what's to come on Letters from the Labyrinth, "Time and Distance" will take a zoomed-out perspective of humanity's journey through the ages, while "Not Dead Yet" tackles world banking controversies. "Not the Same," a song that O'Neil co-wrote with his daughter, explores bullying.
TSO hits the road on November 18th for an extensive holiday-themed U.S. tour, with multiple shows in each city. Check out the full list and order here.
Letters from the Labyrinth will be available at both brick and mortar and online retailers, and as a special bonus, anyone who purchases a 2015 Winter Tour ticket will also receive a digital copy of the album.
Trans-Siberian Orchestra's Letters from the Labyrinth Track List:
1. "Time and Distance"
2. "Madness of Men"
3. "Prometheus"
4. "Mountain Labyrinth"
5. "King Rurik"
6. "Prince Igor"
7. "The Night Conceives"
8. "Forget About the Blame"
9. "Not Dead Yet"
10. "Past Tomorrow"
11. "Stay"
12. "Not the Same"
13. "Who I Am"
14. "Lullaby Night"
15. "Forget About the Blame (Moon Version)" (bonus track featuring Lzzy Hale)
Hear TSO play "The Night Conceives," a track from the new album

Latest posts by Best Classic Bands Staff
(see all)