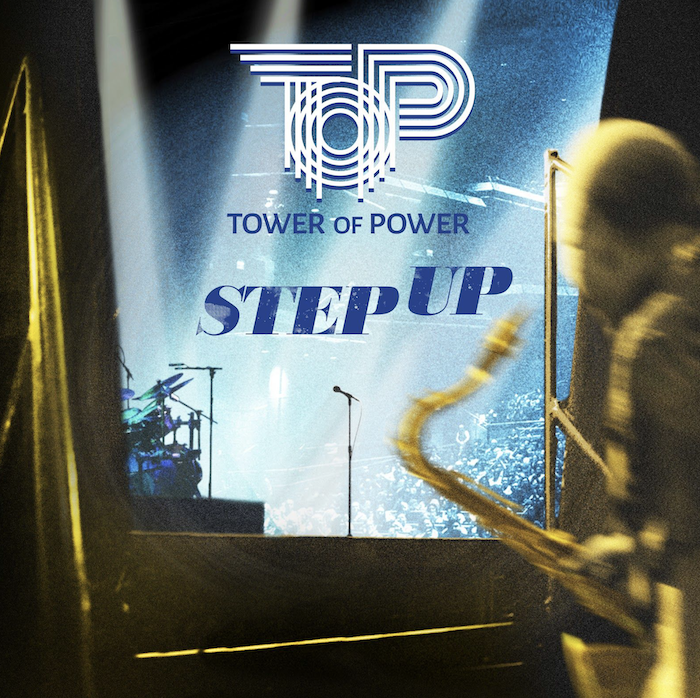 Tower of Power, who celebrated their 50th anniversary with the 2018 release of Soul Side of Town, have announced the forthcoming release of their next album, Step Up, on March 20.
The album features lyrics from Stephen "Doc" Kupka.
Although the 14 tracks of this album, the group's 26th in all, were written and arranged during a six-year period, the album itself was recorded in the same sessions as Soul Side of Town, according to a press release. When the band, along with producer Joe Vannelli, recorded enough material for two full albums, they decided to split the releases up.
The first single from the record is the album's title track, "Step Up." Says the press release, the single boasts "Tower of Power's signature funky and rhythmical sound: melodic lines flawlessly and soulfully executed by the horn section, notable guitar grooves laid down by Jerry Cortez, and topped off with a killer B3 solo by Roger Smith. The track's empowering lyrics and motivational message cannot be ignored, and string together the song's overall vibe for a feel-good track. 'Step Up' gives us a taste that fulfills the band's promise of an album that will 'move you physically and emotionally,' as predicted by bandleader and founder Emilio Castillo himself."
Listen to the title track
Tower of Power 2020 Tour Dates (Tickets are available here)
1/29 Solana Beach, CA – Belly Up
1/31-2/1 Lake Tahoe, CA – MontBleu Showroom
3/06 Monterey, CA – Golden State Theatre
3/7-8 Napa, CA – Uptown Theatre Napa
3/18 Williamsport, PA – Community Arts Center
3/21 Upper Darby, PA – Tower Theater
3/22 Plymouth, MA – Plymouth Memorial Hall
3/24 Derry, NH – Tupelo Music Hall
3/26 Brookville, NY – Tilles Center for the Performing Arts
3/27 Fairfield, CT – The Warehouse at FTC
4/2-4/5 Seattle, WA – Dimitriou's Jazz Alley
4/24 Denton, TX – Denton Arts and Jazz Festival
4/26 Atlanta, GA V- ariety Playhouse
4/30 Clearwater, FL – Nancy and David Bilheimer Capitol Theatre
5/01 Orlando, FL – The Plaza Live
5/03 West Palm Beach, FL – SunFest of Palm Beach
5/31 Newport Beach, CA – Newport Beach Jazz Festival
6/07 Columbia, MD – Merriweather Post Pavilion
7/05 Scranton, PA – Peach Festival
7/17 Morrison, CO – Red Rocks Amphitheatre
Watch Tower of Power perform at this year's NAMM convention
Related: Former ToP singer Rick Stevens died in 2017

Latest posts by Best Classic Bands Staff
(see all)