Fans of the power pop and new wave genres were shocked to hear of the sudden passing on Wednesday (Nov. 22) of Tommy Keene, best known for his 1984 radio hit "Places That Are Gone."
A post on Keene's website initially read, "Tommy Keene 6/30/58 – 11/22/17. Tommy passed unexpectedly and peacefully in his sleep. Thank you to all his friends and family who he loved very much."
No place or cause of death were cited. That brief post was later replaced with a much longer biography, which we are reposting below in its entirety:
"Power-pop legend, acclaimed singer-songwriter, and venerated guitarist Tommy Keene has died.
The 59-year-old Keene passed away unexpectedly, but peacefully, in his sleep at his Los Angeles area home on Wednesday. Keene – who recorded for Geffen, Matador Records, and Second Motion, among others – built an impressive and acclaimed catalog over the course of his nearly 40-year career, spanning eleven full-lengths, four EPs, three compilations, and a live album.
Hailed by fans, critics and fellow musicians for the moving and consistently high quality of his pop songcraft, he was also consummate rock and roller. Over the course of his career, Keene worked with a range of artists who admired his work, including The Replacements' Paul Westerberg, R.E.M.'s Peter Buck, Guided by Voices' Robert Pollard, the Goo Goo Dolls, and the Gin Blossoms, among others.
Watch Tommy Keene sing "Place That Are Gone" in 1994
Born in Evanston, Illinois and raised in Bethesda, Maryland, Keene launched his career in the late-'70s as a guitarist with a series of Washington, D.C.-area combos including the Rage and the Razz, before hitting the national scene as a solo act in 1982 with the release of his debut Strange Alliance.
Related: More great power pop recordings
In 1984, Keene followed with a six-song effort titled Places That Are Gone (Dolphin). Blatantly romantic, unapologetically melodic, bittersweet but absolutely invigorating, the record landed high on the CMJ charts and atop the Village Voice Pazz & Jop EP of the Year poll.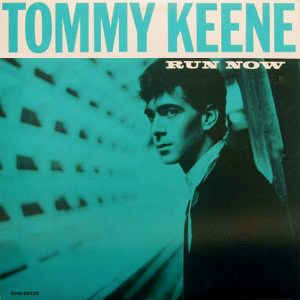 Keene was soon being courted by major labels and ultimately signed with Geffen Records for 1986's Songs From the Film. Produced by Beatles engineer Geoff Emerick, the album spawned two MTV videos and spent 12 weeks on Billboard's Top 200. The accompanying Run Now EP led to the singer as well as its title track appearing in the Anthony Michael Hall movie Out of Bounds.
For 1989's Based on Happy Times (Geffen) Keene headed down to Ardent Studios in Memphis to record with producers John Hampton and Joe Hardy. The ironically titled disc is the darkest album in the Keene catalog, with heavier guitars, fewer jangles, and a more brooding, fatalistic outlook.
Following the album's release, Keene took a break from recording, eventually signing with Matador for 1996's acclaimed "comeback" Ten Years After and its 1998 follow-up Isolation Party. Between 2000 and 2004 he released a live disc called Showtunes (Parasol), The Merry-Go-Round Broke Down (SpinArt) and rarities/demos/unreleased-tracks collection Drowning: A Tommy Keene Miscellany (Not Lame).
Keene also developed a career as in-demand sideman: he was a touring member of Sony/Creation-signed rockers Velvet Crush, and appeared on their 1995 live album Rock Concert. In 1996 he joined Paul Westerberg's band, handling lead guitar duties on the Eventually tour and making appearances on The Larry Sanders Show and The Late Show with David Letterman. A trek opening for Guided By Voices led to his joining Robert Pollard in 2006 as a touring member of Pollards post-GBV band the Ascended Masters and, two years later, Boston Spaceships.
Meanwhile, 2006 also saw the release of Keene's Crashing the Ether (Eleven Thirty), along with Blues and Boogie Shoes, a collaboration with Pollard under the Keene Brothers moniker. He put out a double-disc career-spanning set in 2011, Tommy Keene You Hear Me: A Retrospective 1983-2009.
In recent years, Keene continued to deliver a series of accomplished solo records for the Second Motion/School Kids labels, including 2015's Laugh in the Dark, his final studio album. Keene had spent much of the past year on the road opening shows for fellow pop-rocker Matthew Sweet.
Keene is survived by his longtime partner, Michael Lundsgaard, his father Robert Keene, step-mother Dorothy Keene, brother Bobby Keene, nephews Hunter and Jason Keene, and his beloved dog, Coco."
Watch Tommy Keene from his Japanese tour this year

Latest posts by Best Classic Bands Staff
(see all)