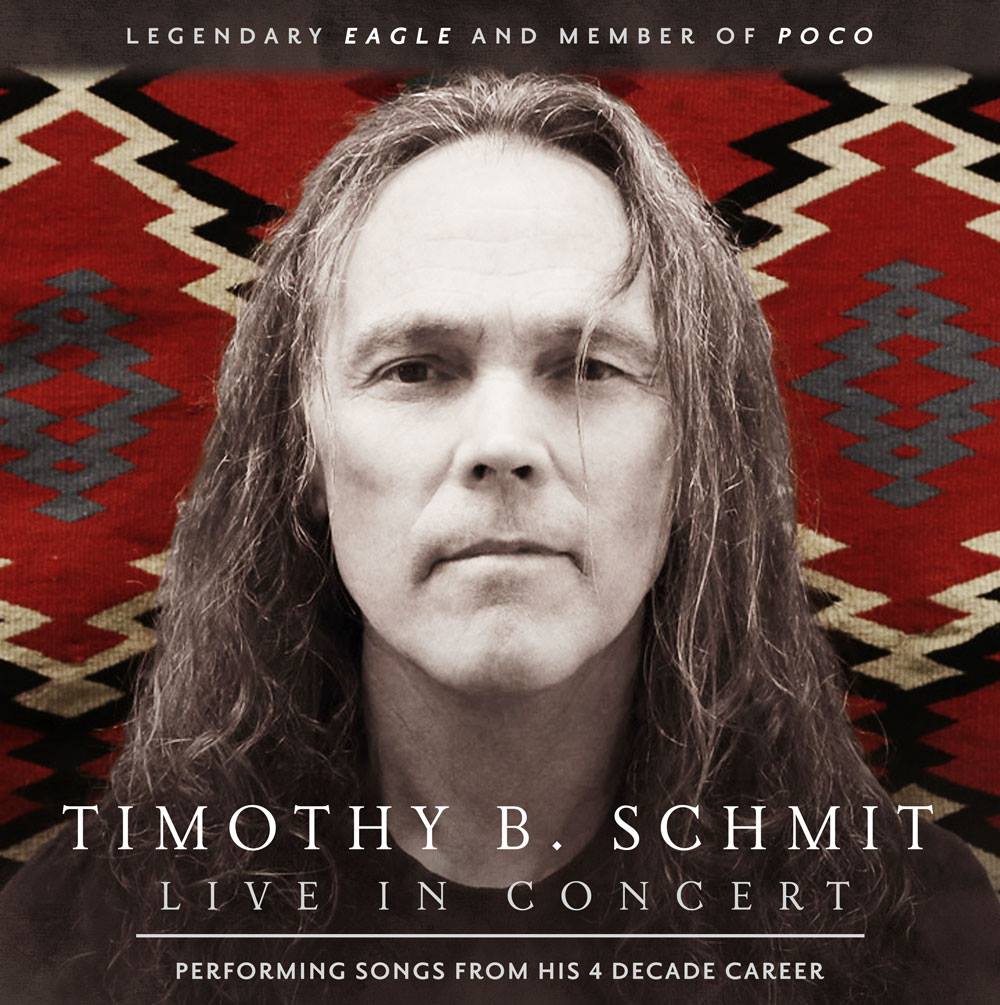 Timothy B. Schmit, vocalist, songwriter and bassist of the Eagles and Poco, has added to his West Coast tour starting on January 7. Ten dates in California and Arizona have been announced, with more expected in the coming weeks. (See the updated itinerary below.) Leap of Faith, Schmit's new 12-track solo album, out now on Benowen Records, was released as a 180-gram two-LP vinyl set on November 4. Order here.
Following is the track listing for the Leap of Faith 180-gram, limited-edition vinyl LP:
SIDE A:
My Hat
Slow Down
All Those Faces
SIDE B:
I Refuse
What I Should Do
Goodbye, My Love
SIDE C:
You're So Wild
It's Alright
Red Dirt Road
SIDE D:
The Island
Pearl On The String
This Waltz
Recorded at his Los Angeles studio and co-produced with engineer Hank Linderman, Leap of Faith, according to a press release, "marks the culmination of Schmit's unhurried, yet inspired reflections of life." The album's first single was "Red Dirt Road," which features Van Dyke Parks on accordion, John McFee (from the Doobie Brothers) on fiddle and harmonies by Herb Pedersen. "Upon hearing this song one might think the setting is from the deep south," Schmit says, "but actually the image comes from the island of Kauai. It's a tune about finally being able to let go."
The classic rocker's album, continues the press release, "plays like a multicolored corona around Schmit's distinctive artistry. From the jaunty opening track 'My Hat' to the soaring harmonies and heartfelt reflections of 'This Waltz,' this is more than another album in a great artist's catalog." The track 'Slow Down" is "a note to self on escaping life's pressures coasting along on a reggae pulse sweetened by jazz giant Gary Burton's vibraphone, while 'What I Should Do' has a Muscle Shoals feel; steamy, funky and sensual. On 'Goodbye, My Love,' he takes us deep down into traditional country with Paul Franklin's glistening steel guitar layered over the changes. And on 'It's Alright,' his most intimate song, Schmit needs only his own acoustic guitar to express profound love."
Timothy B. Schmit Tour Dates (Tickets are available here):
1/07 San Juan Capistrano, CA – Coach House (with Jack Tempchin)
1/08 Agoura Hills, CA – Canyon
1/13 Maricopa, AZ – The Lounge at Harrah's
1/14 Tucson, AZ – Rialto Theatre
1/17 Sacramento, CA – Crest Theatre
1/19 Oakland, CA – Yoshi's
1/20 Livermore, CA – Bankhead Theatre
1/22 Napa, CA – Napa Valley Opera House
1/24 Solana Beach, CA – Belly Up Tavern (with Jack Tempchin)
1/26 Hermosa Beach, CA – Saint Rocke (with Jack Tempchin)
1/28 N Las Vegas, NV – Aliante Casino
1/29 Pasadena, CA – Rose Theatre
Related: Our interview with Eagles songwriter Jack Tempchin
Watch Timothy B. Schmit perform "Red Dirt Road"
Never miss a post! Sign up for Best Classic Bands' Newsletter; form is on every page.

Latest posts by Best Classic Bands Staff
(see all)