We've been hearing for decades – since at least 1982's "Farewell Tour" – that The Who would be calling it quits as a touring band. So when Best Classic Bands relayed a quote that Pete Townshend gave to the Detroit Free Press at the long-delayed start of the second phase of The Who Hits 50! tour on February 27th: "We might do occasional shows, but we won't be touring again" – this time we believed him.
Townshend was just 37 during that '82 tour; Roger Daltrey and John Entwistle were both 38. Townshend is now 70. Daltrey just turned 72 (imagine that). And Entwistle, sadly, didn't make it to 58; he's been gone for nearly 14 years.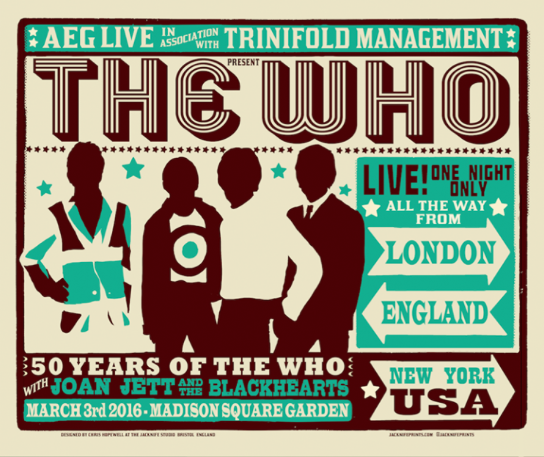 So the Hits 50! tour arrived at New York's Madison Square Garden on March 3, 2016 and I can happily report that if you are on the fence as to whether you should see this classic rock band perform their career retrospective, do what you can to beg, borrow or steal a ticket. They were that good.
I've seen The Who perform live at least a dozen times, the first being the original Quadrophenia tour in 1974 at the very same venue. (Amazingly, as I write this, I realize that was the only time I ever saw them with Keith Moon.) The band augmented their stage show long ago; their current lineup boasts eight members.
After kicking things off with an explosive "Who Are You" (with Townshend's flourishing windmills punctuating things), the group played four of their earlier hits (see the complete setlist below). Introducing their first U.S. hit, "I Can See For Miles," Townshend shared how the band had made their U.S. live debut in 1967 at famed DJ Murray the K's legendary all-day show at the RKO Theater with "4 or 5" sets.
Here's 1973's "The Real Me," which is inexplicably inserted amongst the group's earlier hits in the set lineup:
Things began to seriously rock when The Who performed two Who's Next favorites: "Behind Blue Eyes" and "Bargain." Then came the familiar sounds of the jaw harp (from keyboard player Loren Gold) and harmonica heralding the start of a personal favorite, 1972's "Join Together" (which was never included on a Who studio album). I had only heard this song performed once and while their current live version of it is a bit restrained; on the studio version, after Daltrey sings "I want you to joiiiinnn together with the band…" Townshend's guitar chords scream at the one-minute mark. It's still a crowd pleaser and I was grateful to hear it again.
Here's a great clip of "Join Together" from the show; (hint: wait for it to focus)…
This second North American leg of the tour was delayed for months to allow Daltrey to recover from a bout with viral meningitis. I'm happy to report that the man manages to hit the high notes. There's that moment towards the end of 1981's "You Better You Bet" when Daltrey's voice elevates – "When I say I need you, you scream 'You'd betttter!" – and, bless him, he absolutely nailed it.
Townshend picked up his acoustic guitar and sang one of Quadrophenia's easily overlooked gems, "I'm One." Then Daltrey praised Townshend's (overlooked?) genius as a musical composer as the band launched into another personal favorite: Quad's penultimate track, the instrumental "The Rock." On the 1973 recording, the song is a showcase for Moon's tremendous skill on drums, and when the screen behind the stage showed Moonie on the kit, the MSG crowd cheered.
But Moon's legacy overlooks that of his longtime replacement Zak Starkey, who is somehow not only 50 years old – Ringo's kid is 50?!? – but has now been performing with The Who for well over 20 years, far eclipsing Moon's tenure. (If you knew that Moon – a close pal of Ringo – is Zak Starkey's godfather, raise your hand.)
"The Rock" is now a brilliant live showcase of Starkey's inestimable skill as you'll see from this clip from the MSG concert…
A lovely extended piano intro from John Cory precedes Daltrey's showcase on "Love Reign O'er Me." The vocalist was able to hit that song's tricky primal scream – "Looooove" – that comes towards the end; maybe not as well as his 28-year-old self did while recording it but solid nevertheless.
Four songs from Tommy and the two war horses, "Baba O'Riley" and "Won't Get Fooled Again," triumphantly finished things up. Townshend introduced the band and the crowd's expectation was that maybe The Who would offer one final gem. "Long Live Rock"? "Magic Bus?" Alas, it wasn't meant to be and I realized that really may have been the last time I'd see them. Now it's your turn: Go see 'em.
The Who at Madison Square Garden, March 3, 2016 Setlist:
1. "Who Are You"
2. "The Seeker"
3. "The Kids Are Alright"
4. "I Can See For Miles"
5. "My Generation"
6. "The Real Me"
7. "Pictures of Lily"
8. "Behind Blue Eyes"
9. "Bargain"
10. "Join Together"
11. "You Better You Bet"
12. I'm One"
13. "The Rock"
14. "Love Reign O'er Me"
15. "Eminence Front"
16. "Amazing Journey"
17. "Sparks"
18. "Pinball Wizard"
19. "See Me Feel Me"
20. "Baba O'Riley"
21. "Won't Get Fooled Again"
Band introductions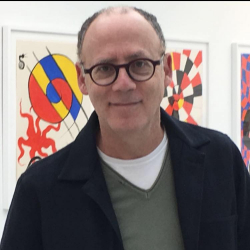 Latest posts by Greg Brodsky
(see all)